Lelouch revisits his cinema
---
POSTED ON OCTOBER 11, 2018

---
A guest of honor, Claude Lelouch will open the Lumière festival with "Itinerary of a Spoiled Child." The filmmaker also tells his story through the 2011 documentary "From One Film to Another," an authentic self-portrait, where he looks back on his career and his 50 years in cinema
In 2011, Claude Lelouch and Films 13, his production company, celebrate their half-century in cinema. The French director then decides to make From One Film to Another, a documentary to share with family, close collaborators and friends. After seeing the resulting wave of enthusiasm, the director shows the documentary in limited release. From "Propre de l'homme" (1961) to "What Love May Bring"/ "What War May Bring" (2011), Lelouch discusses his filmography through making-of scenes, excerpts and interviews. From the opening shot, Lelouch shows us who he is, driving in a crazy car race to make a short film ("Rendezvous"). The filmmaker speeds through Paris in record time (9 minutes, the duration of a 35mm reel), breaking road rules, running a few red lights and ignoring stop signs. The adrenalin-filled introduction is accompanied by his voiceover: "I feel that my 50 years in cinema have been marked by breaking cinematographic rules; taking detours that have provoked heated controversies, but also miracles." And the tone is set.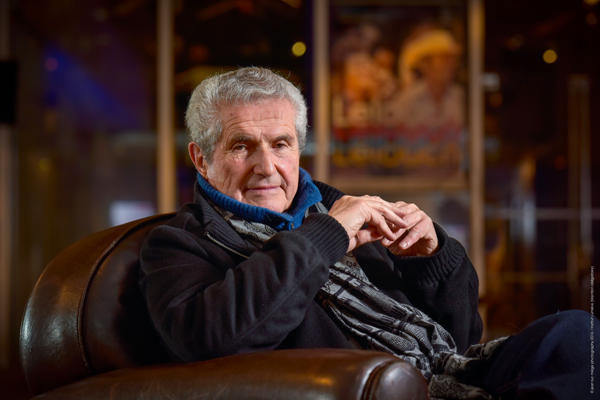 From the meeting of his parents in a movie theater (watching Fred Astaire and Ginger Rogers on the screen) to his years of learning (as a photojournalist in the USSR or through his documentaries produced for the army film department), to becoming an established filmmaker, Lelouch talks freely. He speaks about his private life as a director, but also evokes fantastic encounters with his actors and the audience. After filming countless scopitones (a precursor to the music video) and commercials, young Lelouch remains in the shadows despite releasing feature films ("Le Propre de l'homme" or "In the Affirmative," already produced by Films 13), all commercial flops, despite favorable reviews of "To Be a Crook" / "The Decadent Influence." Success will come in 1966… "A Man and a Woman" validates Lelouch once and for all, just 29 years old, earning him a Palme d'Or at the Cannes Film Festival and two Oscars (Best Foreign Film and Best Original Screenplay, the latter presented by... Fred Astaire and Ginger Rogers!). This coincidence reminds us of the flashes of destiny that permeate his works. Thereafter, Lelouch shoots on a regular basis, turning out a string of successes ("Live for Life," "The Crook"/ "Simon the Swiss," "L'aventure c'est l'aventure," "Bolero," "Itinerary of a Spoiled Child," etc.) as well as failures ("Another Man, Another Chance" / "Another Man, Another Woman," "Us Two," "Edith and Marcel," "The Beautiful Story"). The director holds nothing back, content with his triumphs and willing to talk about his setbacks (which, as he says, allow him to rebound).
The images selected for "From One Film to Another" speak for themselves. These clips of making-of scenes (or television reports) show us a Lelouch propelled by a high-voltage dose of energy. Supercharged on set, the director-cameraman is everywhere. It seems obvious that he is the only one to own his film and to know its mechanisms down to the last detail. It is also touching to see Patrick Dewaere, shortly before his suicide, facing Evelyne Bouix, preparing to film "Edith and Marcel". And then there are those iconic scenes we all know by heart, like the romantic reunion of Jean-Louis Trintignant and Anouk Aimée on the beach of Deauville ("A Man and a Woman"), Jean-Paul Belmondo trying - and failing - to teach Richard Anconina ("Itinerary of a Spoiled Child") the art of not looking astonished, the laughter of Michèle Morgan under the gaze of Serge Reggiani ("Cat and Mouse"), or Annie Girardot's phenomenal monologue to Michel Boujenah, leaving him speechless and stunned ("Les Misérables"). From generation to generation, the director remains faithful to his actors and pays homage to them. And what a caliber of artists! Lino Ventura, Catherine Deneuve, Jeremy Irons, Patrick Bruel, Jean Marais, Fabrice Luchini, Jean Yanne, Dominique Pinon, Jacques Brel, Pierre Arditi, Beatrice Dalle and countless others. Funny, lucid, sometimes sad, this documentary is a sincere declaration of Lelouch's love for his actors, and his passion for cinema. Not to be missed.
The films of Claude Lelouch screened at the Lumière festival: click here.