Opening night of the Lumière festival will be held on Saturday, October 14th at the Halle Tony Garnier.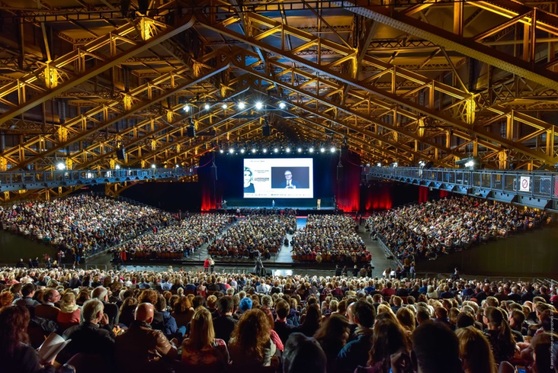 Tickets go on sale Tuesday, June 27th at 11am.
> Online
> at the Institut Lumière ticket office (Hanger of Rue Premier-Film)
> at the Photo Gallery of the Institut Lumière (3 rue de l'arbre sec)

In order to satisfy the greatest number of requests, sales will be limited to two tickets per person.
---
IMPORTANT – UPDATED TERMS 2017:
MODIFIED TICKETING PROCESS AND CONDITIONS
The online sale of Opening Night tickets will be activated at exactly 11am to ensure all users begin on equal footing. It is thus pointless to connect ahead of time. Connections will be handled according to their order of arrival on the server, in a random manner, and regardless of each individual's connection speed. From the moment you place the tickets in your shopping cart, they will be reserved for a period of 20 minutes to allow you to finalize your order.

To qualify for the accredited price, you must purchase a festival accreditation here to obtain an accreditation number, also indicated on the corresponding e-ticket. General accreditation is 17€ and includes a complimentary catalog. Please upload and send a photo ID. The 'Duo' offer allows you to benefit from a price of 11€ with the purchase of a second accreditation. And new this year, accreditation is free for ages under 25 (without catalog) upon presentation of valid ID and available only at the ticket office of Villa Lumière, open from Tuesday through Sunday, 10am to 6pm.

Thereafter, for any purchase on site or online, make sure you have your festival accreditation card or certified e-ticket on hand to provide your accreditation number. During the ticket ordering final stage(s), you must enter your number to justify the special rate. You may buy 2 tickets at the accredited rate if you have two separate accreditation numbers; the numbers will be requested during the order finalization process.

We were obliged to reset all customer information to change our ticketing system. As a result, if you have not made any Institut Lumière purchases online in 2017, please create a new account when finalizing your order. In this case, please disregard the mention: "Already a Institut Lumière customer" ("Déjà client Institut Lumière"), then scroll down the page and create a new account under "New Institut Lumière customer" ("Nouveau client Institut Lumière").

Your account will be validated only after the purchase and payment of an initial ticket or accreditation order. You may also create a free account today by ordering a free ticket for a fictional screening online here (available until Monday, June 26, 2017 at 10pm)..

For all ticket pickups or any complaints, it is imperative to provide the corresponding transaction number indicated on the tickets, e-tickets and confirmation emails. In order to help facilitate the search for your account during a ticket purchase or complaint, please provide your mobile phone number in your account.

For technical questions, please contact us at hotline@institut-lumiere.org