Alain Gomet, antiquarian of the cinema: "18,000 books, 3 million photos; my collection of objects takes up over 400m2!"
---
PostED ON OCTOBER 19 AT 3:30PM

---
He is one of the emblematic figures of the Ciné Fair, which takes place this weekend on the Rue du Premier-Film. Alain Gomet, an expert antiquarian of the cinema, talks about his commitment to French heritage. A faithful friend of the Institut Lumière since its inception, he possesses an impressive collection of objects, including some films by the Lumière brothers and Georges Méliès.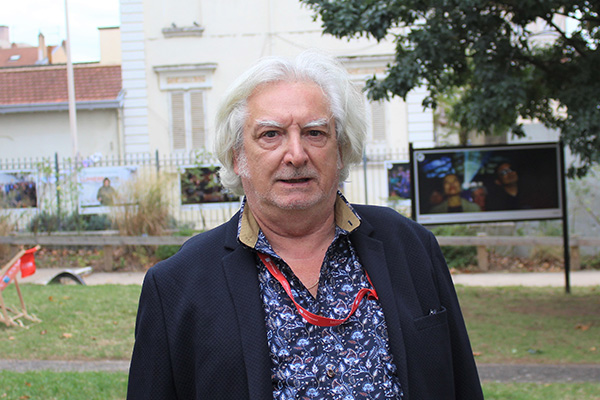 Copyright Institut Lumière / Laura Lépine
You are exhibiting your objects this weekend at the Cine Fair, organized as part of the Lumière festival. What characterizes your collection?
Indeed, as an antiquarian of the cinema, a collector and expert, I have been involved in this event since the beginning. I used to come at the end of the 80's during the sales organized in the gardens of the Villa Lumière, with Raymond Chirat and Bernard Chardère! As far as my collection is concerned, I must say first of all that I am the only film antiquarian in France to be multidisciplinary, I sell three types of objects related to the cinema: paper documents (magazines, movie posters, photos ), some of which are from 1907. I have a collection of 18,000 books and about 3 million photos! Then there is the so-called filmic document, the reels, films that go back to 1960, as well as technical equipment like cameras and projectors.
What is the most beautiful discovery you have ever made?
Forty years ago, in Marseille, as part of a succession, I found a zinc suitcase with about sixty films inside. There were 42 original Georges Méliès films, from 1896 to 1902, that I helped save and that can be shown today. I am one of the greatest collectors of heritage films, and I have submitted some forty colorized Lumière films to the Cinémathèque française so that the public can see them. Among the most beautiful objects, there is also a 35mm projector, dating from 1906, called "The innocent." I will showcase it this weekend at the Ciné Fair! I also have a camera of Abel Gance, but this one is not for sale; it's sentimental!
18,000 books, 3 million photos, Lumière films. How did you acquire such a collection?
It must be said that before being an antiquarian of cinemas or a collector, we are first and foremost cinephiles. And then, I was director of the movie theaters at Pathé from 1976 to 1986 and I have 32 Cannes Film Festivals behind me! I search for objects all around the world to bring back French heritage objects, mainly through auctions. One of my specialties is to put together international collections for exhibitions in museums and cinematheques. Today, my collection takes up a space of over 400m2!
Cinema Fair : Saturday, October 19th, 11am to 7pm and Sunday, October 20st, 9am to 6pm, rue du Premier-Film (Lyon 8e). Four sites : Premier-Film High School, Primary school, Pre-school and International Classic Film Market (MIFC).
Free admission.



Interviewed by Laura Lépine