---
PostED ON MONDAY, OCTOBER 16, 2017

---
Favorite stuffies, candy and costumes filled the Halle Tony Garnier on Sunday afternoon for the screening of The Lion King by Roger Allers and Rob Minkoff, the first movie of the "My Very Own Festival" program for young audiences.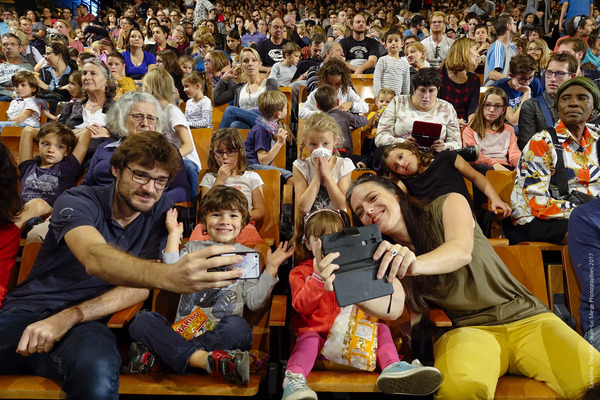 © Institut Lumière / Sandrine Thésillat
The screening was awaited by both nostalgic parents and budding film enthusiasts: "We had seen the film when it was released in 1994. We were in college and at the time, and we knew the songs and lines by heart," commented Estelle Dupuis, who had come from Francheville with her children, Luka and Sasha. Twenty-three years later, the magic is still there: "I saw the DVD at home. I loved this adventure, especially the warthog, Pumbaa!" exclaimed Arthur, 11, accompanied by his brother Aurélien, 9, and his aunt, Émilie Besensenait.
For Lyonnais children, this first screening at the Halle Tony Garnier promised to be full of emotion. Icing on the cake: before watching Simba and his sidekicks on the giant screen, the audience had the chance (in the presence the boss of Disney France Jean-François Camilleri!) to discover the trailer of Coco, the latest addition to the Disney family, scheduled for theatrical release on November 15th. It finally came time to see the King of the African savanna. "It's the story of life... it's the eternal cycle…" You know how it goes!

Laura Lepine
---
More Disney:

The AristoCats by Wolfgang Reitherman (In French, 1970, 1h18)
Pathé Bellecour Wed. 18 at 2pm I UGC Confluence Sat. 21 at 10:30am I Dardilly Sun. 22 at 4pm
Beauty and the Beast by Gary Trousdale et Kirk Wise (In French, 1991, 1h24)
UGC Confluence Wed. 18 at 2:30pm I Pathé Bellecour Sat. 21 at 2:15pm I Sainte-Foy-lès-Lyon Sun. 22 at 2:30pm
The Hunchback of Notre Dame by Gary Trousdale et Kirk Wise (In French, 1996, 1h31)
Comœdia Wed. 18 at 2pm I UGC Astoria Sat. 21 at 10:30am I Décines Sun. 22 at 2:30pm

Ratatouille by Brad Bird et Jan Pikava (In French, 2007, 1h51)
UGC Astoria Wed. 18 at 2:30pm I Comœdia Sat. 21 at 2:30pm

© Institut Lumière / Jacques Crozier