---
PostED ON OCTOBER 15 AT 10:32 AM

---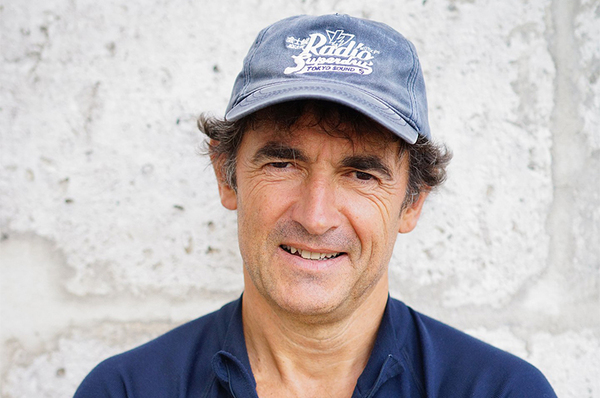 Copyright Christophe Brachet
"Come on! Come on! Come on! Go ahead! Let's hear it..."

- "Yesterday, I was at the movies! I saw a great movie! I saw Rambo!" Through these series of mini exclamations, interspersed in an irregular way, clad in black jeans and a white t-shirt, Albert Dupontel had suddenly appeared on the stage in the 1990s. The actor dropped out of med school to train at the theatre with the royals of the craft like Ariane Mnouchkine and especially Antoine Vitez. He did not stay long, though, because his vocation was the cinema. To achieve his dream, Dupontel wrote and acted skits alone with a sporting vigour very different from anything he had done back then. His performance caught the eye of Patrick Sébastien, who propelled him, and his raw and disarming characters, into the very popular universe of prime-time Saturday night TV. Thanks to this exposure, fiction projects, and soon the cinema, would arrive!

It is first the short format that would definitely take for granted the atypical nature of Albert Dupontel's imagination, a style between the sweet and ferocious poetry of a Chaplin, and the silly penchants for social comedies like Italian Dino Risi. Deeply creative, Dupontel was thus developing a series of shocking little programmes, aptly titled "Sales histoires" ("cruddy stories") for the trendy channel du moment, Canal +. In this series of short skits, we see the actor, author and director, saying and doing laugh-out-loud-inducing things and ending with a shot where the camera zooms in on his face, as he says, in a wryly whiny mode, "What a cruddy story!".

"My name is Bernie Noel and I like hyenas!" Now we come to Bernie, the first "cruddy story" of Dupontel, actor, author and director… of films. In 1996, the French public laughs along and is moved by the fate of the odd Bernie, an orphan in search of his parents, who settles his problems by attacking with his weapon of choice, a shovel, when he is not devouring alive by decapitating them with the teeth of the canaries, concluding that what is annoying when you eat birds "are the beaks". Bernie is a huge success, featuring a performance all the more remarkable since the humour of the film is a mixture of innocence and very transgressive irony. It is a Dupontel mechanism: use black humour to convey highly modern political and social stories, which are the anxious, downgraded, ungifted outsiders of Locked out, the title of his third film, made in 2006. Ha had naturally created a troupe of actors with the physique of men at their wit's end like Nicolas Marié, Philippe Uzan, Bouli Lanners, Philippe Vuillermoz… This small world with the frenetic and irregular flow of voices seemingly on the edge of the abyss, evolves , filmed by a camera with distorted lenses and sound work that willingly tends towards 'cartoonishness', giving a bizarre point of view, of the life of those who live off each other more deliriously than others. In all, Dupontel the director has nearly twenty years of crazy achievements under his belt, in seven feature films, plus some well-deserved Césars for 9 Month Stretch (2013), the non-consenting love story between a woman of the law and a highly instinctive fugitive, and See You Up There (2017), an adaptation of a historical novel by Pierre Lemaître.

When he is not directing, Dupontel is being directed by others… He has even become an actor in great demand. There are filmmakers who see in the actor's smile the trace of the weird, disturbing, even dangerous type, like in A Self-Made Hero (Jacques Audiard, 1996). Michel Deville uses his soft and confident voice to propel him to playing a seasoned and political doctor in Sachs' Disease (1999). Finally, the actor accepts more sentimental roles in popular comedies like Odette Toutlemonde (Eric-Emmanuel Schmitt, 2006). In 2020, plunged more deeply than ever into the cinema, Dupontel carries his latest message, Bye bye, Morons, a quest for love between a woman looking for her child and a clumsy unemployed person; an explosion of life and charm in all directions, and screened at the Lumière festival!
Virginie Apiou