Mission euphoria at the Halle Tony Garnier!
---
PostED ON OCTOBER 18 AT 10:30AM

---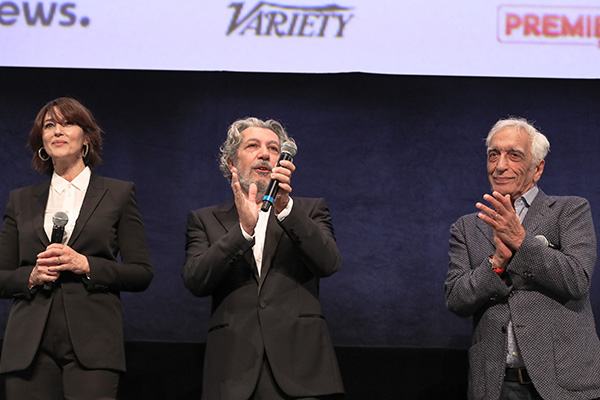 Copyright Institut Lumière / Sabine Perrin - Jean-Luc Mège
From the first notes of the carioca, the Halle Tony Garnier was aflame when the team of the film Asterix and Obelix: Mission Cleopatra arrived. On Thursday, Gérard Darmon, Monica Bellucci and Alain Chabat entered to 5,000 cheering fans, eager to rediscover the cult film directed by the winsome Alain Chabat in 2002.
Among the fans were Margot, 20, and Valentin, 21, film students at the CinéCréatis school, who "grew up" with the comedy. "I have the VHS tape of the film; we often watch it with my grandparents!" exclaimed Valentin, a future director. After a carioca sung by an exuberant Halle Tony Garnier, the festival offered several gems concocted by the team of the famous comedy group "Les Nuls" for the audience, from Hassan Cehef (yes, it's true!) to hilarious mock commercials of the benefits of Toniglandyl and the Moonwalk, written by Chabat for the parody of Miami Vice. What a treat for the festivalgoers already in a state of frenzy. "Long live Chabat!" screamed one of the fans in the Halle. Accompanied by Monica Bellucci and Gérard Darmon, the director of Asterix & Obelix: Mission Cleopatra thrilled the audience with that brand of humor that he alone has the secret to: "Careful, spoiler alert: At the end of the film, Monica and I end up together!" Chabat then discussed the shooting of the film and the movie's connection to the graphic novels written by René Goscinny and drawn by Albert Uderzo, commenting, "Their albums are always with me, one can read Asterix at all ages, each time finding new things." Genial in the role of Amonbofils, Gérard Darmon also described the shooting as "beautiful, made up of only good memories and lots of laughter." Monica Bellucci, the unforgettable Cleopatra confirmed, "We laughed so much that we couldn't even film! I never had so much fun on a shoot." To which her beloved 'Julius Caesar' retorted: "In Irreversible, you laughed too!" A witty remark made by Emperor Chabat, naturally provoking general hilarity. And when an audience member yelled out, "A sequel to Asterix!" the director glanced at his queen of Egypt but does not say no: "I could do Asterix all my life!" To be continued…
Laura Lépine