Idol
---
PostED ON OCTOBER 14
---
The actress Bulle Ogier has traced a singular path characterised by a strong loyalty to unclassifiable filmmakers.

Bulle Ogier's early career began as a tense explosion when she starred in Marc'O's The Idols (1967) in her role as Gigi, a lively yéyé singer. She embodied an impressive jumpy presence despite her slight figure. Ogier shared the screen with Jean-Pierre Kalfon, an actor she would later reunite with in L'Amour fou (1969) by Jacques Rivette. The actress was to embark on a monumental cinema chapter with the latter, shooting seven feature films, an entire genre of unfolding, veritable fantasy…She played an elegant phantom alongside her partner, filmmaker and actor Barbet Schroeder, in Celine and Julie Go Boating (1974). She crossed the city with her daughter, Pascale, in search of something to fight, like samurai challenging enemies in Le Pont du Nord (1981).
Her universe was also made up of enigmatic visions of Marguerite Duras (Entire Days in the Trees, 1976, Le Navire Night, 1979), or of the German Werner Schroeter (Flocons d'or, 1976). She appeared to go through everything without stupefaction – on the contrary - acting with a phenomenal zest for freedom, fascinated by its fluidity.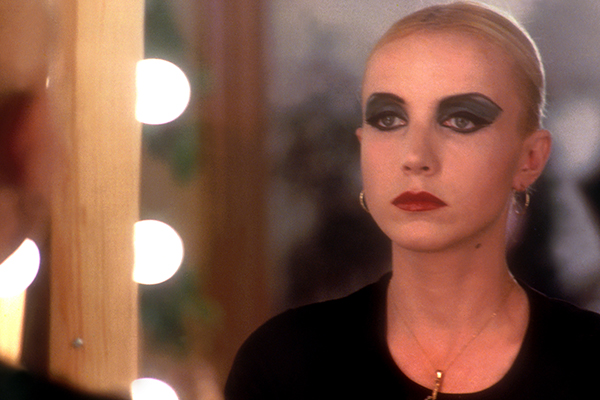 Mistress, 1976


She travels. We follow her. She is in search of a hidden paradise in The Valley (Schroeder, 1972), learns to bluff out of a sense of adventure in Cheaters (Schroeder, 1984), or becomes a dominatrix in the presence of Gérard Depardieu, as divine as she is in Mistress (Schroeder, 1976). This very meticulous film gives Bulle Ogier the opportunity to play an elusive woman who naturally toys with others, without batting an eyelash. "I am never asked questions because either I lie or I don't answer," her character quietly confesses.
We could also mention the names of filmmakers André Delvaux, Luis Buñuel, Daniel Schmid, Rainer Werner Fassbinder, Raul Ruiz or Claude Goretta, Xavier Beauvois and many others. All of them have asked Bulle Ogier to collaborate. But one of her crowning roles is that of Rosemonde in The Salamander (Alain Tanner, 1971). She plays the part of a late riser, a working-class rock'n'roll girl. She wears a weary yet rapturous gaze, which fascinates two men, devoid of any sentiment or sexual desire. Ogier's face and silhouette capture the black and white of the film in a dramatic, contrasting, profound way. It reveals an actress who never bothers with the camera, solely focused on defending her character as a girl who wants people to stop screwing with her! The Salamander establishes a Bulle Ogier who is decidedly outside the system, because the system doesn't matter.
Virginie Apiou
---
Screenings :
Celine and Julie Go Boating by Jacques Rivette (Céline et Julie vont en bateau, 1974, 3h12)
Lumière Terreaux Thu14 2:30pm
Restoration by Les Films du Losange
Mistress by Barbet Schroeder (Maîtresse, 1976, 1h52, Prohibited for children under 16)
Sainte-Foy-lès-Lyon Thu14 8pm
Restoration by Les Films du Losange
The Salamander by Alain Tanner (La Salamandre, 1971, 2h)
Pathé Bellecour Fri15 2:45pm | UGC Ciné Cité Confluence Sat16 11am
Restoration by Tamasa