---
SUNDAY, OCTOBER 22, 2017
---
A standing ovation at the beginning, another one afterward, and even during… 75 minutes of pure effortless happiness in the company of Charles Aznavour. Yesterday in the Institut Lumière theater, in a conversation hosted by Laurent Gerra and Thierry Frémaux the 93-year-old delighted the audience with his elegance, humor and his philosophy of life. Highlights.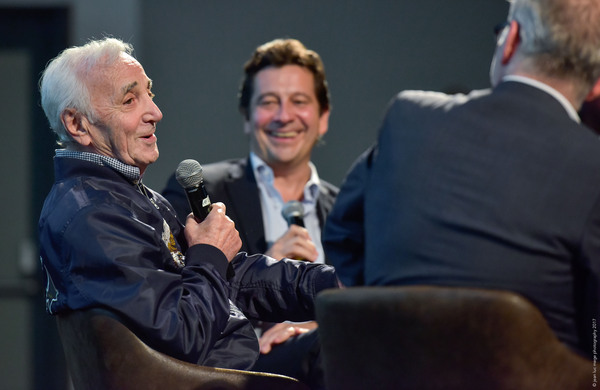 © Institut Lumière / Olivier Chassignole
Writing
"I'm still the only ambassador in the world who doesn't have a diploma, which greatly amuses me."
The theater from a young age
"I was raised in a theater environment; my father was an actor, my mother, too. It was Armenian theater. I used to go to the Comédie française with my father on a regular basis. "
Débuting on stage "in a tutu"
"I started acting in Marseille operettas: you had to act, sing and dance. The boss of the Casino de Paris, Henri Varna, who was very frugal, learned that I had danced ballet. He said, 'We need someone to dance with the girls, we'll put you on a tutu.' And I danced in a tutu, for months, at the Alcazar. I learned my profession that way."
Débuting in the cinema with Mocky
"One day, a gentleman named Jean-Pierre Mocky came to see me at one o'clock in the morning and he told me, 'I'm going to shoot a movie, I'd like you to play the role and you're going to get an Oscar, but you won't be able to sing in the film.'"
"Obedient" during filming
"I'm very obedient on a shoot. I'm not the master of the film, I'm the master of my singing tour, which is not the same at all. "
Almost Breathless
"After we filmed Shoot the Piano Player, Truffaut thought I should make Breathless. When I read the script, I said, 'This is not for me- this character is completely free, and I am not free yet.' I noticed that by saying that, I got him off the hook: he certainly did not want to film with me."
Stanislavski and the Russians
"I always have shoes that I favor to shoot films. I needed a cap I liked in Taxi for Tobruk. I was raised on the Stanislavski system and Russian directors. I did not learn to act, I learned acting from actors."
La Fontaine as a master
"I learned the classics, with Jean de La Fontaine. Already as an actor, I discovered interpretations, ways of playing La Fontaine differently. From La Fontaine, I arrived at Moliere, from Moliere to Guitry. When I began, I took some of Racine and Corneille's works and I put them to music."
Admirer of Almodóvar
"I really like Almodóvar because he writes wonderful roles for women. I also really like to write songs for women."
Writing on taboo subjects
"Sacha Guitry's film, La Poison gave me the idea of writing about a social event. I realized that I didn't want to write what others were writing: 'I love you, but you don't love me anymore.' I wrote about divorce, homosexuality… I wrote about anything taboo."
Age
"Age, you know, is a very good thing, which you will realize when the time comes. I do not mind being old. It would bother me to an idiot, but not old."
Rébecca Frasquet