---
PostED ON MONDAY, OCTOBER 16, 2017

---
Everything you always wanted to know about the director of The Wages of Fear and Quai des orfèvres.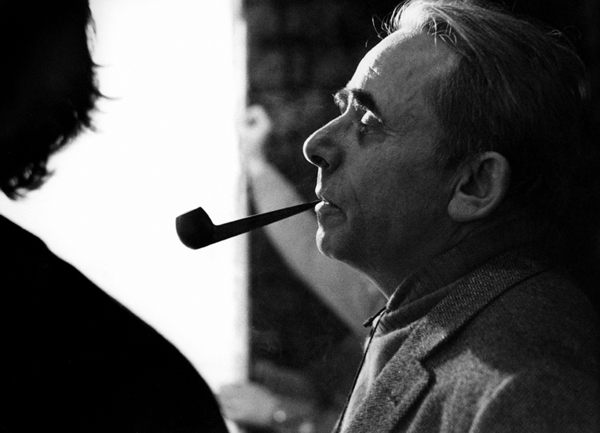 A is for Artist
One of the first directors to be mediatized, his face is familiar to the public, like that of Alfred Hitchcock or Orson Welles. His producers deny him nothing: Columbia offers him an unlimited budget to shoot Inferno in 1964.

B is for Bardot

On the set of The Truth, his tenth film, Clouzot slaps his star, Brigitte Bardot, who is behaving, he claims, like most actresses he directs. But she won't let him get away with it, and slaps him back, stepping on his foot as a bonus. Clouzot gets the message, and no longer lays a hand on her.

C is for "Corbeau"
Le Corbeau (The Raven), directed during the Occupation, inspired by a 1920s news story, is a film that denounces the cowardice, small and large, of anonymous letters that plunge a small country town into a climate of suspicion and gossip. In the France of Marshal Pétain, raids, torture, and executions occur, often based on anonymous of letters of denunciation, encouraged by the powers that be. "I was kicked the hell out by La Continental because the Kommandatur complained that the film discouraged anonymous letters," explained Clouzot.

D is for Dialogues

Clouzot's films are known for the efficiency of their dialogues. The actress Suzie Delair, the filmmaker's wife, inspired many of her characters' acerbic lines.

E is for Expressionism
Some shots owe much to Clouzot's stay in Germany, where he worked before the war. We notice the influence of Murnau's German Expressionism, of Fritz Lang's lighting or framing of shots.
F is for "Fin"

At la fin (the end) of Diabolique, a text on the screen asks the spectators not to be "diabolical" and spoil the fun by telling their friends what they have just seen. At the start of the screening, the theater doors are closed and latecomers are not allowed to enter.
G is for Gard
The Wages of Fear, whose action takes place in Central America, is actually shot in the Gard (Southern France). Charles Vanel, a somewhat forgotten actor, age 60, is entrusted with the role of Jo. It had been refused by Jean Gabin who did not want to play a "dope."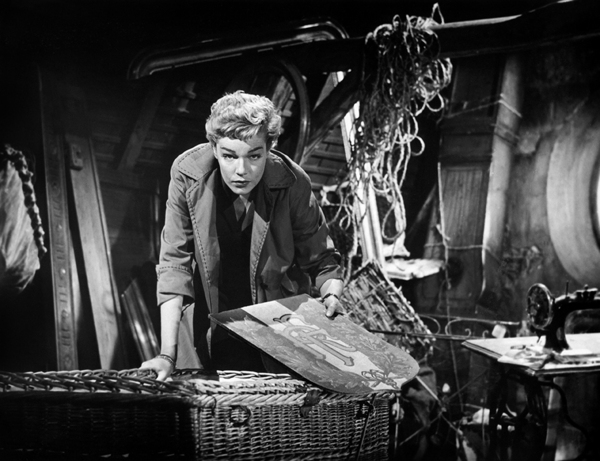 H is for Hallyday

The future Johnny Hallyday plays one of the students of the institute run by Paul Meurisse in Diabolique. He makes his screen début, as does Michel Serrault.
I is for Insomniac
An incurable insomniac, Clouzot gives Serge Reggiani the role of an insomniac in Inferno. "I had the idea of exploiting this kind of anxious discomfort that takes hold of me every night and keeps me from sleeping," he said. At the age of 20, he had such terrible nightmares that would force himself to stay awake.

J is for Jouvet

"His mastery as a director is complete: he is confident and aims well, but I think he is has great difficulty with himself," says Louis Jouvet, after having made three films with Clouzot: Quai des orfèvres, The Return of Jean and Miquette.
K is for Kafka
An ambitious project, The Spies, which succeeded Diabolique in 1957, Clouzot describes as a "dark tragedy of the atomic era." The film with the Kafkaesque atmosphere, which takes place in the sordid halls of a psychiatric clinic, is badly received. The screenwriter Henri Jeanson will make this vicious comment: "Clouzot made Kafka in his underwear".

L is for Lassitude

After Quai des orfèvres, claiming himself devoid of inspiration and "weary of conventional scenarios, of the old twists of fictionalized movies," he decides to shoot an "absolutely subjective" film in Brazil, signalling a break with convention. The film will never see the light of day, but he writes a book: Le cheval des Dieux (Horse of the Gods)."

M is for Malady
As a young man, Clouzot had near-death experiences, suffering from pleurisy at the age of 26 and had to remain bedridden for four years, thereafter retaining "a taste of death in his mouth."

N is for Neuroses

The filmmaker is fascinated by human neuroses. In Diabolique, the concierge of the institute, played by Jean Brochard, an actor loyal to the filmmaker, diagnoses one of the characters with "agoraphobic tendencies." And Inferno (whose shooting will be abandoned in 1964 after the director has a heart attack) deals with the theme of jealousy.

O is for Obsession
Obsessed by Evil, Clousot has a very dark vision of people and the world.
P is for Painter

He repeatedly expressed his regret at not becoming a painter. In The Mystery of Picasso, he seeks to capture each stage of creation, making an extraordinary film about art.

Q is for Quai des orfèvres
He spent four months at the Quai des orfèvres to give authenticity to the film noir, making it realistic and well-documented. He describes the film as "criminalist," meaning the focus should not be merely on the killer.

R is for Redemption

According to his brother, Jean Clouzot, "He almost always worked to help redeem the disparaged." Clouzot blurs the line between the good and bad; for him, we are all guilty, or could be, which is the same thing.

S is for Salaire de la peur
(The Wages of Fear) "I just got a great kick in the stomach!" exclaims actor Edward G. Robinson, a member of the Cannes Film Festival jury, where the film wins the Grand Prix in 1953. Full of gripping suspense from brilliant directing, it is a film stretched to the extreme, and yet the director takes his time… More than an hour goes by before the trucks start up. This work would be Clouzot's greatest commercial success, in France and abroad.
T is for Tension

He creates extreme tension on the sets with his actors, slapping them, mistreating them. "When you direct an actor, I believe you have to put him in a certain nervous state. When you need 6 or 7 takes, the actor loses that edge. One has to help, by any means necessary," he says.

U is for "Une petite ville française"
("A little French town") The Raven was would have been screened under this title, in Germany: this rumor results in a ban from the Liberation, where the film is considered "anti-French." Clouzot and Chavance, his screenwriter, are forbidden to work for life, a ban which will be later lifted.
V is for Vampire

"He is a vampire, he has a reliable instinct that selects people who might be of use to him, people who will bring water to his mill or fire to his hell," said one female collaborator.
W is for William Friedkin
The American director, who would make his own adaptation of the novel by Georges Arnaud with Sorcerer '1977), meets Clouzot the year before and asks him for the secret to The Wages of Fear. "The details!" exclaims the filmmaker.

X is for EX

According to the "moral rating" of the catholic cinema center, the film Woman in Chains is classified "EX: For adults, with strong restriction," while Diabolique receives a rating of "4B: To be discouraged." Films The Truth, The Raven and Manon receive rating "5: Forbidden."
Y is for Yves Montand
For the role of Mario, a Parisian who keeps a metro ticket as a symbol of nostalgia in The Wages of Fear, Clouzot chooses Yves Montand, who has made only minor films since the failure of Gates of the Night by Marcel Carné. Clouzot, sure of his choice, makes the actor work at length. He will be excellent.

Z is for Zone of neutrality

"To move the viewer, I always aim to accentuate the chiaroscuro, to oppose light and shadow," he said. "For me, the golden rule is to bring the contrasts to their maximum with the extreme 'points' of the drama, separated by 'neutral zones.'"
Rébecca Frasquet
---