The emotion of a cinema giant
---
Posté ON OCTOBER 19 AT 11AM

---

The Lumière festival rolled out the red carpet for Francis Ford Coppola, laureate of the Lumière Award 2019! On Friday evening, the master received the prestigious distinction at the conclusion of a rich and touching ceremony.
"I wasn't really ready for this, but it's a good thing I didn't really prepare for it, because there was no way to anticipate this experience and all the extraordinary things said about me. I was touched by (Bertrand Tavernier) for the beautiful thought he gave… and Bong Joon-ho, you actually represent my highest goal. When you make a film, you put it out there and you don't know where it's going to go… but if some young person sees something that I worked on and becomes inspired… that is really the greatest gratification. I have become immortal through you, and you have become immortal through someone who sees what you do. I took this idea from Balzac, in a collection I have, who described how a friend had told him, 'Some of these young writers are stealing from you!' to which Balzac replied, 'That's what it's for!' and I agree with him," said the American director, receiving the award honoring his career in front of the 3,000 festivalgoers of the amphitheater of Lyon.
"I'm reminded of sitting on the curb of the street as a child, while a parade is going by – the bands are playing… and all these people I admire are passing by, and I realize that I would love to be in that parade too!… All I've ever wanted, was not to lead the parade, but just be a part of it. And tonight, you have made me what I most want, which is to be included. And I thank you for that…
I see three things very much present here in Lyon, things this world needs more than anything: friendliness, enthusiasm and celebration. And that's what the future will have, I think," concluded the auteur of Apocalypse Now, the groundbreaking classic that will be screened on Sunday at the closing of this anniversary edition of the festival.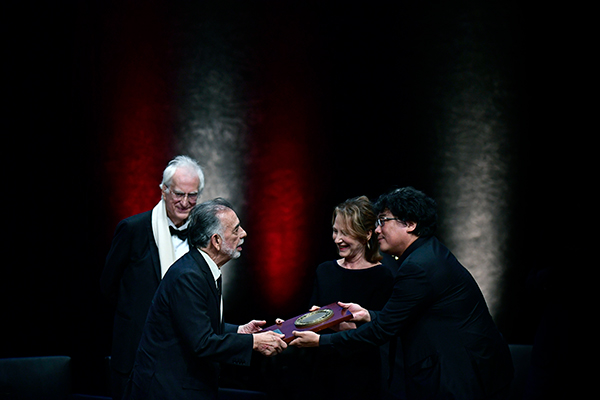 Bong Joon-ho and Nathalie Baye present the Lumière Award
to Francis Ford Coppola under the gaze of Bertrand Tavernier.
Copyright Institut Lumière / Olivier Chassignole


The arrival of the festival guests of honor (Bong Joon-ho -posing in front of the photo of the master, jokingly playing with his beard - Nathalie Baye, Alain Chabat, Jean-Loup Dabadie, Gael García Bernal, Robin Campillo, Marina Foïs, Vincent Lindon...) were followed by a beautiful introduction with the piano performance by French singer Jeanne Cherhal, in a soaring rendition of The Godfather: Speak Softly Love, a song from Nino Rota's legendary score.

The tribute continued with superb American tenor John Osborn performing "Lamento di Federico" from the opera L'Arlesiana, accompanied by pianist Florian Caroubi. In video messages sent for the occasion, Sofia Coppola congratulated her father from New York, flanked by her two daughters, while James Gray from Paris, said, "You are the greatest creative influence of my life, you are one of those who do not disappoint. My love for your work is boundless." Nathalie Baye recalled her experience with Coppola while serving on the jury he presided over at the Cannes Film Festival: "I am an immense admirer and a big fan. The cinema of Francis Ford Coppola speaks to everyone; it is timeless."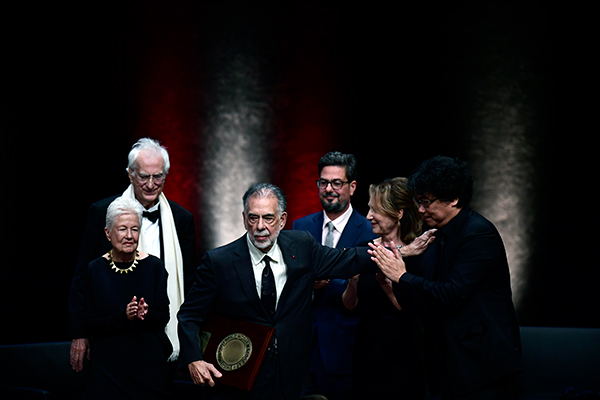 Copyright Institut Lumière / Olivier Chassignole
Bong Joon-ho did not hide the importance Coppola has had in his career. "Apocalypse Now remained censored for nine years in Korea under the dictatorship, so I could not see it before 1988. It was an incredible shock that is difficult to describe here. I started the University following this shock. In the documentary, Hearts of Darkness, we see Francis Coppola declare, 'Tomorrow, if he wants to, a 9-year-old can become a director!' It gave me courage and I made a short film. Since I did not know how to make films, I took a scene that I liked in The Godfather and I started drawing it. I analyzed Luca's murder, scene by scene, and started drawing the storyboard. Today, Francis Ford Coppola is right in front of me, and I'm shaking!" Later joining him on stage, Francis's son, Roman Coppola, spontaneously took the mike to say, "Bravo Dad, we are so proud of you. You inspire us in our lives and in our work, we love you so much," to which Francis's wife, Eleanor, exclaimed, "Ditto!"
"I think we had a good idea to create this festival," said Bertrand Tavernier to enthusiastic applause. "Francis, I met you in 1963 in Los Angeles at a party organized by Roger Corman. You had just directed Dementia 13 and he was raving about you!" Then the President of the Institut Lumière, obviously moved, described the difficulty of publicly expressing his admiration in front of the filmmaker. "I got to know you through your movies," he said. "Seeing them on the screen, I agreed with your passions and I shared your doubts. I was impressed, I am even more so tonight, I was afraid to admire you badly. I have loved you ever since your road movie The Rain People. Apocalypse Now is one of those films that stays with you your entire life."
Bertrand Tavernier then launched into a detailed analysis of the works by the Lumière Award recipient, with his trademark deep knowledge and insight, complemented by literary references (William Faulkner, Robert Penn Warren). Tavernier's speech of rich erudition and sincerity was one of the highlights of the ceremony. And, as is often the case at Lumière, the evening ended in song: Les Champs-Elysees by Joe Dassin (whose father, a director, Coppola had known) was sung by Alain Chamfort in unison with the captivated audience.
Charlotte Pavard et Benoit Pavan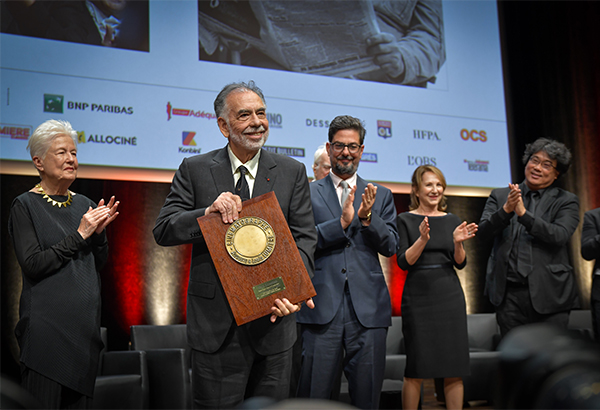 Copyright Institut Lumière / Jean-Luc Mège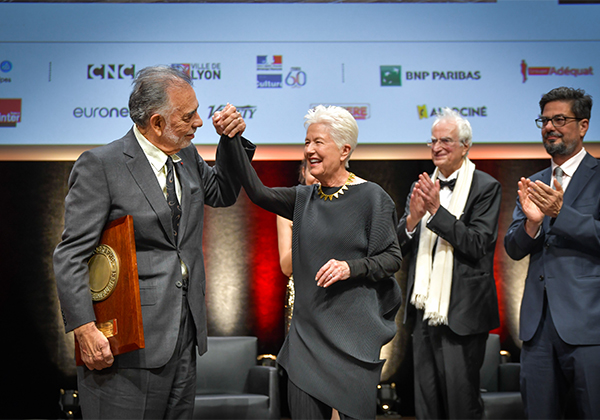 Copyright Institut Lumière / Jean-Luc Mège

2019 Lumière Award presented
to Francis Ford Coppola - Friday, October 18th
Bertrand Tavernier

Copyright Institut Lumière / Sabine Perrin - Jean-Luc Mège Photography

Monica Bellucci

Copyright Institut Lumière / Sabine Perrin - Jean-Luc Mège Photography

Monica Bellucci

Copyright Institut Lumière / Sabine Perrin - Jean-Luc Mège Photography

Gaspar Noé

Copyright Institut Lumière / Sabine Perrin - Jean-Luc Mège Photography

Laurent Lafitte

Copyright Institut Lumière / Sabine Perrin - Jean-Luc Mège Photography

Laurent Lafitte

Copyright Institut Lumière / Sandrine Thesillat - Jean-Luc Mège Photography

Emmanuelle Devos

Copyright Institut Lumière / Sabine Perrin - Jean-Luc Mège Photography

Hippolyte Girardot

Copyright Institut Lumière / Sabine Perrin - Jean-Luc Mège Photography

Pierre Deladonchamps

Copyright Institut Lumière / Sabine Perrin - Jean-Luc Mège Photography

Gael García Bernal

Copyright Institut Lumière / Sabine Perrin - Jean-Luc Mège Photography

Georges Képénékian

Copyright Institut Lumière / Sabine Perrin - Jean-Luc Mège Photography

Lucien Jean-Baptiste

Copyright Institut Lumière / Sabine Perrin - Jean-Luc Mège Photography

Bong Joon-ho

Copyright Institut Lumière / Sabine Perrin - Jean-Luc Mège Photography

Tony Gatlif

Copyright Institut Lumière / Sabine Perrin - Jean-Luc Mège Photography

Delphine Gleize et Yann Gonzales

Copyright Institut Lumière / Sabine Perrin - Jean-Luc Mège Photography

Marina Vlady

Copyright Institut Lumière / Sabine Perrin - Jean-Luc Mège Photography

Marina Vlady

Copyright Institut Lumière / Sabine Perrin - Jean-Luc Mège Photography

Ludivine Sagnier

Copyright Institut Lumière / Sabine Perrin - Jean-Luc Mège Photography

Nathalie Baye

Copyright Institut Lumière / Sabine Perrin - Jean-Luc Mège Photography

Nathalie Baye

Copyright Institut Lumière / Léa Rener

Régis Wargnier

Copyright Institut Lumière / Sabine Perrin - Jean-Luc Mège Photography

Jean-Loup Dabadie

Copyright Institut Lumière / Sabine Perrin - Jean-Luc Mège Photography

Alain Chabat

Copyright Institut Lumière / Léa Rener

Francis Ford Coppola

Copyright Institut Lumière / Jean-Luc Mège Photography

Les invités

Copyright Institut Lumière / Romane Reigneaud - Jean-Luc Mège Photography

Francis Ford Coppola

Copyright Institut Lumière / Léa Rener

Bong Joon-ho

Copyright Institut Lumière / Romane Reigneaud - Jean-Luc Mège Photography

Bong Joon-ho

Copyright Institut Lumière / Léa Rener

Bong Joon-ho

Copyright Institut Lumière / Jean-Luc Mège Photography

Bong Joon-ho

Copyright Institut Lumière / Sabine Perrin - Jean-Luc Mège Photography

Nathalie Baye

Copyright Institut Lumière / Sandrine Thesillat - Jean-Luc Mège Photography

Bertrand Tavernier

Copyright Institut Lumière / Sandrine Thesillat - Jean-Luc Mège Photography

Bong Joon-ho

Copyright Institut Lumière / Jean-Luc Mège Photography

Francis Ford Coppola

Copyright Institut Lumière / Bastien Sungauer

Francis Ford Coppola

Centre de Congrès - Copyright Institut Lumière / Olivier Chassignole

Francis Ford Coppola et Bong Joon-ho

Centre de Congrès - Copyright Institut Lumière / Olivier Chassignole

Francis Ford Coppola

Copyright Institut Lumière / Bastien Sungauer

Francis Ford Coppola

Copyright Institut Lumière / Sandrine Thesillat - Jean-Luc Mège Photography

Les invités

Copyright Institut Lumière / Romane Reigneaud - Jean-Luc Mège Photography

Francis Ford Coppola

Copyright Institut Lumière / Jean-Luc Mège Photography

Francis Ford Coppola

Centre de Congrès - Copyright Institut Lumière / Olivier Chassignole

Francis Ford Coppola

Copyright Institut Lumière / Léa Rener