The Divine Voyage/La Divine croisière


---
PostED ON OCTOBER 14

---
In the twilight of silent cinema, Julien Duvivier delivers a dazzling nautical drama.

The silent period of Julien Duvivier (1896-1967) is slowly being rediscovered and restored - but it remains surprisingly overlooked in reference works such as, for example, the World Cinema Dictionary, published by Larousse. The Divine Voyage/La Divine croisière, released in June 1929, the year the director made three films (!), nevertheless displays an incredible narrative and visual power, which talkies would take a few years to recapture. During this period, the filmmaker alternated between literary adaptations (Zola, Jules Renard, Henry Bordeaux) - and religious films (La Vie miraculeuse de Thérèse Martin, 1929), whose own lack of faith rendered even more universal. Partially shot in a village in Brittany, The Divine Voyage/La Divine croisière is both a pious fable and, what we like even better, a local legend. It tells the story of the rescue of a merchant ship that an unscrupulous shipowner calculatingly sends on a long-distance voyage, knowing its poor condition will render it incapable of surviving...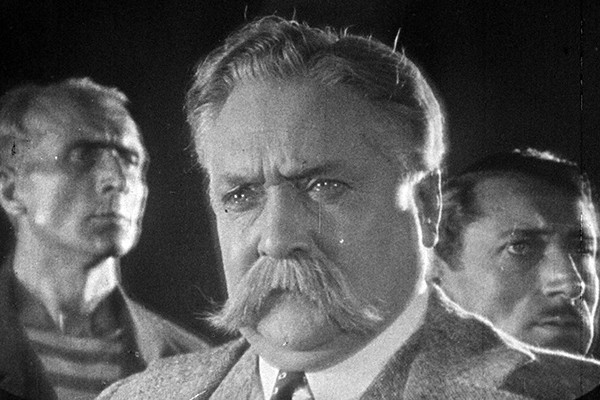 Henry Krauss dans La Divine Croisière, 1929
Everything in The Divine Voyage/La Divine croisière is astonishing: the splendour of the framing, particularly the prodigiously rich swooping shots of the crowds; the close-ups of the faces, of an immaculate precision, which literally catapult the viewer of today ninety years back in time; the ultra-cut editing, no doubt borrowed from Russian cinema. An additional asset is the powerful performances of the actors: Henry Krauss embodies a shipowner who has become a captain of industry, showing unrestrained aggression towards those he employs, while Jean Murat plays a kind-hearted captain; the disturbing Thomy Bourdelle (who played Juve for Feuillade) as a mutinous sailor… The ending, featuring an alternating montage of the idyll of Krauss and Murat, is quite surprising. In short, a real revelation!

Aurélien Ferenczi
---
Screenings :
The Divine Voyage/La Divine croisière de Julien Duvivier (La Divine croisière, 1929, 1h36)
Pathé Bellecour Thu14 6:45pm | Villa Lumière Fri15 11:15am
Previously unreleased restoration by Lobster Films with the support of the CNC, using an abridged and tinted nitrate print, and four 35mm fragmentary elements from the collections of the Cinémathèque française, along with censored shots from prints of the collections of the Eye Filmmuseum and Lobster Films.

A DVD box set of several silent films by Julien Duvivier, including The Divine Voyage/La Divine croisière, will soon be released by Lobster Films.