quite a 'Pedigree'
---
PostED ON OCTOBER 9
---
An actor, director, radio personality, loyal and valiant theatre performer of (Nobel laureate) Patrick Modiano, Edouard Baer is all of this, and more.
Baer, the actor
Taking on leading and supporting roles with affable involvement, the actor Édouard Baer approaches each character with the same sensitivity, without a pecking order. This is perhaps why filmmakers such as Frédéric Jardin, Laurent Tirard, Claude Miller and Pascal Bonitzer have continued to collaborate with him. All social classes and all styles are accepted with Baer, who can play jovial and out-of-touch in Battle of the Classes (Michel Leclerc, 2019), a false and formidably unsympathetic little schemer in Molière (Laurent Tirard, 2007), the skillful narrator in Wild Grass (Alain Resnais, 2008) or a gentle photographer in Raoul Taburin (Pierre Godeau, based on the brilliant work by writer and illustrator Sempé, 2019)…
In 2018, Baer transformed himself into the Marquis des Arcis, a self-absorbed, incorrigible seducer, in Lady J/Mademoiselle de Joncquières (Emmanuel Mouret). The actor illustrated the violent state of a philanderer touched by love, with a power that did not rely on shouting, but on the sudden rush of words: "I must have that girl, or I shall perish". An admirable adaptation of Diderot, Lady J/Mademoiselle de Joncquières is one of the finest roles Baer has ever played. The actor shifts from absolute, natural aristocratic nonchalance to a man filled with the overwhelming tension of no longer caring about anything but his emotional pain.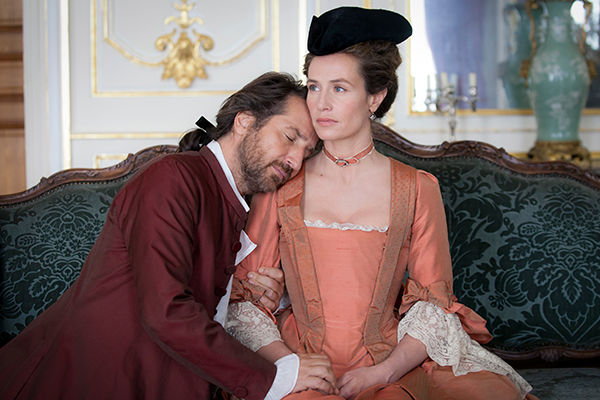 Édouard Baer and Cécile by France in Mademoiselle de Joncquières, 2018

Baer, the filmmaker

"Whatever happens, don't worry, people like us don't exist in real life," declares Jeanne Moreau as a surprising mafia figure in Akoibon, directed by Edouard Baer in 2005. Baer as a filmmaker means the creation of a genre of cinema that did not exist before him. It is an ode to the diverse and welcoming group of characters who want to believe despite all odds, and who therefore develop their style and theories about everything. They are named Luigi, Daniel, or Chris... They are beings in perpetual flight, static or mobile, both nocturnal and diurnal, who are entertainingly unorganised. "I leave it to chance!" proclaims Luigi in Open at Night (2017). Baer's characters form a great pluralism, where all physiques, social backgrounds and ages are invited to take part in a decidedly personal dance that is carefully composed.
Adieu Paris! which Baer has just completed, presents a new tale of turmoil between gentlemen, a kind of Balzac-meets-Lewis Carroll, featuring crazy and detailed portraits of a group of cruel, funny, cowardly, fastidious, old, stingy and generous men all at once, who believe in fatigue, love, friendship and depression - as long as it is beautiful. With a highly poetic fondness for adoptive fathers, especially the late Jean Rochefort, Édouard Baer never idealises anything, aside perhaps a notion of unflagging hope, sans the nostalgia. Each of his films is driven by this energy of enthusiasm. Everything is a plea, a wish, which can take us far, as far as the eye can see…
Virginie Apiou
---
The films


Open at Night by Édouard Baer (2017, 1h37)
Lumière Terreaux Mon11 2:30pm | UGC Confluence Mon11 9:45pm
Mademoiselle de Joncquières/Lady J by Emmanuel Mouret (2018, 1h49)
Pathé Bellecour Sun10 7pm
Adieu Paris ! by Édouard Baer (2021, 1h45)
Lumière Institute Sun10 2:30pm | Comoedia Mon11 9pm


Master Class
Comédie Odéon Mon11 3:15pm