The Other Side of the Wind

---
MONDAY, OCTOBER 1, 2018

---
The result of a turbulent genesis and a 50-year-long project, Orson Welles' last, legendary film has just been completed, thanks to the efforts of three producers, Filip Jan Rymsza and Frank Marshall, as well as director Peter Bogdanovich. The film's resurrection, along with its premiere at Lumière 2018, is a major event for admirers of Welles and film historians alike.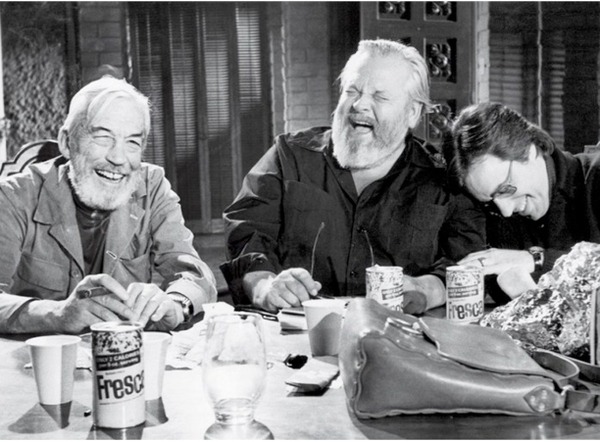 Orson Welles with John Huston and Peter Bogdanovich on the set of The Other Side of the Wind.
The idea of The Other Side of the Wind began with Welles' discussions with his friend Peter Bogdanovich on the latter's encounters with old directors who had been left behind by the Hollywood machine's deficient memory. Welles would never finish his film, but will have dreamt of it until his death, going so far as to ask his friend to complete its editing.
Welles shot The Other Side of the Wind between 1970 and 1976, between the United States and Europe, but found himself caught up in a legal entanglement with the Iranian production (the producer was brother-in-law to the shah) and John Huston's contract, which was invalid. In Paris, Welles secretly recuperated the film reels and sent them to the United States for editing.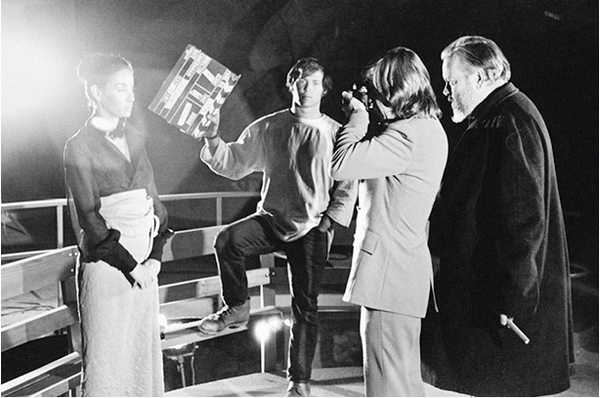 On several occasions, The Other Side of the Wind was nearly ready for release, but unresolved rights issues and funding problems plagued it until today, nearly fifty years after production began.
A fatal car accident. Jake Hannaford (played by John Huston) is at the wheel on the evening of July 2nd, celebrating his birthday. The disaster occurs during the aging director's attempt at a Hollywood comeback, after years of semi-exile in Europe. The work is both a documentary on the last days of Hannaford's life (based on television reports of the birthday party or images taken by fans) and the story of the film he was working on before his death - a film within a film. The formats and technical specs are an assorted mix of color, black & white, 35mm, 16mm, super 8, video.
In a complementary feature to Welles' last work, the festival will screen They'll Love Me When I'm Dead, a documentary by Morgan Neville (director of Twenty Feet from Stardom) on the genesis of the cursed film and the last fifteen years of Welles' life. Through previously unseen archive footage, audio recordings, interviews with Welles' contemporaries and close friends and family (Peter Bogdanovich, Frank Marshall, Oja Koda and his daughter, Beatrice Welles), Morgan Neville adds a new element to the larger-thanlife persona of Welles in the final chapter of one of the most magnificent and enigmatic careers in the history of cinema.
Thanks to

and Filip Jan Rymsza.