He didn't write like a gangster...
---
PostED ON OCTOBER 10
---
After the publication last year of three screenplays by Michel Audiard adapted from Georges Simenon's novels, the Lumière Institute /Actes Sud publishers are now focusing on the collaboration between the screenwriter-dialogist and Albert Simonin, from whom the iconic Les Tontons flingueurs/Crooks in Clover originated. Franck Lhomeau, historian of the detective novel, who edited, presented and annotated the book, shares the story of the author of The Counterfeiters of Paris.


Who was Albert Simonin?
Born in 1905, he was fifteen years older than Michel Audiard. He came from a rather modest background, lived in the Chapelle district of Paris and, between the two wars, divided his time between his job as a taxi driver and writing. He met a rather eccentric character, Jean Bazin, already an author at the NRF, with whom he wrote Voilà taxi!', in which he tells the story of his job using slang, even including a glossary at the end of the book. During the occupation, he worked as a journalist and collaborator. He was sentenced to five years' imprisonment in various jails, some of them quite harsh. He was released in 1949 and in 1952, he wrote Touchez pas au Grisbi, in reaction to an American noir/hardboiled novel. The publication was an immediate success and became the best-seller of the Série Noire.
Was slang in the noir novel becoming a trend?
Auguste Le Breton was also very successful with his book, Du Rififi chez les hommes, but critics differentiated between the two novelists and their use of slang; Simonin was a stylist, he had never known the world of the mobsters he wrote about. The reasons for his imprisonment were sealed and it was said that he had learnt slang from his fellow prisoners, but there were many rumours about it. His approach was more literary than that of Le Breton, who really did frequent the underworld. Jacques Becker's rapid adaptation of Touchez pas au Grisbi also established Simonin as a film director. And he stopped writing novels after the Max le Menteur trilogy, because the cinema was more lucrative.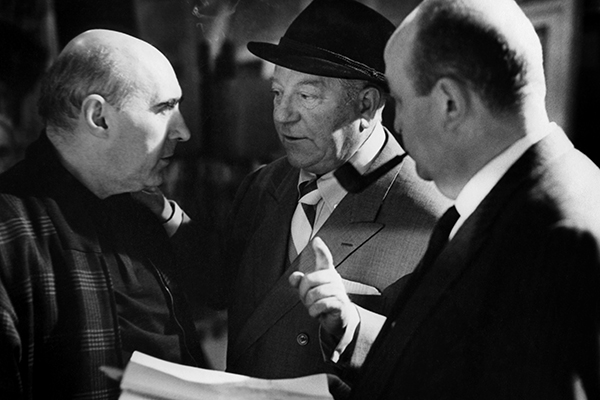 Grangier, Gabin and Blier chat on the set of The Counterfeiters of Paris.
How did he meet Michel Audiard?
They collaborated for the first time on Norbert Carbonneaux's Slightly Ahead (1955), a good comedy about a turf swindle, a film praised by Truffaut. Had they met before? Possibly, but there is no evidence of this. It was not until several years later that they met again. In the meantime, Simonin had participated in some rather mediocre films. Their collaboration was smooth and lasted ten years; they wrote a dozen films together, Simonin writing most of the screenplays, and Audiard most of the dialogues.
During your research, what did you learn about the writing of The Counterfeiters of Paris (1961), directed by Gilles Grangier?
Contrary to what has been said, Simonin set about writing a comedy screenplay straight away, whereas his novel could have had as realistic a setting as Becker's Grisbi. But the genre had already been parodied - think of the various adventures of Lemmy Caution - and Simonin had no desire to glorify the world of mobsters, which he didn't find very attractive. His adaptation was very well constructed, and already included dialogues, which modified a bit the view of Audiard's work, without taking anything away from the importance of his contributions.
Interview by A. F.
---
Publication
Michel Audiard – Albert Simonin : Le Cave se rebiffe, Mélodie en sous-sol, Les Tontons flingueurs, screenplays presented by Franck Lhomeau, Institut Lumière / Actes Sud, 880 pages, 39 €
Film
The Counterfeiters of Paris by Gilles Grangier (Le Cave se rebiffe de 1961, 1h38)
Villa Lumière Sun10 4pm| Pathé Vaise Mon11 8:30pm | UGC Confluence Tue12 11am | Neuville-sur-Saône Wed13 8pm | Comoedia Sat16 7:30pm | Pathé Bellecour Sun17 2pm