---
Posted on OCTOBER 11 at 11:15pm

---
Film clips, surprises, electric energy… At the Halle Tony Garnier, joy and glamour were in the air at the launch of the 12th edition of the Lumière festival.
There was a festive atmosphere to kick offthe nine-day event that promises to be full of memorable moments: The Lumière Awardfor Jean-Pierre and Luc Dardenne, a tribute to great women filmmakers, to Mélina Mercouri, big classics in black and white, the screening of 23 films from the Cannes 2020 Official Selection lineup... A myriad of guests of honour were present for the opening: Viggo Mortensen, Alice Rohrwacher, and Thomas Vinterberg, who will all be giving Master Classes. The Danish director was accompanied by his friend and loyal sidekick Mads Mikkelsen, the brilliant protagonist of Another Round, his latest film, which will premiere at the festival, one of the Cannes 2020 events of this edition. In Lyon to present his autobiography and restored version of Born on the Fourth of July, Oliver Stone, whose career will be celebrated this Sunday at the Auditorium, also graced the evening with his presence. The same goes for Jacques Audiard, with his nephew Stéphane, who commented on the initiative of the retrospective organised on the occasion of his father's centenary. The testimonials on stage by Michel's son and grandson moved the audience. "I said Michel, but I called him Dad", explained Jacques. "Until his death, I saw him work with relentless intensity." He wrote 110 films.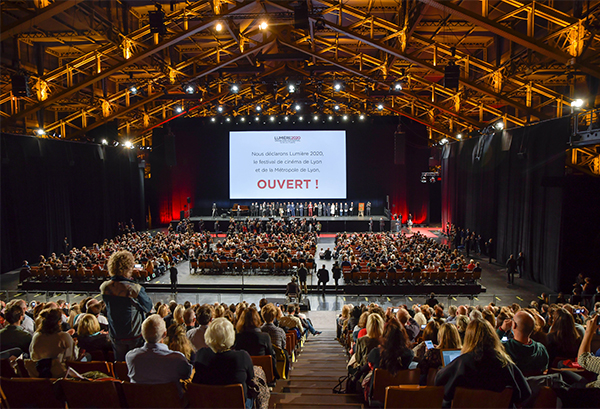 Copyright Institut Lumière / Jean-Luc Mège


Abd al Malik, Lucas Belvaux and Emmanuelle Devos had come to pay tribute to Tonie Marshall, who passed away this year. Laetitia Dosch was present, as well as loyal friends of the festival, Éric Guirado, Tony Gatlif and Laurent Gerra. Irène Jacob, Lucien Jean-Baptiste, JR, Lyna Khoudri, the young actress of Papicha, Jean-Pierre Kalfon, Pierre Lescure, Vincent Lindon, Ladj Ly, Claude Mouriéras and Rebecca Zlotowski added to the prestigious list of Lumière guests.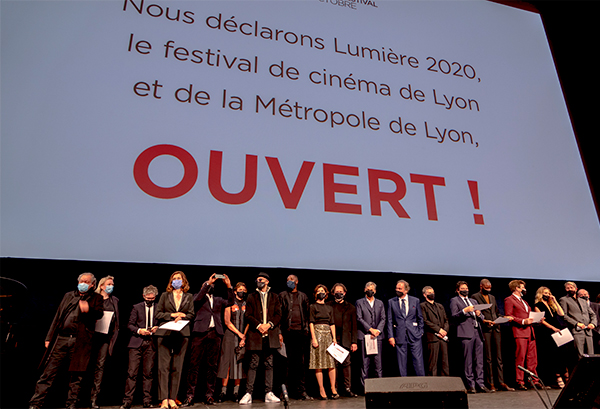 Copyright Institut Lumière / Sandrine Thesillat - Jean-Luc Mège Photography
An acclaimed, nine-minute short by artist JR and Alice Rohrwacher portrayed a eulogy of peasant agriculture, a touching production filmed on the heights of the Italian plateau of Alfina. The rhythm changed when British composer Steve Nieve, longtime pianist of Elvis Costello, sat down at his Steinway and Sons baby grand piano to pay tribute to Ennio Morricone. Time stood still as Once Upon a Time in America, Cinema Paradiso, Sacco & Vanzetti... flowed from his virtuoso fingers. It was then the exhilarating moment for the celebrities to officially kick off the classic film festival on stage. The festivalgoers joined in, and Lumière 2020 was launched! The curtain rose on the playful banter and funny guys of Les Tontons Flingueurs/Monsieur Gangster, screened in a new version, restored by Gaumont.


Charlotte Pavard
Viggo Mortensen

Copyright Institut Lumière / Olivier Chassignole

Viggo Mortensen

Copyright Institut Lumière / Romane Reigneaud - Jean-Luc Mège Photography

Viggo Mortensen

Copyright Institut Lumière / Sandrine Thesillat - Jean-Luc Mège Photography

Laeticia Dosch

Copyright Institut Lumière / Olivier Chassignole

Laeticia Dosch

Copyright Institut Lumière / Loic Benoit

Mads Mikkelsen

Copyright Institut Lumière / Olivier Chassignole

Mads Mikkelsen

Copyright Institut Lumière / Jean-Luc Mège Photography

Thomas Vinterberg et Mads Mikkelsen

Copyright Institut Lumière / Sandrine Thesillat - Jean-Luc Mège Photography

Lyna Khoudri

Copyright Institut Lumière / Sandrine Thesillat - Jean-Luc Mège Photography

Steve Nieve et Thierry Frémaux

Copyright Institut Lumière / Sandrine Thesillat - Jean-Luc Mège Photography

Steve Nieve

Copyright Institut Lumière / Romane Reigneaud - Jean-Luc Mège Photography

Oliver Stone

Copyright Institut Lumière / Romane Reigneaud - Jean-Luc Mège Photography

Irène Jacob

Copyright Institut Lumière / Romane Reigneaud - Jean-Luc Mège Photography

Irène Jacob

Copyright Institut Lumière / Sandrine Thesillat - Jean-Luc Mège Photography

Vincent Lindon

Copyright Institut Lumière / Sandrine Thesillat - Jean-Luc Mège Photography

Vincent Lindon

Copyright Institut Lumière / Léa Rener

Jacques Audiard

Copyright Institut Lumière / Sandrine Thesillat - Jean-Luc Mège Photography

Jacques Audiard et Stéphane Audiard

Copyright Institut Lumière / Sandrine Thesillat - Jean-Luc Mège Photography

Stéphane Audiard

Copyright Institut Lumière / Loic Benoit

Abd Al Malik

Copyright Institut Lumière / Léa Rener

Abd Al Malik

Copyright Institut Lumière / Romane Reigneaud - Jean-Luc Mège Photography

Rebecca Zlotowski

Copyright Institut Lumière / Olivier Chassignole

JR

Copyright Institut Lumière / Romane Reigneaud - Jean-Luc Mège Photography

Alice Rohrwacher et JR

Copyright Institut Lumière / Sandrine Thesillat - Jean-Luc Mège Photography

Lucien Jean-Baptiste

Copyright Institut Lumière / Léa Rener

Lucien Jean-Baptiste

Copyright Institut Lumière / Sandrine Thesillat - Jean-Luc Mège Photography

Pierre Lescure

Copyright Institut Lumière / Sandrine Thesillat - Jean-Luc Mège Photography

Françoise Nyssen

Copyright Institut Lumière / Sandrine Thesillat - Jean-Luc Mège Photography

Eric Guirado

Copyright Institut Lumière / Jean-Luc Mège Photography

Tony Gatlif

Copyright Institut Lumière / Romane Reigneaud - Jean-Luc Mège Photography

Laurent Gerra

Copyright Institut Lumière / Sandrine Thesillat - Jean-Luc Mège Photography

Jean-Pierre Kalfon

Copyright Institut Lumière / Sandrine Thesillat - Jean-Luc Mège Photography

Thomas Vinterberg

Copyright Institut Lumière / Olivier Chassignole

Mads Mikkelsen

Copyright Institut Lumière / Olivier Chassignole

Halle Tony Garnier

Copyright Institut Lumière / Jean-Luc Mège Photography

Thierry Frémaux, Jacques Audiard et Stéphane Audiard

Copyright Institut Lumière / Jean-Luc Mège Photography

Jacques Audiard et Stéphane Audiard

Copyright Institut Lumière / Léa Rener

Steve Nieve

Copyright Institut Lumière / Léa Rener

Steve Nieve

Copyright Institut Lumière / Romane Reigneaud - Jean-Luc Mège Photography

Alice Rohrwacher et JR

Copyright Institut Lumière / Léa Rener

Oliver Stone

Copyright Institut Lumière / Léa Rener

Halle Tony Garnier

Copyright Institut Lumière / Jean-Luc Mège Photography

Les invités du festival Lumière

Copyright Institut Lumière / Léa Rener

Les invités du festival Lumière

Copyright Institut Lumière / Léa Rener

Halle Tony Garnier

Copyright Institut Lumière / Jean-Luc Mège Photography

Viggo Mortensen

Copyright Institut Lumière / Olivier Chassignole