---
PostED ON OCTOBER 10 AT 6:50 PM

---
From coveted actress to socially conscious filmmaker and producer, the Briton followed a remarkable path that paved the way for women in patriarchal post-war Hollywood.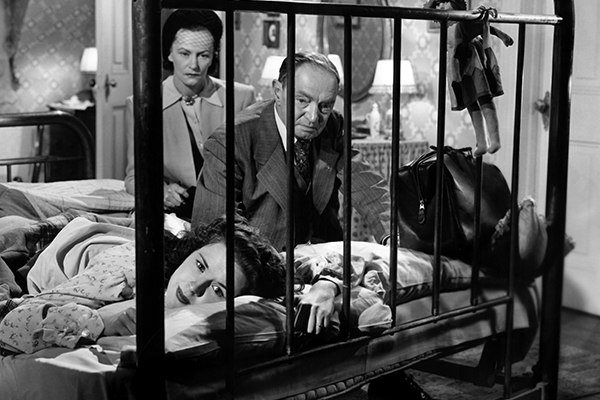 She worked with some of the most prominent directors of the highly codified - and male-dominated - Hollywood of the 1930s to 1950s, before gradually breaking away, weary of a system that clearly left too little room for women and their creativity. Although Ida Lupino is considered, in many respects, a pioneer in the history of American cinema, it is first and foremost because of her unwavering and relentless feminist battle, both on and off the screen, against the stereotypes conveyed by an entire industry.

Paradoxically, this British woman with a fiery temperament, who took on more than a hundred film roles and directed six feature films between 1949 and 1953 - thus becoming the first actress filmmaker - was for a long time one of the great forgotten stories of Hollywood's golden age.

It was American director Allan Dwan who, in 1933, offered the first role to this young British theater graduate, born in 1918 to actor parents. At times playing the femme fatale, then vulnerable or independent, Ida Lupino went on to make a series of appearances and established a reputation as a strong-willed actress whose physical presence on screen contrasted with the noble charm of Greta Garbo or the carnal glamour of Marilyn Monroe.

Recognizable by her husky voice and melancholic gaze, she embodied, within the Hollywood industry, the archetypal "tough, elusive, boyish-looking" actress whose "dark eyes were windows to a burning passion," as Martin Scorsese would say of her.

The years went by, and, with them, her aspirations changed. In the mid-1940s, Ida Lupino's career was at a turning point: on set, with already some forty films to her name, she began expressing her boredom and dreamt of directing. To the point of turning down several roles and bringing Warner Bros' bosses' wrath upon herself.

Alongside producer and screenwriter Collier Young, whom she met in 1947 and married, Ida Lupino decided to create the production company The Filmmakers. Another path then opened up for her: in 1949, with her producer's hat on, she began writing a screenplay for which she wanted to find a director. The plot of Not Wanted (1949), which recounts the past of a young girl arrested for stealing a baby, was a departure from the storybook Hollywood narrative.

But a few days before shooting, the filmmaker who was supposed to direct the film, Elmer Clifton, had a heart attack, and Ida Lupino seized this unfortunate circumstance to get behind the camera (at last!). A year later, she joined the prestigious Director's Guild of America, the American directors' union. She would go on to direct five more feature films, all of which will be commercial failures.

However, these projects are great opportunities for the filmmaker to tackle themes that stand in sharp contrast to those usually addressed by the American film industry. Inspired by Roberto Rossellini, who, at a dinner party, suggested she not to follow the studios' example, but " make ordinary films about ordinary people," she brought to the screen illness (Never Fear, 1949), rape (Outrage, 1950) and adultery (The Bigamist, 1953).

With The Hitch-Hiker (1953), her penultimate feature film, she became the first woman to make a film noir. "She portrays men as dangerous and irrational, akin to the way women are portrayed in most male-directed Hollywood film noirs," writer Richard Koszarski said of her.

In 1954, The Filmmakers closed down due to a lack of funds. The twilight of Ida Lupino's career, which would come to an end at the dawn of the 1980s, was marked by her work as a director on many episodes of some of the most famous television series of the time, from Alfred Hitchcock Presents to Bewitched and The Twilight Zone.

She passed away in 1995, leaving behind a still underestimated legacy. "At a moment when the #MeToo movement is looking for symbols, it is time to finally give Ida Lupino the credit she deserves", wrote Antoine Sire, author of the book Hollywood, la cité des femmes (Éditions Actes Sud-Institut Lumière).
Benoit Pavan