of Mark Cousins
---
PostED ON OCTOBER 15

---
Mark Cousins is the focus of a two-documentary event at this year's Lumière festival. Nothing is surprising when discussing the prolific renaissance man, the British filmmaker-cinematographer, and the auteur behind the monumental feat, The Story of Film: An Odyssey, a 15-hour, insightful journey through the history of cinema. "Cinema is not my work, it is my life", declared this enthusiast of everything (but particularly architecture) at Cannes this past July.

In The Storms of Jeremy Thomas, Mark Cousins takes advantage of a 1,000 km journey from London to Cannes to unfurl the chaptered biography of the famous British producer of 68 films. The documentary takes us on a tour of Jeremy Thomas' professional life, from Paris, on the set of the movie The Dreamers, to Lyon, and then the Cannes Film Festival. A life that leans towards the celebration of radical British culture, a man who is interested in 'outsiders' and the disorder that lies beneath the surface of bourgeois lives.
"These films showed me the dark side of love... My determination to try to innovate and not to compromise on form or content is related to seeing Jeremy Thomas films…"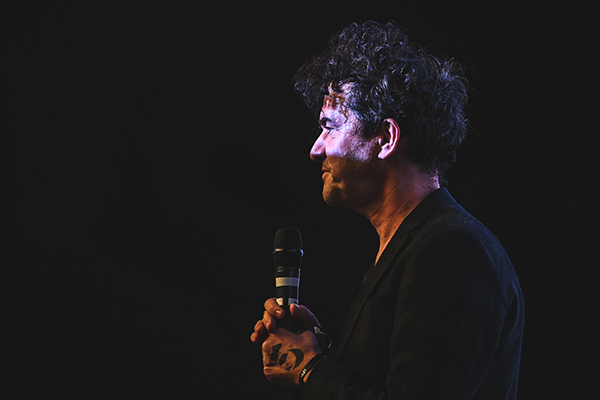 © Olivier Chassignole

The Story of Film: A New Generation adds a fresh chapter, 10 years later, to Mark Cousins' gargantuan 15-part oeuvre. In this incredibly absorbing and well-documented work, the director surveys the cinema of the last decade, a particularly creative one in his view, through the development of the film industry in countries such as the Philippines, Ethiopia and Argentina, while describing the significant decline in the supremacy of Hollywood and Bollywood.
"Technology became miniaturised to the extent that often the camera, the lighting and the editing were so intimidating that it was difficult to make films. Today it's easier than ever... More people from more parts of the world, and in turn, more different types of people, are making movies than ever before."