---
PostED ON OCTOBER 11
---
Whether he is cornered or pushed by extreme psychological and physical situations in The Room Upstairs (Georges Lacombe, 1946), The Lower Depths (Jean Renoir, 1936) or The Walls of Malapaga (René Clément, 1949), one thing is certain: nothing can make Jean Gabin run.
With his sturdy, mostly rumbling physique, Gabin is above all an actor defined by his face, his stiff torso and gently folded arms. This is where he concentrates all his intensity, making him powerful and potentially well worth a race. But Gabin lets things, women and hassles fly at him, whether he is a mad lover in The Room Upstairs, a murderer hiding in The Walls of Malapaga, or a good-natured burglar in The Lower Depths. His characters, though often on the run, never break into a sprint.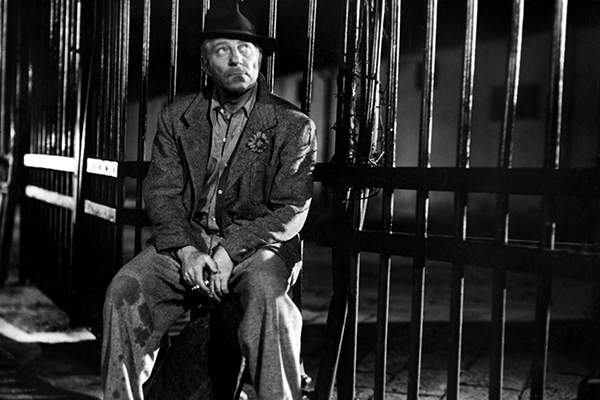 The Walls of Malapaga, 1949


And if they let their impulses get the better of them, they are immediately countered by the fatalism of the hero who takes responsibility for his actions and accepts the consequences. Gabin's only real cinematographic dash was obtained by Max Ophuls in Le Plaisir (1952), where the actor runs after a train to catch a glimpse of a beautiful woman. But even in Le Plaisir he doesn't really run, he trots!
Virginie Apiou
---
Screenings:
The Room Upstairs by Georges Lacombe (Martin Roumagnac, 1946, 1h35)
Pathé Bellecour Tue12 11:15am | UGC Confluence Thu14 11am | Lumière Institute Sun17 5pm
The Walls of Malapaga by René Clément (Au delà des grilles, 1949, 1h35)
UGC Confluence Tue12 11:15am | Comoedia Thu14 2:15pm | Pathé Bellecour Sat16 11:15am
The Lower Depths by Jean Renoir (Les Bas-fonds, 1936, 1h33)
Pathé Bellecour Fri14 2:15pm | Pathé Bellecour Sat16 4:15pm