"There are iconic songs that I was keen on singing".
---
PostED ON OCTOBER 11
---
A fan of musical covers and a film buff, the talented Jeanne Cherhal will give a "Cinema" concert this evening, composed of film songs. She reveals how they were expertly put together.


How did the idea for this concert come about?
I came to sing at the ceremony of the Lumière Award, presented to Coppola two years ago, which I had based on the theme music from The Godfather, and I loved the exercise of adaptation for a piano/voice. Thierry Frémaux must have liked it, because he gave me this amusing and vast carte blanche- a seemingly infinite repertoire! We had an informal chat about our favourite soundtracks, and by the end of lunch, we had enough material for a 4.5-hour concert. I had to trim it down a bit! I spent the summer of 2020 on it, immersed in the tracks for two months, trying to figure out how to get a piano/voice out of each song. Some were simple, but for others I had to look a bit harder. I like the word "rehash": so I rehashed a lot, I rehearsed a lot - I didn't write these songs, so they have to stay in my fingers! There are 15 songs in all.
Will the concert be sung in several languages?
I'm going to sing in three languages... I wanted Almodóvar to be on my set list, since he's a director I adore. I'll be singing Piensa en mi, immortalised by Luz Casal in High Heels. I'm not particularly Spanish-speaking, although I studied a bit of Spanish at school, and I still have this love of the language. My English may be worse, but I really wanted to cover the song from La Boum, called Dreams are my reality. It's completely generational, and for me, a heartfelt plea.
What was the most difficult song to adapt?
I spent a lot of time adapting a Philippe Sarde theme from The Clockmaker of Saint Paul, which is very orchestral. It was a real challenge and a superb undertaking. It's an instrumental. I also sing Sarde's La Chanson d'Hélène, by Romy Schneider, recorded after the shooting of The Things of Life. I have a soft spot for this song with its melodic theme; I feel like I'm plugging my heart straight into the piano keyboard! It is the perfect song. But I saw the film again a few days ago, and with my perspective today, I must admit that I didn't love everything about the relationship between Piccoli and Schneider!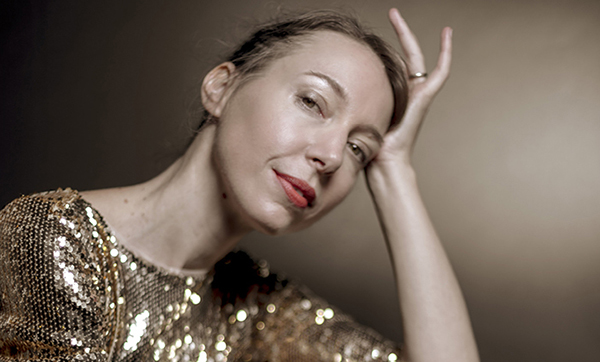 © DR
Is singing someone else's words liberating?
In a way, yes. It's like putting on a suit that you've tailor-made for yourself, but it is a different suit for each song. I like the exercise of covering songs, I like not over listening to the songs I'm going to cover, to see how they have become a part of me, to humbly cover them in my own way. And then there are cult songs that I absolutely wanted to cover: Life is a Long Quiet River by Etienne Chatiliez is an absolutely iconic picture for my family and me, it was out of the question not to include Jésus revient.
Is a song for a film often a 'sidestep' for a singer-songwriter?
I don't know, I was recently thinking of the song Le Zèbre from the credits of Jean Poiret's film adapted from Alexandre Jardin. For me, it represents a pinnacle of Alain Souchon's art! I recently participated in the soundtrack of Tralala, the Larrieu brothers' musical, writing for Mélanie Thierry. I was obliged to consider the screenplay - there was a lot of specific information to include in the song - but I loved having these challenges.




Interview by Aurélien Ferenczi
---
MUSIC!
Concert by Jeanne Cherhal, "Cinema!"
Lumière Institute Mon. 11 at 7:45pm