---
PostED ON THURSDAY, OCTOBER 19, 2017

---
Joyful, spontaneous, funny and with generous spirit, the actress-filmmaker won over her master class audience.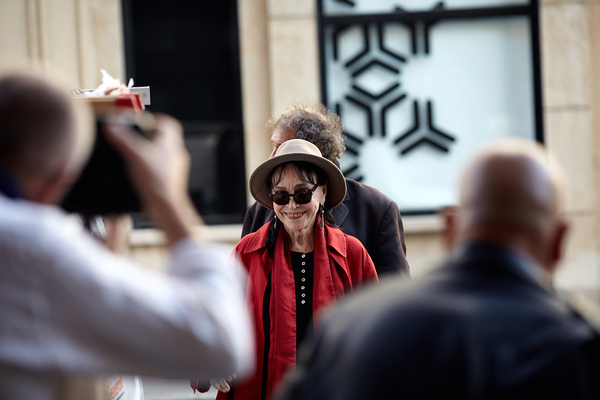 © Institut Lumière / Léa Rener
Jean-Luc Godard: the beginnings
"We observed each other, exchanging glances all the time" (during the shooting of their first film together, 'Le Petit soldat', with an eighteen-year-old Karina) "but I didn't dare flirt with him... As for him, I could see that he was looking at me strangely, but I thought 'Maybe it's for the movie'"…

Jean-Luc Godard: laughter
"He liked to joke around. He loved everything that was idiotic, it made him laugh. What people never understood, like French journalists, is that Jean-Luc was a very athletic person: he read L'Equipe, he ran extremely well, he could walk on his hands, he made perilous jumps, he could climb trees while reading, without falling. "

Jean-Luc Godard and scripts
"People always thought we were improvising, saying whatever came to mind, doing whatever we wanted, but that's not true at all. We couldn't make movies that way at the time, without being very specific. It was written and rewritten. If we shot a few takes sometimes, it was because we had not followed the script as closely as we should have."

Her film, Living Together
"It's a pretty personal film. I wanted to show how a crazy young person, me, meets a really serious guy, a married teacher. When she becomes pregnant, she becomes responsible: she turns into what she was. And he goes back to what he was. There is a transformation, over a period of two years."

Acting and/or directing
"Actors should always make a short film to understand how difficult it is. Also, all directors should play roles as actors, to understand that it is not a given, either. I made Living together with my own money, I didn't ruin anyone and the film was selected at La Semaine de la critique in Cannes. "

Rébecca Fresquet