---
PostED ON OCTOBER 9

---
What if we were to kick off the Lumière festival 2021 with laughter, emotion, and a light-hearted reflection on the importance of cinema?


This is the wonderful premise of the agenda for opening night, which will be solid yet buoyant, not unlike the body of an acrobatic actor… Thus, for tonight's traditional gala and its star-studded line-up, Lumière will showcase The Cameraman (1928), the brilliant final silent flick by and with Buster Keaton (co-directed by Edward Sedgwick), accompanied by a musical creation composed by Vincent Delerm. The silent classic is basically a romantic comedy: a penniless young man - inevitably - falls under the spell of a young woman, a beautiful flapper of the Roaring Twenties.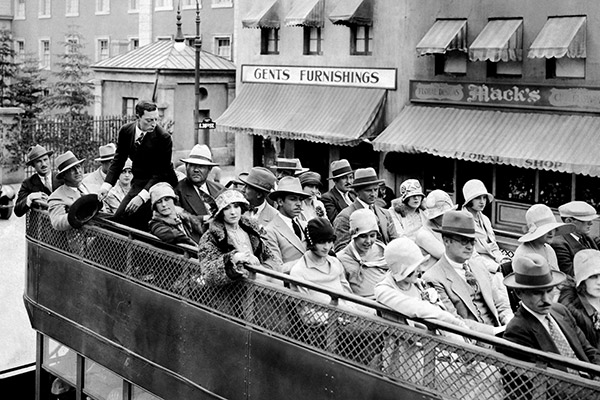 She works for the MGM newsreel, where our hero incessantly tries to become an operator, capturing the world's clamour with his camera lens. Obviously, things get off to a rocky start, full of catastrophes, broken windows and featuring typical Keaton-esque stunts – such as clinging with all his might to a bus or car. (Side note: read about his legendary elasticity in the magnificent book, Le garçon incassable, The Unbreakable Boy by Florence Seyvos). Beyond the brilliant comedy (and its hilarious swimming pool scene), the protagonist, playing a clumsy operator, nevertheless delivers surreal images that would not have been out of place in the experimental cinema of the time; and it is through the camera, which records reality, that the truth of the situation emerges at the end of the film – and never mind if it is a monkey who has turned the crank... To combat 'fake news', vote Buster Keaton!

A. F.
---
Saturday, October 9 at 6pm at the Halle Tony Garnier