The forgotten pioneer of Japanese cinema
---
PostED ON OCTOBER 10
---
Imagine Meryl Streep, Anna Magnani, or Isabelle Huppert taking time between their acting roles in order to direct, creating intimate films or even epic sagas. This is precisely what the Japanese star Kinuyo Tanaka (1909-1977) achieved. Audiences can finally discover this moving, perceptive and sensual actress and filmmaker at this year's edition of Lumière.


Kinuyo Tanaka was a woman of many accomplishments. Acting in three hundred films, she played the leading lady for the trio of genius filmmakers, Kenji Mizoguchi, Yasujiro Ozu and Mikio Naruse. Her masterful performances made her an actress who commanded every scene, like someone who quietly walks into a room and whose presence suddenly becomes indispensable. Her formidable personality enabled her to become history's second woman director in Japan. Tanaka's six films share a common thread of exploring human relationships, unknowingly fulfilling Jean Renoir's famous adage that "The terrible thing about this world is that everyone has their reasons". Tanaka's works, highly dialogue-driven, express a strong desire to follow the destinies of individuals who are still young, but who already have a certain experience of life… and intend to go even further.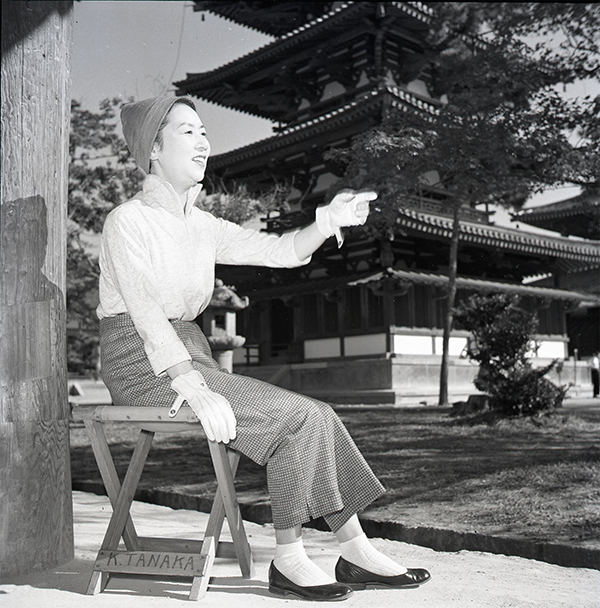 Shot just after WWII, her films were part of the great movement that was sweeping through the cinema world at the time, depicting a resolute will to live, here and now. Love Letter (1953), The Moon Has Risen (1955), and The Eternal Breasts (1955) exude an impression of black & white, between darkness and intense luminosity, placing a camera at the core, to portray the modest middle class and their constant struggles. The characters, often shown with their dangling cigarettes, face problems of money, work, the desire to love and considerable dose of uncertainty. The letter-writing protagonist of Love Letter wears a hairpin, symbolising the confusion of the soul. The three unmarried girls in The Moon Has Risen live between tradition, modernity and eternity, represented for example by the interplay of hands between two demure young people watching the moon rise.
This sensuality of a hand touching the skin of another is captured by Tanaka in the stunning scenes of The Eternal Breasts, a biopic of a poetess who is sickened by her married life (thereby creating a link with Jane Campion's An Angel at My Table). There is a determination to break free from social conventions, to want to be understood. "After my death, I will be free to appear anywhere. On your shoulders, for example", writes the heavy-hearted character of The Eternal Breasts. In 1961's Girls of the Night/Girls of Dark, Tanaka ends her portrayal of little communities, instead painting the portrait of a young woman who wants to forget that she was a prostitute.
In the 1960s, Tanaka expanded the scope of her image, taking on colour and the historical and political saga, cinema genres previously reserved for men. In a pair of films, The Wandering Princess (1960) and Love Under the Crucifix (1962), the filmmaker developed a fiercely chromatic flair, with a visual lyricism comparable to works by Douglas Sirk, and close to the narrative sphere of David Lean. The Wandering Princess, a young Japanese girl, wants to be educated while being married off to a powerful man in Manchuria. It is a film about the inevitable fate that befalls women. Right up to the end, the heroine struggles to survive through profound personal change. A similar theme is found in Love Under the Crucifix, where a ravishing woman is in love with a samurai who has converted to Catholicism, but her married life has already been pre-arranged. In a shot reminiscent of Mizoguchi's The Crucified Lovers, Tanaka shows the samurai bathing the young character's injured feet. The usual codes of cinema, with women often in passive nursing roles at the service of the valiant hero, are reversed… Through her motion pictures, the filmmaker Kinuyo Tanaka revealed, in a gentle yet powerful way, that one should not go against oneself, and that no one has the right to demand it, and even less oblige it.
Virginie Apiou
---
Screenings:
Love Letter (Koibumi, 1953,1h38)
Lumière Terreaux Mon11 11am |Villa Lumière Tue12 6:45pm | UGC Confluence Thu14 11:15am

The Moon Has Risen (Tsuki wa noborinu, 1955, 1h41)
Pathé Bellecour Sun10 11:15am | Lumière Terreaux Tue12 2:30pm | Cinéma Opéra Sat16 2:30pm
The Eternal Breasts (Chibusa yo eien nare, 1955, 1h46)
Lumière Terreaux Wed13 10:45am
The Wandering Princess (Ruten no ohi, 1960, 1h42)
Villa Lumière Mon11 11am | Lumière Terreaux Thu14 11am

Girls of the Night/Girls of Dark (Onna bakari no yoru, 1961, 1h33)
Comoedia Wed13 2:30pm | Lumière Terreaux Fri15 5:15pm
Love Under the Crucifix (Ogin-sama,1962, 1h42)
Lumière Terreaux Sun10 2:15pm | Cinéma Opéra Fri15 2pm | UGC Confluence Sat16 2pm