---
SUNDAY, OCTOBER 15, 2017
---
Tilda Swinton, Vincent Lindon, Guillermo Del Toro, Michael Mann, Pierre Richard, Marina Foïs, Gérard Jugnot, Catherine Frot... and naturally, Eddy Mitchell, were among the personalities who came to kick off the 9th edition of Lumière!.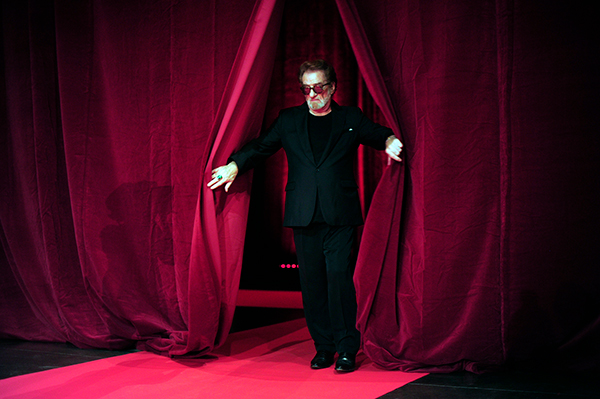 © Institut Lumière / Olivier Chassignole
Wong Kar-wai, makes films to "travel through time," the ending words of the Lumière 2017 program video presentation. We took a short trip, paying homage to Jerry Lewis and Jean Rochefort. "It is hard to talk about someone we truly liked," confessed Bertrand Tavernier, referring to the French actor. Later, the screen transformed into a gigantic checkerboard, where the 1,400 Lumière films were projected simultaneously. One brilliant minute of gorgeous black and white graphics. After the tradition of declaring the festival officially "open!" and songs by Mexican musicians, Eddy Mitchell, expert cocktail mixer, launched straight into a karaoke of his hit, La Dernière Séance (The Last Show). Finally, the curtain was raised… for Alfred Hitchcock's masterpiece, North by Northwest.
.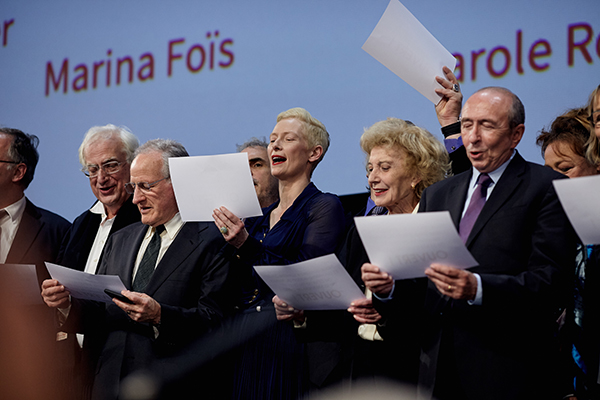 © Institut Lumière / Lea Rener
Virginie Apiou
La Halle Tony Garnier

Copyright Institut Lumière / Photo Jean-Luc Mège

Gérard Jugnot

Copyright Institut Lumière / Photo Olivier Chassignole

Laurent Gerra, Christelle Bardet et Christophe Lambert

Copyright Institut Lumière / Photo Léa Rener

Vincent Lindon

Copyright Institut Lumière / Photo Léa Rener

Éric Lartigau et Marina Foïs

Copyright Institut Lumière / Photo Léa Rener

Marisa Paredes et Chema Prado

Copyright Institut Lumière / Photo Léa Rener

Marisa Paredes et Chema Prado

Copyright Institut Lumière / Photo Léa Rener

Anne Le Ny

Copyright Institut Lumière / Photo Léa Rener

Yarol Poupaud

Copyright Institut Lumière / Photo Loic Benoit

Marina Golbahari

Copyright Institut Lumière / Photo Léa Rener

Michael et Summer Mann

Copyright Institut Lumière / Photo Léa Rener

Danièle Thompson et Tonie Marshall

Copyright Institut Lumière / Photo Léa Rener

Gérard Jugnot

Copyright Institut Lumière / Photo Léa Rener

Catherine Frot

Copyright Institut Lumière / Photo Léa Rener

Gérard Collomb

Copyright Institut Lumière / Photo Léa Rener

Robin Campillo

Copyright Institut Lumière / Photo Léa Rener

Alexandre Desplat

Copyright Institut Lumière / Photo Léa Rener

Daniel Brühl

Copyright Institut Lumière / Photo Léa Rener

Jerry Schatzberg

Copyright Institut Lumière / Photo Léa Rener

Guillermo Del Toro

Copyright Institut Lumière / Photo Léa Rener

Alfonso Cuarón

Copyright Institut Lumière / Photo Léa Rener

Pierre Richard, Christophe Lambert et Laurent Gerra

Copyright Institut Lumière / Photo Sandrine Thesillat - Jean-Luc Mège

Pierre Richard

Copyright Institut Lumière / Photo Léa Rener

Pierre Richard

Copyright Institut Lumière / Photo Sandrine Thesillat - Jean-Luc Mège

Thierry Frémaux, Françoise Nyssen et Georges Képénékian

Copyright Institut Lumière / Photo Sandrine Thesillat - Jean-Luc Mège

Gwendal Peizerat

Copyright Institut Lumière / Photo Sandrine Thesillat - Jean-Luc Mège

La Halle Tony Garnier

Copyright Institut Lumière / Photo Sandrine Thesillat - Jean-Luc Mège

Oriane Deschamps et Michèle Laroque

Copyright Institut Lumière / Photo Sandrine Thesillat - Jean-Luc Mège

Marina Foïs

Copyright Institut Lumière / Photo Sandrine Thesillat - Jean-Luc Mège

Marina Foïs

Copyright Institut Lumière / Photo Loic Benoit

Ludivine Sagnier et Pierre Deladonchamps

Copyright Institut Lumière / Photo Léa Rener

Tilda Swinton

Copyright Institut Lumière / Photo Léa Rener

Tilda Swinton

Copyright Institut Lumière / Photo Sandrine Thesillat - Jean-Luc Mège

Thomas Ngijol et Karole Rocher

Copyright Institut Lumière / Photo Sandrine Thesillat - Jean-Luc Mège

Vincent Lindon, Alfonso Cuarón, Guillermo del Toro

Copyright Institut Lumière / Photo Sandrine Thesillat - Jean-Luc Mège

Eddy Mitchell

Copyright Institut Lumière / Photo Léa Rener

Gérard Colomb, Eddy Mitchell et Françoise Nyssen

Copyright Institut Lumière / Photo Sandrine Thesillat - Jean-Luc Mège

Eddy Mitchell

Copyright Institut Lumière / Photo Loic Benoit

Bertrand Tavernier et Eddy Mitchell

Copyright Institut Lumière / Photo Sandrine Thesillat - Jean-Luc Mège

Eddy Mitchell et Tilda Swinton

Copyright Institut Lumière / Photo Olivier Chassignole

Les invités

Copyright Institut Lumière / Photo Olivier Chassignole

Bertrand Tavernier, Gérard Colomb et Françoise Nyssen

Copyright Institut Lumière / Photo Sandrine Thesillat - Jean-Luc Mège

Les invités

Copyright Institut Lumière / Photo Jean-Luc Mège

Les invités

Copyright Institut Lumière / Photo Olivier Chassignole

Le prix Lumière 2017

Copyright Institut Lumière / Photo Sandrine Thesillat - Jean-Luc Mège

Eddy Mitchell

Copyright Institut Lumière / Photo Olivier Chassignole

Thierry Frémaux et Eddy Mitchell

Copyright Institut Lumière / Photo Léa Rener

Gérard Jugnot

Copyright Institut Lumière / Photo Olivier Chassignole

Bertrand Tavernier et Eddy Mitchell

Copyright Institut Lumière / Photo Léa Rener

Christophe Lambert

Copyright Institut Lumière / Photo Jean-Luc Mège

Eddy Mitchell et Bertrand Tavernier

Copyright Institut Lumière / Photo Léa Rener

Eddy Mitchell et Bertrand Tavernier

Copyright Institut Lumière / Photo Léa Rener

Thomas N'Gijol

Copyright Institut Lumière / Photo Léa Rener

Jean-François Stévenin

Copyright Institut Lumière / Photo Léa Rener

Les invités

Copyright Institut Lumière / Photo Bastien Sungauer

Les invités

Copyright Institut Lumière / Photo Bastien Sungauer

Bertrand Tavernier, Michael Mann, Tilda Swinton, Marisa Paredes et Gérard Colomb

Copyright Institut Lumière / Photo Léa Rener

Tilda Swinton, Guillermo Del Toro, Marisa Paredes et Gérard Collomb

Copyright Institut Lumière / Photo Léa Rener

Michael Mann, Tilda Swinton et Guillermo Del Toro

Copyright Institut Lumière / Photo Léa Rener

Tilda Swinton

Copyright Institut Lumière / Photo Loic Benoit

Gérard Jugnot

Copyright Institut Lumière / Photo Loic Benoit

Marina Foïs

Copyright Institut Lumière / Photo Olivier Chassignole

Eddy Mitchell

Copyright Institut Lumière / Photo Jean-Luc Mège

Eddy Mitchell

Copyright Institut Lumière / Photo Sandrine Thesillat - Jean-Luc Mège

Eddy Mitchell

Copyright Institut Lumière / Photo Olivier Chassignole

Eddy Mitchell

Copyright Institut Lumière / Photo Loic Benoit

Virginie Apiou