atypical
---
PostED ON OCTOBER 9
---
An inventive and bold actress, Maggie Gyllenhaal goes behind the camera to direct The Lost Daughter, adapted from a work by Elena Ferrante.
She has built an atypical career in the shadow of a family that is 100% involved in the cinema: a director father, a scriptwriter mother, and an actor brother. Her height and singular beauty, high cheekbones and piercing blue eyes, immediately set her apart from more conventional young leads. She has had many experiences, sometimes radical, in independent cinema (Secretary, 2002, Sherrybaby, 2009) before landing supporting roles in bigger productions: Oliver Stone's World Trade Center (2006), which greatly impacted her, or Christopher Nolan's The Dark Knight (2008). She was nominated for an Oscar in 2010 for her role in Crazy Heart, alongside Jeff Bridges.
In 2018, she produced and starred in The Kindergarten Teacher, an American remake of an Israeli film by Nadav Lapid. In other words, she has taken the reins of her career, gradually moving them towards directing. Her role as Candy, a sex worker-turned-entrepreneur and then playing a New York porn director in the cult series The Deuce (2017-2019), convinced her to take the leap. "I knew I had become a director at that moment" she explained at the Venice Film Festival.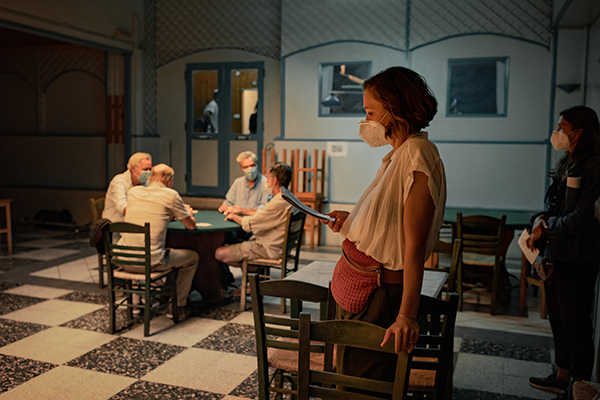 Maggie Gyllenhaal on the set of The Lost Daughter

In any case, she had no choice. When she wrote to Elena Ferrante, the elusive author of The Brilliant Friend, to ask for the rights (narrowly won by Italian filmmaker Saverio Costanzo), the author replied that there was only one condition to her agreement: that Maggie be the director. Ferrante also agreed that the story could be transposed outside Italy, a first. Maggie Gyllenhaal takes on this powerful, brutal evocation of motherhood: a lonely woman on holiday is plunged into her own memories of motherhood as she observes a family on the beach…

Initially slated to film in New Jersey, the tight shoot was finally moved to a small Greek island, with mandatory quarantine due to the pandemic. Maggie braced herself and relied on her team and her actors, especially the brilliant Olivia Colman, who won an Oscar for The Favourite. I'm in love with Maggie," said the actress. "She's the sexiest creature I have ever seen. I want to be like her. When we met, I was too dense to understand her literary references, but afterward we both got drunk and everything was easier!" The Lost Daughter's cast also includes the excellent Peter Saarsgard, who is none other than Maggie's husband. A filmmaker is born.
Charlotte Pavard
---
Premiere
The Lost Daughter (2021, 2h01)
Lumière Institute Sun10 5:15pm | Pathé Bellecour Mon11 8:15pm