«I realized right away that the camera loved me»
---
PostED ON OCTOBER 11 AT 11:30AM

---
With her outspokenness and devilish humor, actress, singer and writer Marina Vlady, guest of honor of the festival, won over the audience during a conversation organized Saturday morning at the Comédie Odéon. Highlights.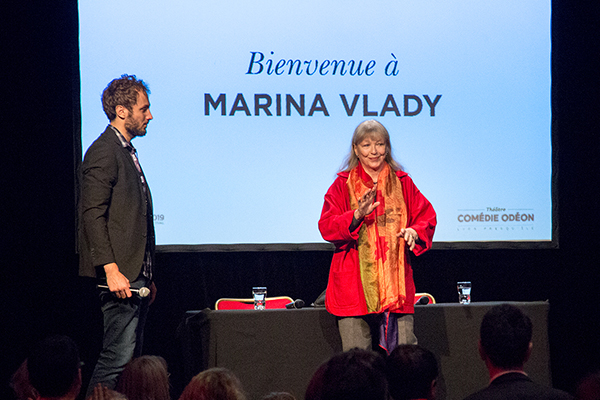 Copyright Institut Lumière - Sebastien Sungauer
A family of artists
My father was an opera singer, my mother, a prima ballerina. My sisters (Olga, Odile, Hélène) and I all danced and sang. At two and a half years old, I imitated my sisters and we'd put on shows: I would be set on a table to perform the last number. Needless to say, I knew success very early! Our parents didn't push us; we were raised in this environment. In Clichy, we were a bit different from others: we sang, we danced, we spoke Russian - in short, we were original!
Leading roles
At the age of eight, I was doing radio dubbing: I had a very little voice, a mousy voice! My sister Odile was a dancer at the opera, and at 16, she appeared in Roger Leenhardt's The Last Vacation. Thanks to her, I made my debut in the cinema - it's was a family affair. At 10, I performed my first role in a movie. I even did a screen test at age 13 with Orson Welles, who had chosen me, but unfortunately, the film was never made. However, I realized right away that the camera loved me. I was photogenic, with a special look, and I suppose I had a sort of kinship with the camera. And I was not afraid; I became scared much later!
An exceptional filmography
Of the eighty films that I have made, there are about twenty masterpieces, such as the Princess of Cleves; it's a timeless film, a real dream and certainly one of my finest roles. I can also cite Mona, l'étoile sans nom by Henri Colpi with Claude Rich, a magnificent creation, and Girl in the Window by Luciano Emmer… All these films have had lives, careers. I have always chosen films for their literary value; the most important element is the subject of the film.

"La Grande bouffe"
I shot The Conjugal Bed with Marco Ferreri, an intelligent being, with whom I had a great friendship and shared a wonderful intimacy. What's more, I admit that we were both big eaters: he took me to restaurants, and we'd eat innards! Shooting this film was a real pleasure, there was a real harmony among all the actors. It also reminds me of my collaboration with Bertrand Tavernier on the film Let Joy Reign Supreme- the role of Mary Magdalene Parabère was not for me at the beginning; I accepted it and adored all these great actors: Marielle, Noiret, Rochefort. The filming was a little like La Grande Bouffe; we had the best meals on-set I've ever had, but that's Bertrand! The filming was a pleasure and it shows, it's a film that has incredible energy!
A committed woman
I started getting involved at the age of 13, it was always a part of my family. We participated in a lot of protests. My sister Olga and I fought for feminism and for the independence of Algeria. I have been very involved in social causes all my life, and I am still a member of the Housing Assistance Association (DAL), co-founded with Jean-Baptiste Eyraud. And when we see what's happening, especially in Paris at the Porte de la Chapelle, where people are sleeping on the street with their children, it is dreadful! It's a fight that's not over!
Laura Lépine