---
SUNDAY, OCTOBER 15, 2017

---
Danish filmmaker Nicolas Winding Refn celebrates Mann's "director-of-westerns side." According to him, American filmmaker Michael Mann "would make excellent westerns" because he has always been good at photographing Los Angeles as it should be seen: "as a unique place in the world."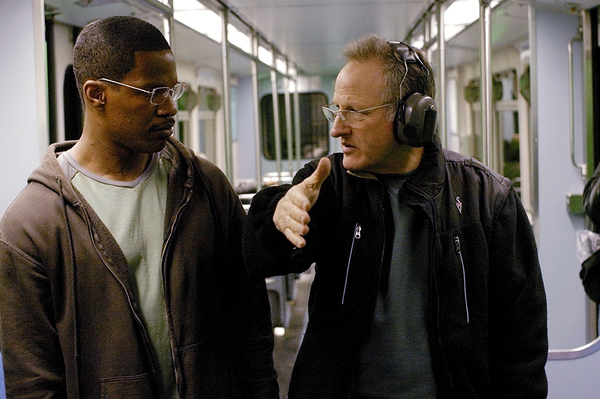 Michael Mann and Jamie Foxx on the set of Collateral
He is certainly a master of the thriller and even the hold-up, but beyond that, Mann is a perfectionist, an outstanding stylist, an author of sophisticated stories with shots of adrenalin, providing fascinating entertainment that leads to addiction. His portraits of outsiders immerse the viewer in a grim and violent world, a lethal and masculine universe of dark heroes. His first film, Thief (1981), paints the portrait of a professional safe-cracker, embodied by James Caan.
In 1995, Heat stages an epic duel between a tough cop played by Al Pacino and De Niro, a mobster at the head of a gang of armed robbers and technophiles. For cinema lovers, seeing the two most compelling actors of contemporary cinema reunited on the screen again, 20 years after The Godfather II (where they had crossed paths without meeting), is cause for celebration. The face-to-face lasts 6 minutes and 24 seconds, but the filmmaker plays on the audience's suspense... alternating shots and counter-shots, never including the two giant actors in the same frame.
Mann also excels in historical films: The Last of the Mohicans solidifies the career of Daniel Day-Lewis; the political thriller The Insider in 1999, ahead of its time, deals in conspiracy theories; or the biopic revisited with long sequences -Ali in 2002, where Will Smith inhabits the famous boxer Mohammed Ali. With Public Enemies, where Johnny Depp lends his talent to portray gangster John Dillinger, he produces another powerful thriller, an ode to the night, a gleaming Ford V8 and the machine guns of yore. His most successful box office hit to date, Collateral, offers Tom Cruise one of his choicest roles, that of a mysterious hitman, in a nocturnal and labyrinthine Los Angeles. Mann even makes a foray into the fantastic with the gothic movie, The Keep (1984), whose director's cut, over three hours long (and seemingly lost), makes moviegoers salivate. His latest film, Blackhat, propels the thriller into the realm of cybercrime.
While directing his films, Mann has also worked in television for a long period, penning the Starsky and Hutch scripts in his early days, then creating and producing the still-referenced Miami Vice in the 1980s, which he made into a feature film, as well as Police Story or Vega$. Six years after co-producing the Luck series on HBO, he is working on a mini-series on the Vietnam War, adapted from Hue 1968, the latest novel by Mark Bowden, author of Black Hawk Down. Hue 1968 will recount the Tet Offensive, one of the bloodiest battles of the Vietnam War, which left tens of thousands dead.
.
Rébecca Frasquet
---
Heat (1995, 2h52)
Auditorium de Lyon Sun. Oct. 15th at 8pm after A conversation with Michael I Comœdia Sun. Oct. 22nd at 5:45pm