Asije Harizaj
---
PostED ON OCTOBER 14
---
My express bio: Originally from the city of Kavaja in Albania, I came to France in 2016. My three sons lived in Lyon, so I moved here and in 2017 I joined the association Passerelles Buissonnières, which helps women in isolation, dealing with illness or exile. Within this association, I am training to become a dress maker. I have been a volunteer at the Lumière festival since 2018.
My favourite actors: Meryl Streep, Dustin Hoffman and Juliette Binoche
My favourite film: Without hesitation, The Bridges of Madison County. I am a fan of Meryl Streep and Clint Eastwood!
My taste for volunteering: I wanted to volunteer at the Lumière festival, firstly because I love the cinema, but also because it's an opportunity to discover the behind the scenes of such an event and to meet people. And then I love doing lots of things, I'm a bit hyperactive! I'm a very sociable person, even if the language barrier used to stop me a bit: now it's getting better and to progress further, I watch at least one film in French every day!
My tasks at the festival: I was in charge of welcoming the public and the ticket office at the Comédie Odéon and the Halle Tony Garnier during the opening ceremony of the festival. I also have the role of welcoming the public and stocking shelves in the village's DVD shop.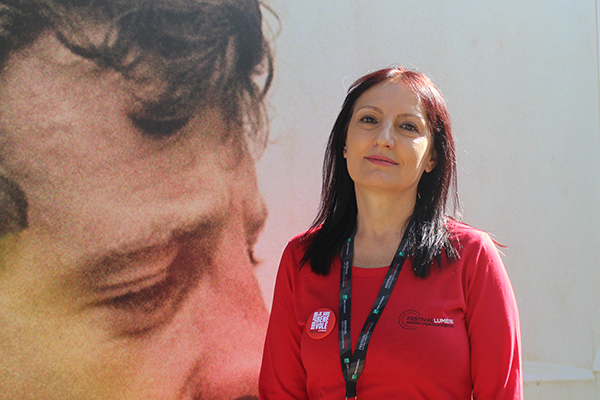 Interview by Laura Lépine