Ludovic Deroo : « The film-concert "The Gold Rush" was a great moment of emotion »
---
PostED ON OCTOBER 20 AT 10AM

---

A nuclear engineer-turned-real estate agent a year ago, he is also former waiter and Lyon tourist guide.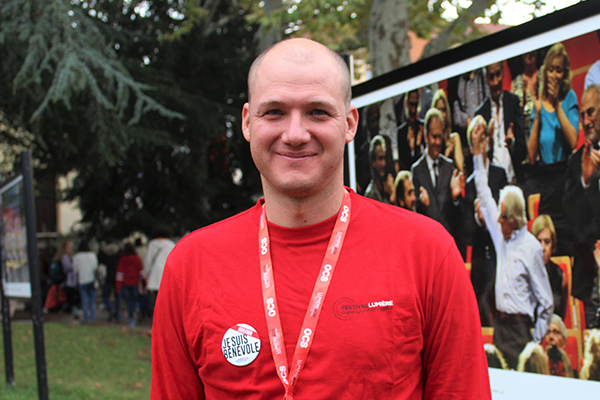 Copyright Institut Lumière - Laura Lépine
This 38-year-old had already lived a thousand lives before settling down in Lyon in 2013. Syria, India, New Caledonia, Jordan, Germany, Ireland.. this thirty-something from Abbeville traveled around the world when he was still an engineer. A taste for further travel, but above all a desire for human contact led him to shift gears a year ago: "I wanted to change jobs, and it had been a while since I'd been wanting to move towards real estate, a job involving contact with people, which is what I prefer," he says. But Ludovic did not stop there, since, this young man with overflowing energy and contagious good humor has always been active in volunteer missions for many associations: Habitat Humanisme, Compagnons bâtisseurs Rhône-Alpes, Maison du vélo. It is not surprising, then, to find this film and theater buff on the festival volunteer team. "I attended the festival four years ago as a moviegoer and was incredibly surprised by the magnitude of the event. The following year, I jumped at the chance!" Welcoming guests and the public to the Halle Tony-Garnier and the Auditorium, passing out newspapers, giving guided tours for some lucky festivalgoers… Loïc accomplishes his missions with an equal amount of enthusiasm and enjoyment. And when we ask him about his favorite festival memory, there's no hesitation whatsoever: "The film-concert of 'The Gold Rush' held last year at the Auditorium - it was a great moment of emotion!" Straight talk from a Lyonnais… of adoption!
Laura Lépine