"The path of a filmmaker is fraught with rejection".



---
PostED ON OCTOBER 11
---
On Sunday, Italian filmmaker Paolo Sorrentino overcame his eternal shyness to tell his story to the audience at the Comédie Odéon. He talked about his filmography, his go-to actor Toni Servillo, football and Naples, his native city.
HIS WORK AS A FILMMAKER
I realised that conflict is the only thing that stimulates creativity. Peace, on the other hand, damages it. The only advice I would give to anyone who wants to become a filmmaker is to be obsessed with perseverance, because the filmmaking journey is strewn with rejections. There will always be more of them than anything else.
HIS STYLE
I am often told that my cinema is stylised. However, for me, the story and the rhythm are the most important things in a film. I don't think I have a style, but rather a rhythm that is repeated from film to film. However, it is true that I also choose a story because I feel that it will be visually interesting to adapt.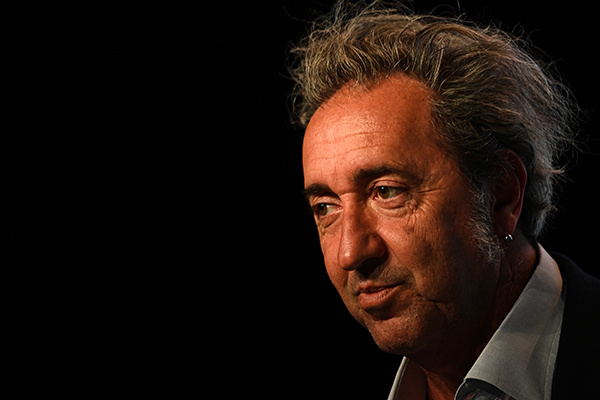 © Olivier Chassignole


THE CANNES FILM FESTIVAL
The Consequences of Love was not well received at Cannes. I remember that during the screening, Quentin Tarantino, who chaired the jury, laughed throughout the film. To the extent that we thought we were going to win the Palme d'Or! But he had obviously been laughing for another reason!

POLITICS
I don't know much about politics. I'm not interested in political films. What interests me is the humanity behind these men of power. Sometimes a film is the result of very little: for Il Divo, I was told that Giulio Andreotti closed his eyes when you spoke to him. I thought that was an interesting anecdote I could use to make a film.

THE MILESTONE FILM
Il Divo changed everything for me. It's perhaps the only one that makes me proud and has changed my self-confidence. But making The Great Beauty was very entertaining. I welcomed the international recognition of the film with a sense of joy and fear because I had seen many award-winning directors become extremely lazy. This recognition was completely unexpected for me.

COLLABORATIONS WITH TONI SERVILLO
Toni and I like to laugh at the same things and the same people. So filming is an opportunity for us to laugh together! We also share a certain unconsciousness. We have always made daring films together, with characters that border on caricatures. Toni is one of the few people who manages to follow choices that are part of my unconscious. In The Hand of God, he plays my father and he literally made up his character, because I couldn't explain to him who my father was. I had never understood him.
Interview by Benoit Pavan