Philippe Sarde enchants the Comédie Odéon
---
posteD ON OCTOBER 13
---
With his characteristic elegance and humour, composer Philippe Sarde spoke about his career at the Comédie Odéon.

His taste for the cinema
When I was growing up, music was a given, since my mother was a singer at the Paris Opera. But deep down, the thing that fascinated me most was the cinema. When I was five years old, my father gave me a small projector. The power of music in films is incredible, it can change a scene.
Finding his rhythm
To compose music for films, I think you shouldn't look at the picture too much. Once I've seen a scene, it stays in my head, and I try to find its deep rhythm. The music becomes the chronometer that can shorten or lengthen the time of a scene. You can make miracles happen with time through music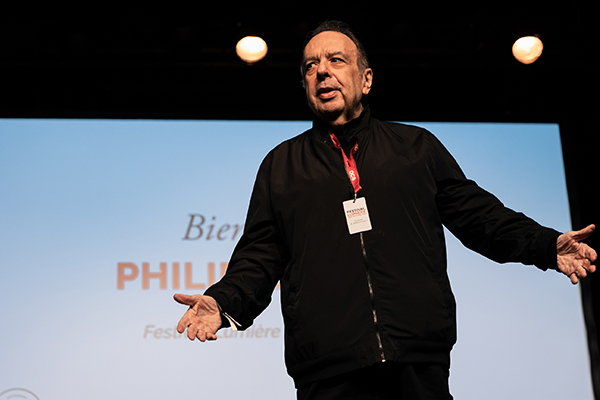 © Léa Rener


The Things of Life
I come out of the screening of The Things of Life and tell Claude Sautet, "Romy is so beautiful!" He doesn't answer me, and I see tears in his eyes. Then he says "We'll start recording the music for the film in a month, will you be ready? A month later, I was in front of seventy musicians.
Bertrand Tavernier, a lifelong accomplice
When I was 25-26 years old, Bertrand and I organised screenings of films, for example by Jean Sacha, with the latter there. We held a lot of screenings like that. My friendship with Bertrand, my close relationship with him, made me want to impress him every time. His thirst, his bulimia for everything in life was also what he wanted for the music of these films. He always used that famous "formidable" that made us want to do a scene again and be even better.
Coup de Torchon
For the opening scene of the film, I wanted to put the viewers in a context of being surprised, amazed by the music, like an opera opening, just before the curtain goes up. Bertrand had shot a different ending from the one you know, with two monkeys. I said to him, "Bertrand, that's not going to be the ending at all, I'm going to create an ending scene and you're going to take away those two monkeys!" I tried to be hard on him. I wrote the ending of the film to music, and he edited the images to that composition, in what we call musical scripting. You can only do that with people you love and implicitly trust. Coup de Torchon is one of Bertrand's finest films.
Reported by Laura Lépine