Revisiting Tati
---
PostED ON OCTOBER 13

---
In the documentary Jacques Tati, Tombé de la Lune, Jean-Marie Péretié recounts how the meticulous director turned his lanky figure and anti-conventional, mischievous gaze into an inimitable style.

From the turbulent student with a talent for imitation, who enjoyed noting the imperfections of his family's bourgeois milieu from an early age to the obsessive filmmaker who was prevented from pursuing his career, Jean-Marie Péretié's film, Jacques Tati, Tombé de la Lune, retraces the singular artistic ascent of Jacques Tatischeff – the director's full name - chronologically outlining the stages that accompanied Tati's path to international renown.

The documentary, narrated by Denis Podalydès, then goes on to focus on the episode that clipped the wings of this workaholic: the painful making of the very ambitious Playtime (1967), a dazzling summit of directorial precision in which Tati, who had won awards a decade earlier at Cannes and at the Oscars for Mon Oncle (1958), had invested everything, emerging from the film both exhausted and ruined.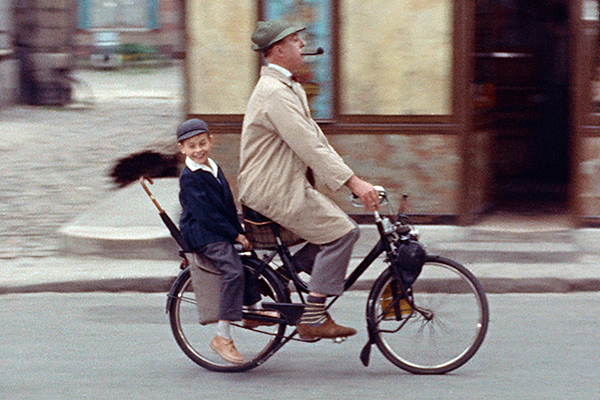 Mon Oncle, 1958


"Playtime made me suffer a great deal, physically and financially, but it is really the feature film I wanted to make. It will always be my best film", he commented about this visual masterpiece which was a commercial failure despite critical acclaim. Stunned by the discovery of this movie "from another planet", François Truffaut went so far as to describe Tati as a "Martian".
"Tati poured all his ambition and energy into the making of Playtime," explains Jean-Marie Péretié. His willingness to risk everything, to go all out, is a story that I found very beautiful to tell. Afterwards, he would no longer have the means to fulfil his aspirations. Everything about him is perplexing. He has an extra-terrestrial side and at the same time is extremely rigorous, which originated from the music hall, where you endlessly repeat yourself. He had the idea of a film being a work in perpetual progress. He was a unique filmmaker.
Jacques Tati, Tombé de la Lune also underlines the importance of the flagship figure of his cinema: the lunar and tempestuous Monsieur Hulot - played by Tati himself - whose inimitable tiptoeing, "nose in the air and too-short pants", constituted the raw material of his work right up to the end of his career, during which he made five films.
Benoit Pavan

---
Screenings :
Jacques Tati, tombé de la Lune by Jean-Baptiste Péretié (2021, 1h)
Villa Lumière Wed13 4:45pm