---
Posted on october 13, 2016

---
"Don't ask yourself if films are good or bad. Films that seem unworthy can turn out to be fascinating."
Dressed all in black, QT was cheered by an already captivated audience on its feet at the Auditorium of Lyon. In the company of Thierry Frémaux, Director of the Institut Lumière, Tarantino embarked on an exciting and epic (two hours!) master class. He mixed references and childhood memories, relating it all with contagious enthusiasm, obsessive accuracy and boundless generosity…. all in that inimitable, machine-gun speed style of his, without ever tripping up his remarkable and valiant interpreter, Massoumeh Lahidji.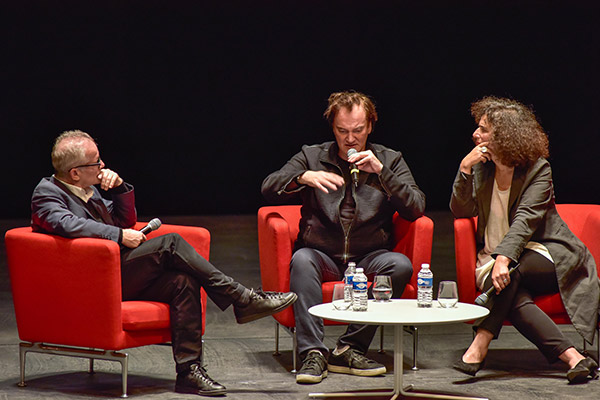 © Institut Lumière / Photo Jean-Luc Mège
Compulsive moviegoer, Quentin Tarantino allowed his passion to push him to purchase his own movie theater, the New Beverly in Los Angeles, where he screens movies he loves, his own films, horror movies in October in honor of Halloween. "For years, I collected 16 and 35 mm prints, and I knew I would not be hosting projections for my friends. This theater, which existed since 1978, was struggling, so I began supporting it financially, and when the owner died, I bought it." Similarly, Quentin Tarantino financially supports "a video club, a real video club" in Los Angeles, "because if it were to disappear, my life would be less fun." He decides the program and even hosts evening events, showing films from his personal collection and 35 mm reels he receives from archives around the world.
His selection of fourteen films released in 1970, programmed for Lumière, represents a true cinémaniaque. It even includes one titled, The Lady in the Car with Glasses and a Gun by by Anatole Litvak, which Bertrand Tavernier "had never seen- a rare feat!" exclaimed Thierry Frémaux, or "Terry," as pronounced by the American director. Tarantino's interest in 1970 was born following a reading of the book by Mark Harris, "Pictures of a Revolution." The premise of the book is that in the year 1967, "New Hollywood" emerged. "What he brilliantly proves is that, by the end of 1967, New Hollywood had already won, without knowing it, and Old Hollywood had already lost, without knowing it. Then things accelerated, and in 1970, New Hollywood ceased to exist. I wanted to identify for myself when the revolution was defeated, and I remember exactly the movies I had seen that year, at the age of seven. It's a very specific film landscape in my mind."
The filmmaker then began to document himself, to read all the books available and was convinced that 1970 was the year when New Hollywood had taken over. But New Hollywood, straying away from the key family audiences who went to see films like The Sound of Music, which had existed for five years… could it survive? Was it commercially viable? But then Chinatown, Five Easy Pieces and M.A.S.H. followed, which paved the way for the emergence of films like The French Connection, The Exorcist and Carnal Knowledge. But why limit oneself to Hollywood? So the obsessive cinephile began to do research on the changing global film industry, focusing again on 1970, based on the year of their release in Europe. "It was a very interesting topic that has occupied me for the last four years."
Will he write a book about 1970? Make a four-episode podcast? Film a documentary? "Maybe. Anyway, it is in Lyon that all this work has begun." Tarantino could not "stick to a list of the top 10 or 20 movies;" it was also necessary to see movies by directors who'd been "a little set aside" in 1970, overcoming the temptation to judge them, because the most interesting or even fascinating ones were not necessarily the best films. It became more important to draw up a list of a movie buff, film critic; his ambition for this project is to take a historian's approach. The fourteen films screened in Lyon are not necessarily his favorite films of 1970, but those whose prints were available in 35 mm, and which were most representative of the production of that year.
By swimming up to his neck in films, watching everything he could get his hands on, reading the critics of the time, doing research in libraries… Quentin Tarantino realized that the emergence of this new cinema, the wind of freedom that had blown over Hollywood - treating all subjects without boundaries - was a painful molting experience. "But other promises of 1970 have not been kept, like seeing a real African-American cinema emerge with Watermelon Man for example, real black voices emerging." In spite of being a fan of blacksploitation, he soon realized it had "taken the place of authentic black cinema." Likewise for erotic cinema, there was the illusion that he would come out of the porn movie houses to go to more mainstream theaters and interest audiences, even if Russ Meyer (whose Beyond the Valley of the Dolls was a huge success) and Ken Russell made great movies. "The more I look, the more I find," summed up the director.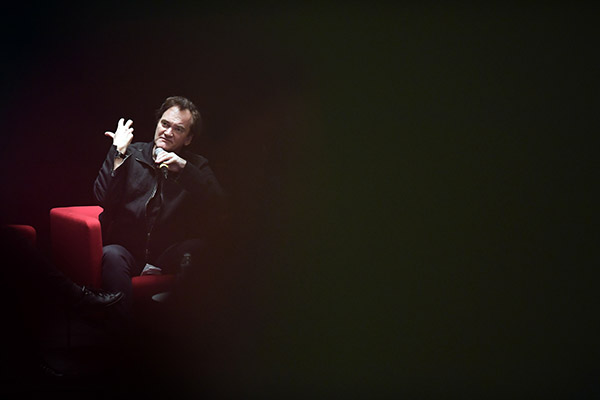 © Institut Lumière / Photo Olivier Chassignole


In this selection of feature films from 1970, "there are a lot of interesting films. Don't ask yourself if they are good or bad, because that would deprive you of the pleasure of discovery. After all, films that seem unworthy to you can be fascinating," said the filmmaker to the Lumière audience. Duly noted.
Rebecca Frasquet