---
SUNDAY, OCTOBER 15, 2017
---
Humorous and offbeat like all Pixar productions, this delightful animated film, winner of the Oscar for Best Animated Feature in 2008, invites you to fully indulge in France, its gastronomy and Paris.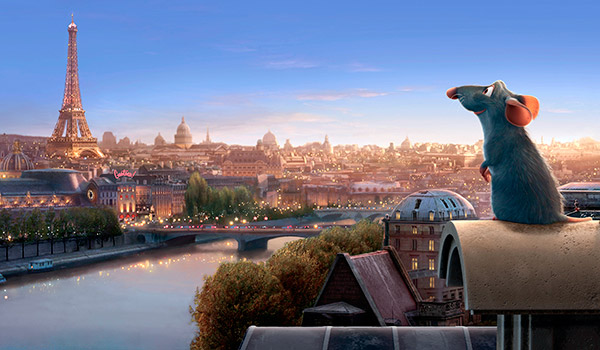 Written and directed by Brad Bird, who also wrote The Incredibles, the film follows Remy, a little Parisian sewer rat who discovers an incredible palace. While his fellow pals feed on filth, Remy enjoys fine food. He explores the hostile world of humans and finds himself in the kitchens of the restaurant founded by grand chef Auguste Gusteau, his idol, where Skinner, a sadistic and unscrupulous cook who dreams of becoming the king of frozen food, officiates. There, Remy befriends Linguini, a shy line cook, assigned to the worst tasks, and discovers a way to share culinary talent through him. Hidden under his chef's hat, Remy begins to "direct" Linguini like a puppet, pulling strands of his hair to communicate, having him simmer fabulous recipes that will propel the young man to stardom.
Among Ratatouille's unprecedented challenges, was the need to infuse emotion and life into characters who are rats, much more complex to animate than the Toy Story toys or the superheroes of the Incredibles. Real rats in cages served as models for months, allowing animators to faithfully reproduce their elasticity or the reflections on their fur (composed on a computer containing images of 30,000 distinct hairs). Another major difficulty: visually illustrating the ecstasy caused by the taste-bud sensations Remy experiences. On the screen, they represented by fireworks against a black background or a flashback related to childhood. Ratatouille explores the world of great restaurants with humor: its relations of hierarchy, conflicts of power and the personalities of the staff of fine dining establishments: dishwashers, commis chefs, saucers, sommeliers, sous-chefs, station chefs...
"We had to faithfully represent this world, which I find really interesting," said Brad Bird. And "making a film about a foreign city, a foreign country was totally new to Pixar. It was not a matter of reproducing an exact copy of the real Paris, but capturing the impression of Paris- its romanticism, its history." The Belle époque decoration of the "Train bleu" at the Lyon train station in Paris, as well as the "Tour d'Argent," the "Guy Savoy," and "Taillevent" also inspired the designers. To indulge in WITHOUT moderation.
Rébécca Frasquet
---
Ratatouille
Wednesday, October 18 at 2:30pm at the l'UGC Astoria
Saturday, October 21 at 2:30pm at the Cinéma Comœdia
In the presence of Guillemette Odicino