The Passion of Slow Fire/The End of Belle


---
PostED ON OCTOBER 10

---
A dark and gripping adaptation of Simenon's work, with a top-notch cast, results in one of Édouard Molinaro's best films.

It was a period when, by his own admission, Édouard Molinaro was trying to find himself. He was well into his thirties and had made four films, including neat thrillers that demonstrated his technical know-how. Yet he found them hollow. He compared himself to the young guns of the New Wave, his contemporaries, who seemed to be full of their own subjects. He wondered if he had anything to say, if he would not forever remain a soulless technician. Then came The The Passion of Slow Fire/The End of Belle, based on a very bleak novel by Simenon. The action takes place in the United States, and Jean Anouilh, not the least prestigious of the screenwriters, entrusted with adapting it, transposes the plot to another country prone to puritanism, Switzerland.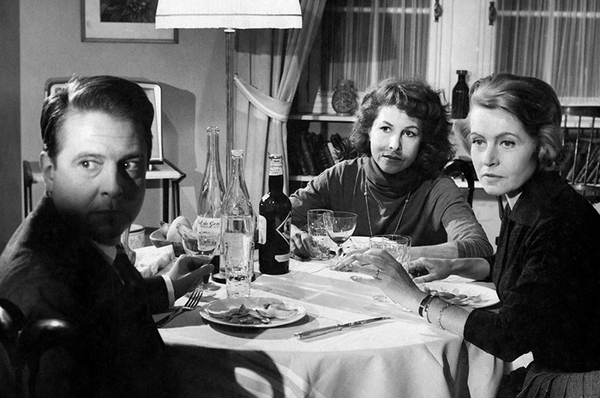 The Passion of Slow Fire/The End of Belle, 1961

The story revolves around an overly-calm professor with an aseptic existence, who takes in the daughter of a friend of his wife's, a very young and beautiful American woman, who is found murdered one evening. The investigating judge, satisfied with his own person beyond measure, is sure that this overly-ordered life, with its overly-repressed impulses, makes the professor the culprit. The evidence is inescapable: this is the work of a murderer... The wealth of detail in the sequence of events, the careful description of a certain social milieu: this is all Simenon, but the script would not have been enough; what was needed was a filmmaker, specifically an unparalleled director of actors.
The entire supporting cast is outstanding, from Monique Mélinand as a despondent wife to Yvette Etiévant as an enterprising secretary, to Alexandra Stewart with her heady beauty. Also noteworthy in the role of the victim's mother is Belgian actress Louisa Colpeyn, who in real life was Patrick Modiano's mother. But central to the cast is Jean Desailly, who walks around with a haggard, lost look on his face, so domesticated that his belated and derisory attempt to live life to the fullest in the bars of Geneva and the surrounding area is doomed to failure. It is hard to believe that Truffaut had not seen The Passion of Slow Fire/The End of Belle before deciding to cast Desailly in his film, The Soft Skin.


A. F.
---
Screenings:

The Passion of Slow Fire/The End of Belle by Édouard Molinaro (1961, 1h31)
Pathé Bellecour Sun10 10pm | Cinéma Opéra Mon11 7:30pm | Lumière Institute Wed13 2:15pm