When Bertrand speaks, we listen
---
PostED ON OCTOBER 9
---
Bertrand Tavernier may no longer be here, but he is still everywhere.


Just yesterday, in my living room, I was rediscovering a Blu-ray of one of the seven westerns that Budd Boetticher directed with Randolph Scott, the ill-fated Decision at Sundown (which some may know by the longer and frankly unplausible name, The Avenger Acts at Dusk). Tavernier's white mane logically appeared after the credits rolled. It is a fact, you cannot watch a Golden Age Western without the late cinephile-filmmaker inviting himself into your home as a bonus, in close-up. When Bertrand speaks, we listen. You drink in the words of the man who has obviously seen the marvel before you, immediately identified its power (or lack thereof, as the case may be!) and has befriended the American director he is talking about.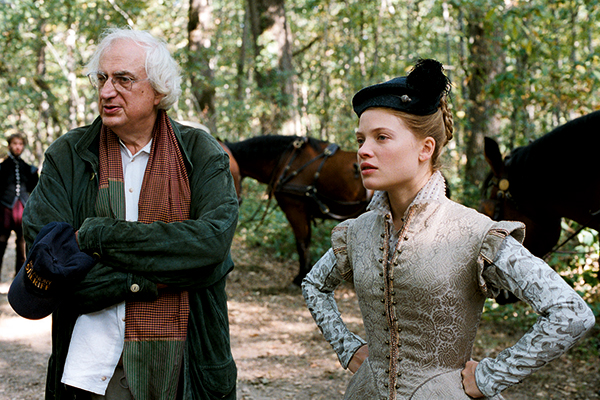 The Princesse of Montpensier, 2010 © Studiocanal
Bertrand Tavernier's voice therefore reverberates within your walls. Once the Mass has been pronounced, you rush off to your library to consult the bible… his bible. In Amis Américains (American Friends), Budd Boetticher is of course featured, during a memorable epistolary conversation resulting from a "transoceanic" interview. In fact, the Frenchman had sent a long letter to Mexico with a whole series of questions for Boetticher. It was in prison that the letter arrived. Budd, then in a state of disgrace, was serving a sentence linked to the bankruptcy of his production company for the making of Arruza. He had a tape recorder brought in and recorded all his answers. Bertrand Tavernier laughingly recounts this in a bonus supplement of 7 Men from Now. The pathways of Tavernier's insights always lead to improbable roads. If the main highways are landmarks, it is worth deviating from them to appreciate the full richness of the story.
The same holds true for horse-riding, which requires uneven terrain. The first - and only - time I found myself on the set of a Bertrand Tavernier film was in 2009, lost in the remote Cantal region, in the setting of an 11th century castle. The director was shooting The Princess of Montpensier there. And even though Madame de La Fayette had very little to do with the American western, between takes, Bertrand Tavernier kept coming back to it…"In French cinema, I am struck by the near complete inability of directors to film sequences on horseback. They choose flat sets, where it is very easy to move around. From the film Beatrice onwards, I tried to find rough terrain to illustrate the effort. This is the direct influence of the feature films by Delmer Daves, Anthony Mann, Budd Boetticher or André de Toth...". An image suddenly emerges. It is perhaps the final one, which would sum up all of them: like a lone cowboy, Bertrand Tavernier's silhouette rides off into the Cinemascope sunset. In front of him, promises of new discoveries.