Scola Passion
---
PostED ON OCTOBER 15
---
2004. The beginning of June is flooded with sunshine. We All Loved Each Other So Much is released in French theatres, heralding a summer that is at once radiant, lyrical and melancholic.

The title of this cornerstone of "Italian comedy", and its use of the past tense, carries with it the disillusions of life. The film, as we know, follows the destiny of three friends over almost four decades. Gianni (Vittorio Gassman), Nicola (Stefano Satta Flores) and Antonio (Nino Manfredi), comrades in battle and barricades, will spend their time (un)crossing paths.

As luck would have it, in this languid month of June, Ettore Scola is in Paris for a conference on the European elections. So I make a cinephile foray into a political agenda. When I meet him in the biggest garden of the Maison de l'Amérique Latine where the debates are going to take place, I barely touch on the questions that may cause trouble. It is he who brings up the subject when we talk about his future projects: "As long as Berlusconi is in charge of my country's efforts, I cannot accept any public money to finance my films." The filmmaker, with an elegance that has the good taste of not being ostentatious, speaks in very good French. He goes into reverse: "If I had to describe We All Loved Each Other So Much, I would say that it is a colourful pessimism. I can't say that I like this film more than any other, the good and the not so good make me who I am." This 'coloured pessimism' resonates directly today with his Passion of Love, screened in a restored print at this 2021 edition of Lumière, whose flashback structure also allows for the exploration of the wounds of time.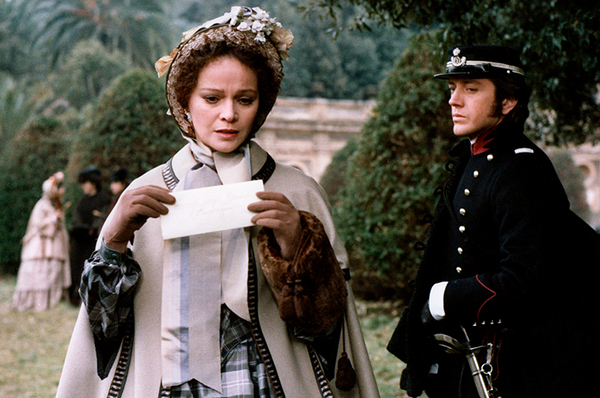 Passion of love, 1981

June 6, 2004. We hear that Nino Manfredi passed away two days ago… Scola maintains his restraint. He leaves the histrionics and its effusions to others. "When talking about film genres, critics cite films and filmmakers, and often forget the performers. Nino and Vittorio [Gassman], almost single-handedly represented Italian comedy. Like many of my fellow directors, I modelled my film on their personalities: the way they laughed, cried and moved. Nino was a sad clown. I am sad today...".
That day, the Italian master also spoke to me about his friends Vittorio de Sica and Federico Fellini, who had showed up as themselves in two magnificent scenes in his masterpiece. The 1970s, which saw the birth of We Loved Each Other So Much, of course, marked the end of an era. Rossellini, Pasolini and Visconti died within a few months of each other. A golden age had passed. We Loved Each Other So Much remains, somewhat in spite of itself, a beacon of time. "In the history of humanity, some centuries are like mountains and others like plains...", concludes the fatalistic but not defeatist filmmaker. His chiaroscuro optimism covers all the colours of pessimism. On June 6, 2004, summer was finally able to make itself at home in a small garden on Boulevard Saint-Germain.