---
PostED ON OCTOBER 7 AT 4 PM

---
The recurring series of the Lumière festival dedicated to great classics of black and white could well be held under the sign of crossings this year, be they grand, sweet, slow, light in places, often deep, or suddenly motivated by violent impulses that lead to far-reaching consequences. Embark on one or two of these crossings. There is bound to be one made for you.

The sentimental crossing

Love haunts like a perilous voyage in the moving, emotional films Journey to Italy (Roberto Rossellini, Viaggio in Italia, 1954), Ugetsu (Kenji Mizoguchi, Ugetsu monogatari, 1953) and Laura (Otto Preminger, 1944). Although vastly different, they are kindred spirits in torment, because loving is never without consequences. "Even if you are a spirit or a ghost, I will never let you go", says one of the protagonists of Ugetsu, in a moment where he is carried away by love… which leads us to Ingrid Bergman and George Sanders, a married couple in the midst of the crowd, searching to rekindle their love in Journey to Italy. This unconscious hunt for the fantasy of love is pushed to the extreme by the inspector in Laura. In these three works that play on waiting and expectation, the black and white wax poetic with languishing hues of grey, a sign of complexity for films that take their time.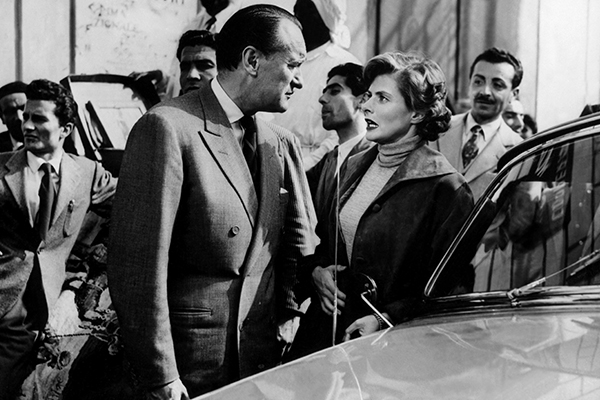 The initiatory crossing
The quest for interiority provokes the initiatory crossings of the films, from the cerebral The Seventh Seal (Ingmar Bergman, Det sjunde inseglet, 1957), to the more down-to-earth Monsieur Hulot's Holiday (Jacques Tati, Les Vacances de Monsieur Hulot, 1953), whereas Red River (Howard Hawks, 1948) and All About Eve (Joseph L. Mankiewicz, 1950) offer logical and sophisticated adventures. The knight of The Seventh Seal wants to ward off death. Monsieur Hulot wants to ward off boredom. The cowboy of Red River wants to ward off a disagreeable man that prevents him from living the life he covets. Eve, the ingenue opportunist, wants to ward off the social fate of a shameful past. All these films beg the same question: who are you?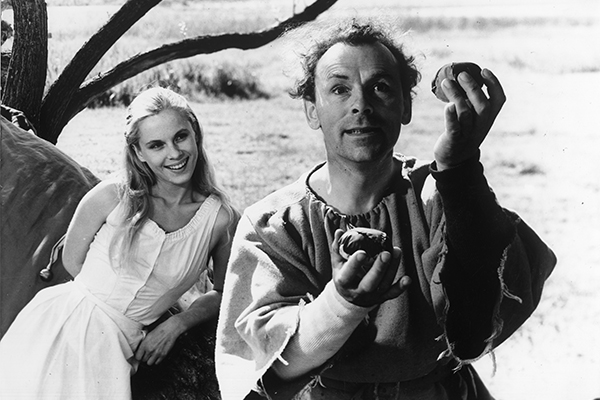 The political crossing
Escaping, traversing in order to flee, in an exceptional geopolitical context, is the preoccupation of the protagonists of the La Grande Illusion (Jean Renoir, 1937) and The Third Man (Carol Reed, 1949). These two groundbreaking works bear witness to the history of the 20th century. Renoir plays with black and grey in order to better immerse the viewer in an era (WWI), where the sky never seems to clear. Carol Reed opts for absolute shadow, a near-black and black, to embody the fool's game of the immediate, following WWII, in a central Europe conducive to all traffic of a destroyed territory, protected by the night,. The formidable films of Reed and Renoir carry within them a certain irony, between sarcasm and melancholy, to make a statement on the futility of war.
Virginie Apiou

> See the complete lineup of the section Big Classics in black and white