---
THURSDAY, OCTOBER 19, 2017
---
Rehearsals, an extraordinary conductor and musicians' tricks… A member of the National Orchestra of Lyon since 1988, Jean-Pascal Oswald takes us behind the scenes of the Harold Lloyd Cine-Concert organized this Wednesday at the Auditorium.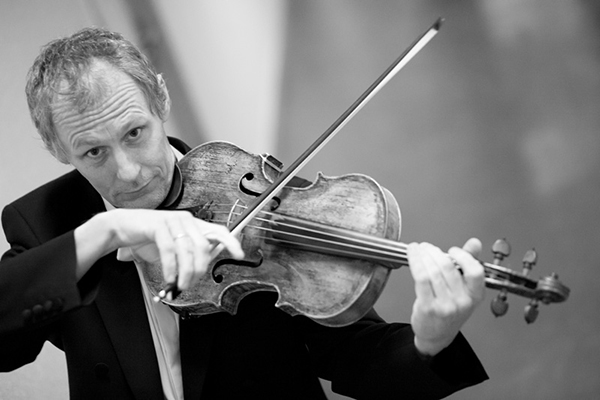 © Orchestre national de Lyon


The film The Kid Brother, directed by Harold Lloyd, was featured as the first cine-concert of the 9th Lumière festival. How did you prepare for such an event?
Before the general rehearsals, I do individual work. I start by obtaining the film, then I work alone to decipher the score. We start the rehearsals for the cine-concert on Tuesday morning, before making a complete run-through of the work. For this performance, we are fortunate to be led by conductor Carl Davis, who recreated the entire soundtrack of the film by Harold Lloyd, who had composed many film music scores. During the rehearsals, Carl Davis has a monitor where the film is broadcast, which gives the orchestra the tempo. He works first on the musical text, then on the synchronization with the images.


As an alto soloist with the Orchestra of Lyon, you have played in numerous performances. What is the specificity of a cine-concert?
A cine-concert is the kind of performance that I like and there is real enthusiasm from the audience. Not to mention that the National Orchestra of Lyon was the first orchestra in France to play cine-concerts, thanks to American conductor David Robertson. The challenge for a cine-concert is to stick as much as possible to the scenes. With a silent film, the director must concentrate even more on the rhythm, to mark the changes of tone of the different scenes. In an instant, we go from a love scene to a funny burlesque scene. We must therefore react down to the nearest second, to respect the rhythm of each film. Another specificity is the emotion of playing on stage with a live film. I love the way the audience reacts, we see people laughing. It is a complete change from a classical music concert, where people are more passive.


What is your relationship with the cinema?
I go to cinema often and my tastes are very eclectic. I have also attended the Lumière festival several times, notably through the director Christian Carion, whom I know. The cinema-concert exercise is really interesting, first because it allows me to discover films, but also due to the pleasure I feel as a musician. In fact, for several years, I've been in the habit of placing a bicycle mirror on my music stand to be able to see the film screened behind us during the performance!

Laura Lépine
---