Road movie in Times Square
---
PostED ON OCTOBER 12

---
Presented at Cannes in 1984, Variety, Bette Gordon's first feature film, is a striking reflection of the artsy New York of the time. Flashback.


It was before "gentrification." Bette Gordon was not yet thirty when she arrived in New York, where some neighborhoods still looked like terra incognita. "That was the case with Tribeca," she recalls with enthusiasm over the phone, from the same corner where she still lives today. "The somewhat settled artists lived in Soho, but further south it was a hive of activity, a mix of post-punk musicians, painters, sculptors, visual artists." The recession of the 1970s did not spare the real estate industry and the area was virtually deserted. "The day I arrived, an experimental video artist, Anthony McCall, whom I had run into at festivals, invited me to his loft. I wasn't sure what a loft was, but I soon realized that Tribeca was a ghost town of abandoned factories. Two were still in operation: an industrial cheese factory and a creamery. They made the neighborhood smelly! Anthony had his loft on Jay Street; there was no doorbell, you had to shout from the street to get the key thrown out the window. And inside, there were only artists, talking, drinking, showing each other their work, and doing quite a lot of drugs, too!"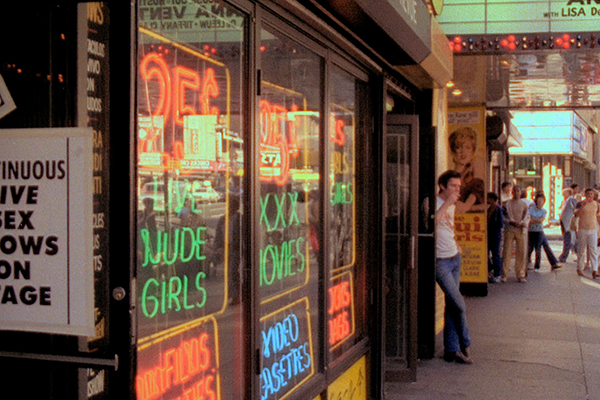 Variety, 1983

David Byrne, Jean-Michel Basquiat, Julian Schnabel, the writer Kathy Acker - who would pen the screenplay for Variety - Debbie Harry, they all crossed paths at parties and clubs, like the Mudd, or a little latter at the CBGB (which stands for Country, Blue Grass, and Blues), where readings and performances were interspersed between concerts. "There was an incredible appetite for creation and culture. I became the programmer of The Collective for Loving Cinema, a loft-turned-movie theater. We would show an avant-garde film, and special guests would sometimes attend. Debbie Reynolds showed Singing in the Rain, Jonathan Demme showed his first film, Caged Heat."

Variety was born out of this emulation, but it was not an experimental film, explains Bette Gordon: "Because I was a movie buff, I had seen a lot of European films, and, like Jim Jarmusch, whom I knew well, I wanted to bring this 'New Wave touch' to American cinema. We were also influenced by the road movie, and for me, Variety is one: the inner and physical journey of my heroine is akin to a road movie."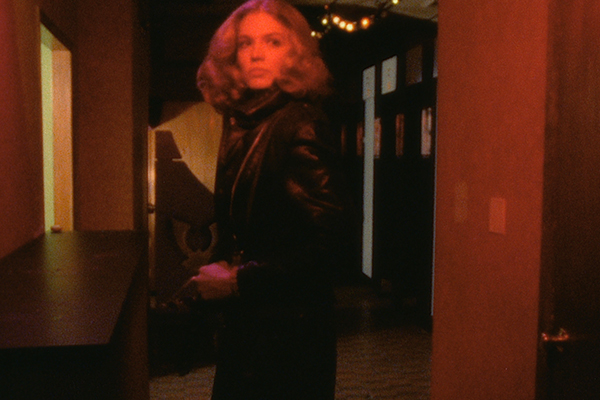 Sandy McLeod dans Variety, 1983

The film tells the story of the metamorphosis of a young New Yorker who becomes a cashier in a pornographic movie theater, the Variety. She begins a sort of inquiry - filmed like a detective story - into one of the cinema's customers, obviously a mobster, who also seems to own the sex shop next door. We should add that the artsy atmosphere has spilled over from downtown and moved further north: the Times Square Show by the Colab collective is a great success. Times Square is still the spectacular spot of strip clubs and peep shows. Not far away there is a bar, the Tin Pan Alley, where a friend of Bette Gordon, the photographer Nan Goldin, works. Some of the scenes of Variety were shot there.

"Porn interested me," continues Bette Gordon, "like cinema, it's about keeping desire alive as long as possible, without ever satisfying it. That's what I tried to do with a story that had no real resolution - which annoyed a lot of viewers! What the heroine experiences is also what I experienced: the affirmation of my curiosity, the freedom to say for myself where my pleasure can come from. I was walking in Times Square, and I could hear the barkers hawking 'The hottest girls!' or 'The wildest show!' or 'Treat yourself, come on in.' Why wouldn't a woman want to go there too?"

American feminism was then permeated by a rather dramatic debate that crystallized in the spring of 1982 at a famous conference on sexuality at Barnard College, linked to Columbia University. "The film was not finished, but Nan and I went to show pictures of the shooting. The Women against Pornography movement came to try and interrupt the debate; I was more on the side of Pro-Sex...!" In 1984, Bette Gordon flew to Cannes; Variety was selected for the Directors' Fortnight. That year, Stranger than Paradise won the Camera d'Or. "I can still see us, Jim Jarmusch, Wim Wenders and I playing pinball in a café behind the Martinez!"

The New York ebullience was slowly wearing off - and real estate skyrocketing back up. "What brought it all down? The market. The words 'manager' or 'agent' were unknown to us. Sundance 'gentrified' independent film. And then the mindset changed. When our parents told us 'Don't go there, it's dangerous,' we had only one idea, to go there. I'm not sure that's the case for the generations that followed us."


Aurélien Ferenczi
Screenings :
Variety by Bette Gordon (1983, 1h40)
Lumière Terreaux Tue12 9:15pm | Lumière Institute Wed13 7:15pm | Cinéma Opéra Thu14 7pm
Exhibition:
Variety, set photographs by Nan Goldin
Cinema Gallery II: 3, Rue de l'Arbre sec, Lyon 1st.
During the festival: Daily from 11am to 8pm.