A Low Carbon Initiative

for the Lumière festival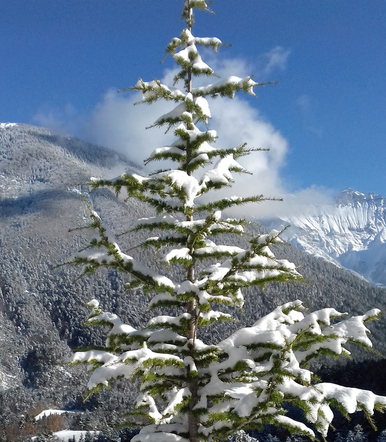 For the past 10 years, Lumière festivalgoers have made an effort to offset their environmental footprint by supporting a sustainable development project in the Auvergne-Rhône-Alpes region. Each festivalgoers contributes to this initiative: for each catalog sold, 2€ is donated to the project.
In 2018, the Lumière festival, in partnership with the National Office of Forests, has participated in planting an avalanche protection forest forest in the Côté d'Arbroz municipality in the Haute Savoie.
The village, located on the Chablais mountain, regularly experiences avalanche issues. The objective is to reforest the avalanche corridor, while fighting against global warming through plantations of spruce trees to store carbon.

7 others projects have been supported by Lumière festivalgoers since 2009:
• The rebuilding of the Dôme snack refuge hut on a Mont Blanc climbing route.
• The implementation of a project to plant vegetal resources around Lake Geneva in France. The new additions have revived the agricultural heritage that once existed in the Alpine mountains and adds value to the exceptional view.
• The creation of a forest of fruit trees in Rhône-Alpes in the communal territory of Entre-Deux-Guiers in Isère, which offers improvements to the popular site among fishermen, while also promoting bee survival through the reintroduction of honey-bearing trees.
• The planting of broadleaf trees in the Villette de Vienne forest in Isère to increase its diversity: a dozen different species were planted, covering an area of on hectare.
• The transformation of a hectare of a chestnut forest suffering from disease, into a better-adapted and long-living (up to 200 years) oak forest in the North of the Drôme near the town of Vienne.
• The Lumière festival has participated in the reforestation of the Lens-Lestang forest in the Drôme. This area, currently in decline and classified with no prospects, will be revived thanks to the plantation of 3 hectares of oak trees and sycamore maples.
• An experimental plantation project in Marcieu in Isère has been launched in response to climate change. It will be finalized this year.

The Lumière festival continues its commitment to reducing direct and indirect greenhouse gas emissions:
• The introduction of electric cars bearing the Lumière festival logo for transporting film prints, communication materials, and techcnical supplies throughtout the city.
• The use of electric cars to transport festival guests.
• The sorting of waste at the festival village.
• The promotion of public transportation in and around the city.