Invitation to Guillermo Del Toro
Hellboy, Pan's Labyrinth, Pacific Rim, or the rarely seen Cronos… The Mexican filmmaker is one of the most original Hollywood directors of the fantastic genre. He comes to Lyon for the French premiere of his new film, The Shape of Water, and to share his amazing "carte blanche" list of films.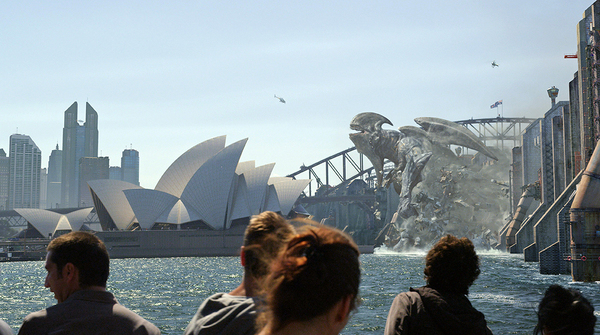 Cronos (1993, 1h34)
An antiques dealer finds a box, locked up for centuries, containing the secret of eternal youth... For his first feature film, the Mexican director takes on the horror genre with brio.
Institut Lumière Sat. 14 at 8pm (GDT All-Nighter, 3rd film) I Lumière Terreaux Sun. 15 at 3pm I Pathé Vaise Mon. 16 at 8:30pm I Comœdia Tue. 17 at 10pm I UGC Confluence Fri. 20 at 8:30pm

Hellboy (2004, 2h12)
Born of the flames of Hell, Hellboy (Ron Perlman) teams up with the FBI to fight against the forces of Evil... An adaptation of Mike Mignola's comic book, a supernatural film, both funny and moving.
Institut Lumière Sat. 14 at 8pm (GDT All-Nighter, 2nd film) I Villa Lumière Fri. 20 at 8:45pm

Pan's Labyrinth (El laberinto del fauno, 2006, 1h52)
Spain, 1944. Recently moved in with her tyrannical father-in-law (Sergi Lopez), young Ofelia meets the mysterious creature Pan... A fantastic and haunting epic of great visual beauty.
Institut Lumière Sat. 14 at 8pm (GDT All-Nighter, 1st film) I Comœdia Sun. 15 at 6:45pm I Pathé Bellecour Mon. 16 at 5:45pm

Pacific Rim (2013, 2h11)
Giant robots created by man attempt to fight off terrifying creatures from the oceans... A futuristic film subtly inspired by Japanese science fiction.
Institut Lumière Sat. 14 at 8pm (GDT All-Nighter – 4th film) I UGC Confluence Sun. 15 at 7pm I Pathé Carré de Soie Mon. 16 at 7:30pm I Comœdia Thu. 19 at 9:45pm

MORE OF GUILLERMO DEL TORO

Five Came Back by Laurent Bouzereau
This documentary centers on the involvement of five of Hollywood's greatest filmmakers - John Ford, George Stevens, Frank Capra, William Wyler and John Huston - who travelled to the European front during WWII to bring back images of the conflict. A story told by five masters of modern cinema, including Guillermo del Toro.
Institut Lumière Sun. 15 at 12pm (episode 1) I Pathé Bellecour Mon. 16 at 2:30pm (all 3 episodes)
Episode 1 - The Mission Begins (2017, 59 min)
At the onset of WWII, five Hollywood filmmakers join the army, putting their art at the service of the war effort.

Episode 2 - Combat Zones (2017, 1h07)
In the armed forces, each director discovers that his film language is not always suited to the demands of the bureaucracy and hazards of war.
Episode 3 - The Price of Victory (2017, 1h09)
At the end of the war, the five big filmmakers return to Hollywood and resume their brilliant careers, but what they have witnessed has changed them and will haunt them forever.
PREMIERE

The Shape of Water by Guillermo Del Toro (2017)
In an American city of the 1960s, Eliza, a mute cleaning lady, meets an amphibian creature kept captive in the laboratory where she works... A dark and dreamy love story.
Institut Lumière Sun. 15 at 4:15pm I Pathé Bellecour Sat. 21 at 4:15pm
CARTE BLANCHE

Diaboliques by Henri-Georges Clouzot (Les Diaboliques, 1955, 1h57)
Two women, the wife and mistress of the same man, hatch a plan to get rid of him... A dark masterpiece with crushing suspense starring Simone Signoret, Vera Clouzot, Paul Meurisse and Charles Vanel.
Institut Lumière Sat. 14 at 10:45am I Pathé Bellecour Sun. 15 at 5:15pm I UGC Confluence Wed. 18 at 8:30pm I Bron Thu. 19 at 2:30pm I Pathé Bellecour Sun. 22 at 4:30pm
Head Against the Wall by Georges Franju (La Tête contre les murs, 1959, 1h35)
François opposes his father, an authoritarian lawyer who has him committed to an asylum... A lesson in directing a poetic and realistic work, starring Jean-Pierre Mocky, and a stirring Charles Aznavour.
Institut Lumière Sat. 14 at 3pm I Lumière Terreaux Wed. 18 at 5:15pm
Viridiana by Luis Buñuel (1961, 1h30)
Viridiana is sent by her convent to her uncle's in the country. A great beauty, she awakens a mad passion in the old uncle... A major scandal in Cannes, Viridiana nevertheless won the Palme d'or.
Villa Lumière Sat. 14 at 6:30pm I Pathé Bellecour Mon. 16 at 8:15pm I Cinéma Opéra Wed. 18 at 9:30pm
The Trial by Orson Welles (1962, 1h59)
One morning, Joseph K is awakened by inspectors entering his room. He is charged with a crime, without knowing why... High-angle and low-angle shots, tracking shots, depth of field… a brilliant adaptation of Kafka's novel.
Lumière Bellecour Sun. 15 at 7:15pm I Comœdia Tue. 17 at 7:30pm I Lumière Fourmi Sat. 21 at 9:45pm
Le Doulos – The Finger Man by Jean-Pierre Meville (Le Doulos, 1963, 1h48)
Upon being released from prison, Maurice finds his friend Silien, suspected by the group of being an informer... A relentless thriller with a stellar cast: Serge Reggiani, Jean-Paul Belmondo, Michel Piccoli.
Pathé Bellecour Sun. 15 at 3pm I Le Méliès (Caluire) Thu. 19 at 8:30pm I Comœdia Fri. 20 at 10:45am I UGC Confluence Sat. 21 at 8:15pm
Planet of the Vampires by Mario Bava (Terrore nello spazio, 1965, 1h28)
Spaceships Argos and Galliot are approaching an unknown planet emitting a mysterious signal... A gem of the fantastic Italian genre that would inspire Ridley Scott for Alien.
Lumière Bellecour Tue. 17 at 10pm I UGC Ciné Cité Internationale Fri. 20 at 8:30pm I Lumière Fourmi Sat. 21 at 7:45pm
Mysterious Encounter by Pupi Avati (L'arcano incantatore, 1996, 1h36)
A young seminary student is forced to flee, due to his attachment to a girl. He soon meets a priest who dabbles in black magic...An Italian horror flick, screened in France for the first time.
Villa Lumière Mon. 16 at 8:45pm I Cinéma Opéra Sat. 21 at 8:30pm
MASTER CLASS
Meet Guillermo Del Toro
Comédie Odéon Mon. 16 at 3pm

Ticket sales for master classes at the Comédie Odéon will open soon. 

Sign up for the Lumière festival newsletter here to know when tickets will be available for purchase.