Invitation to Jean-François Stévenin
A prolific actor (200+ films), Stévenin has also been assistant director to Cavalier, Truffaut, Rivette and Rozier. He comes to Lumière as a filmmaker, to introduce the three movies he has directed, just newly restored by Le Pacte: Mountain Pass, Double Gentlemen and Mischka.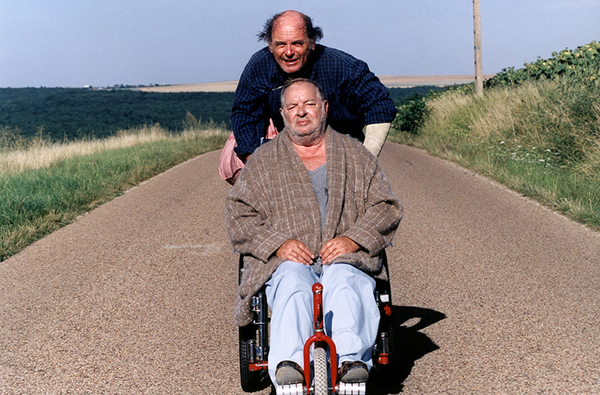 Mountain Pass (Passe-montagne, 1978, 1h53)
After Georges' vehicle breaks down in the Jura, he meets Serge, who proposes to help him out. An offbeat friendship begins... A wandering picture amid Nature that is omnipresent, unclassifiable and poetic. With Jean-François Stévenin and Jacques Villeret.
Institut Lumière Mon. 16 at 3:45pm I Pathé Bellecour Tue. 17 at 5:15pm

Double Gentlemen (Double Messieurs, 1986, 1h30)
Francois, Léo and Kuntchinski are childhood friends. Twenty-five years down the road, François is reunited with Léo and the pair decides to go in search of Kuntchinski... A loosely-plotted and original film. With Yves Afonso, Carole Bouquet, Jean-François Stévenin.
Comœdia Sun. 15 at 4:30pm I Lumière Terreaux Mon. 16 at 4:45pm I Villa Lumière Sun. 22 at 2:30pm

Mischka (2002, 1h57)
Mischka is abandoned at a highway rest stop by his family. The old man is picked up by Gégène, who takes him on a crazy adventure... A sunny work, an ode to the family that one chooses. With Jean-Paul Roussillon.
UGC Astoria Mon. 16 at 8:30pm I Cinéma St-Denis Tue. 17 at 8:30pm

MASTER CLASS
Meet Jean-François Stévenin
Comédie Odéon Tue. 17 at 3pm

Ticket sales for master classes at the Comédie Odéon will open soon. 

Sign up for the Lumière festival newsletter here to know when tickets will be available for purchase.