Wong Kar-wai
Prix Lumière 2017
An elegant, chimerical and moving storyteller, Wong Kar-wai is a modern yet timeless virtuoso of style and image. First recognized for Happy Together (Best Director at Cannes), he garnered great public success with In the Mood for Love in 2000. The festival proposes his entire filmography (with theatrical re-releases of his first works with ARP Sélection), a carte blanche list of his favorite Chinese films from the 2000s (including several never released in France), a master class and the Lumière Award ceremony, a celebration of his work. The director will be accompanied by the great cinematographer Christopher Doyle.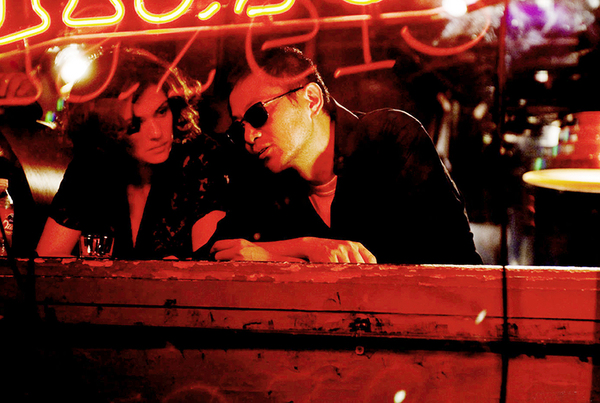 Master class
Célestins, Théâtre de Lyon
Friday, October 20 (afternoon)
Lumière Award Ceremony
Amphitheater – Lyon Conference Center
Friday, October 20 (evening)



Ticket sales for the master class and the Lumière Award ceremony will open soon.
Sign up for the festival newsletter here to find out when tickets will be available for purchase.

As Tears Go By by Wong Kar-wai (Wang Jiao ka men, 1988, 1h28)
A midlevel gangster falls in love with his cousin, while his hothead younger "brother" lands in all kinds of trouble... An inspired thriller, mixing comedy, parody, and melodrama, starring Andy Lau and Maggie Cheung.
Institut Lumière Wed. 18 at 9:45pm


Days of Being Wild by Wong Kar-wai (Ah fei zing zyun, 1990, 1h34)
A young man with brazen charm seduces a waitress, then a dancer... A haunting and sensual saga, with Hong Kong stars Leslie Cheung, Maggie Cheung and Andy Lau.
Cinéma Opéra Sun. 15 at 7:15pm I Pathé Bellecour Fri. 20 at 2:30pm I Lumière Terreaux Sun. 22 at 2:30pm


Chungking Express by Wong Kar-wai (Chung Hing sam lam, 1994, 1h37)
A pair of stories of two policemen unlucky in love... Completed quickly during a break from shooting Ashes of Time, a funny, touching movie full of movement, a portrait of youths in search of identity.
Comœdia Sun. 15 at 9:30pm I Villeurbanne Tue. 17 at 8:30pm I Cinéma Opéra Wed. 18 at 7:15pm I UGC Confluence Thu. 19 at 9pm I Cinéma Opéra Fri. 20 at 7:30pm


Ashes of Time by Wong Kar-wai (Dung che sai duk, 1994, 1h33)
Feng, raised by his brother, chooses the martial arts, to the detriment of the woman he loves... The "wuxia pian," or Chinese sword film, according to Wong Kar-wai. With Leslie Cheung and Tony Leung.
Bron Sun. 15 at 2:30pm I Cinéma Opéra Mon. 16 at 5pm I Pathé Bellecour Tue. 17 at 6:45pm I Lumière Bellecour Fri. 20 at 4:30pm


Fallen Angels by Wong Kar-wai (Do lok tin si, 1995, 1h36)
Intertwined destinies: a professional killer, his female partner, a young mute con-artist, and Cherry, who obsesses over her ex-lover... A dazzling tale with melancholy beauty, mysterious and poignant.
Lumière Terreaux Thu. 19 at 7:15pm I Amphithéâtre – Centre de Congrès Fri. 20, evening (time TBA) I Cinéma Opéra Sat. 21 at 6:15pm


Happy Together by Wong Kar-wai (Chun gwong cha sit, 1997, 1h36)
Two boys, Lai and Ho, love each other and leave Hong Kong for Argentina. But Ho soon leaves Lai... Filmed in Argentina shortly before the handover of Hong Kong to China, a universal love story, with the lingering scent of tango.
UGC Confluence Mon. 16 at 8:30pm I Institut Lumière Thu. 19 at 7:45pm I Cinéma Opéra Fri. 20 at 2:30pm I CinéDuchère Sat. 21 at 8:30pm

In the Mood for Love by Wong Kar-wai (Faa yeung nin wa, 2000, 1h38)
Hong Kong, 1962. A man and a woman, neighbors, learn that their respective spouses are having an affair... Pure splendor, a hypnotic and overwhelming dream, with unforgettable music. Starring Maggie Cheung and Tony Leung.
Halle Tony Garnier Sun. 22 (afternoon)


2046 by Wong Kar-wai (2004, 2h08)
Hong Kong,1966. In room 2047 of a hotel where he resides, Chow begins writing his novel that takes place in room 2046, all the while haunted by the memory of the woman he cherished... A labyrinth of love, loneliness, the thirst for life. With Tony Leung, Gong Li and Zhang Ziyi.
Pathé Bellecour Mon. 16 at 8:30pm I Lumière Terreaux Wed. 18 at 9:30pm I Comœdia Sat. 21 at 8pm


My Blueberry Nights by Wong Kar-wai (2007, 1h35)
New York. After a break up, Elizabeth (Norah Jones) embarks on a journey across the United States... Wong Kar-wai in America: a road-movie with a pop sense of melancholy, starring Jude Law, Rachel Weisz, Natalie Portman.
Pathé Bellecour Thu. 19 at 7:15pm I Institut Lumière Sat. 21 at 9am I Lumière Bellecour Sun. 22 at 2:45pm


The Grandmaster by Wong Kar-wai (Yi dai zong shi, 2013, 2h03)
1936, China. Great martial arts master Baosen bids farewell to the representatives of the kung-fu schools. He is looking for a successor... Based on the true story of Ip Man (future mentor to Bruce Lee) and his destiny in an epic work. With Tony Leung.
Pathé Bellecour Tue. 17 at 2:15pm I Francheville Wed. 18 at 8pm I Lumière Fourmi Fri. 20 at 5pm I UGC Ciné Cité Internationale Sat. 21 at 8:30pm
Short Film
Eros - segment La Main by Wong Kar-wai (Eros - segment The Hand, 2004, 46min)
1963. A young tailor is sent to take the measurements of a client, Miss Hua (Gong Li), a sublime courtesan... A sensual evocation of touch, desire and eroticism.
Institut Lumière Wed 18 at 9:45pm following As Tears Go By
Christopher Doyle
Wind by Tiong Guan Saw (2016, 33min)
Christopher Doyle, a master director of photography who has worked with Wong Kar-wai, Gus Van Sant and James Ivory tells his stories in an intimate and captivating interview.
Villa Lumière Thu. 19 at 4:45pm followed by a discussion with Christopher Doyle