5th edition of the
International Classic Film Market
ANNIVERSARY EDITION!

Range of services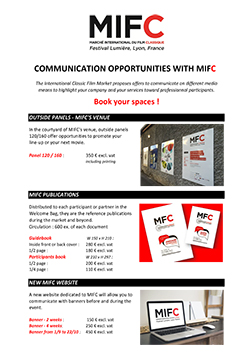 COMMUNICATE WITH THE MIFC

To upgrade your presence the MIFC offers to showcase your activities to the professionnels who will be present:
BOOTH AND ACCREDITATION PACKAGE

SPONSOR A COCKTAIL

BOOK AN EVENING SCREENING

And a whole range of benefits combinable with the MIFC accreditation :
Outdoor advertising

Advertising in MIFC publications

Banner on the new MIFC website

"Visibility package:" Accreditations+communication options

To find out more about our services click here Communication opportunities MIFC 2017 and get in touch for a customized service.

---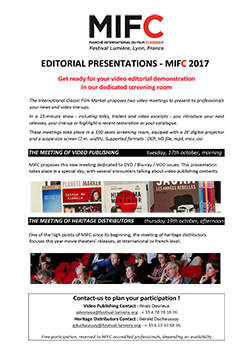 EDITORIAL PRESENTATIONS - MIFC 2017
The International Classic Film Market proposes two video meetings to present to professionals your news and video line-ups.
THE MEETING OF VIDEO PUBLISHING Tuesday, 17th october, morning
THE MEETING OF HERITAGE DISTRIBUTORS Thursday 19th october, afternoon
Free participation, reserved to MIFC accredited professionals, depending on availability

To find out more about these proposals click here: Editorial presentations MIFC 2017



---

For this anniversary edition, the Market focus during its first day severak events dedicated to video publishing actors :
Video meeting dedicated to DVD / Blu-ray / VOD releases

Jérôme Soulet's Keynote : Market situation and developments

DVD/Blu-ray editions and books about heritage cinema : from raw product to collector editions

Visit of the festival DVD Market : A showcase for your catalog

To take part, more information in the document : Video publishing day - MIFC 2017
---


General Coordination:
Juliette Rajon (jrajon@festival-lumiere.org - +33 4 78 78 54 75)

Programming Coordination:
Gérald Duchaussoy (gduchaussoy@festival-lumiere.org - + 33 6 13 50 68 26)
Anaïs Desrieux (adesrieux@festival-lumiere.org - + 33 4 78 78 18 76 )

Accreditations and Commercial offers:
Cécile Dumas (cdumas@festival-lumiere.org - +33 6 47 80 61 82)

Assistant:
Clémentine Bouché-Bulle (mifc@festival-lumiere.org - +33 4 78 78 54 70)

The International Classic Film Market e is supported by: