Louis Malle,

the solitary figure of French cinema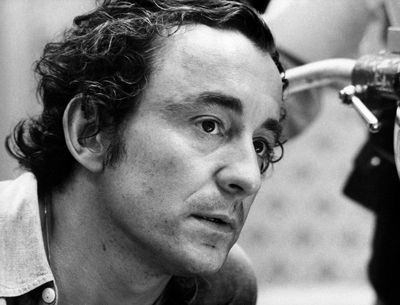 At the crossroads of the New Wave, a director of American independent works and a French auteur, Louis Malle, tackled all subjects, defying the restrictions and taboos that constricted 'proper' French society. In 1963, he adapted the sulphurous Drieu la Rochelle for The Fire Within. In 1974, with Patrick Modiano, a great specialist of the period, he painted an acerbic portrait of the France of the collaboration and the Vichy regime in Lacombe, Lucien. In the 1970s, Pretty Baby (based on the life of photographer Ernest J. Bellocq) and Murmur of the Heart provoked considerable controversy. With the collaboration of Jean-Claude Carrière, he produced May Fools, a surreal and hilarious depiction of the bourgeoisie in the aftermath of May 1968. He also directed such popular successes as Goodbye, Children/Au revoir les enfants, winner of seven César awards in 1988. The festival will provide the opportunity to (re)discover, on the big screen, the artists who have accompanied his work: Jeanne Moreau (Elevator to the Gallows/Frantic, 1958, The Lovers, 1958...), Maurice Ronet, Brigitte Bardot, Jean-Paul Belmondo, Aurore Clément, Dominique Blanc... as well as Brooke Shields, Susan Sarandon, Burt Lancaster and Ed Harris.


The retrospective will feature Justine Malle and Alexandra Stewart.
To mark the occasion, previously unseen restorations by Gaumont are slated for theatrical release on 9 November by Malavida.


PLEASE NOTE: A concert entitled 'Quand le jazz colorie le noir et blanc' (When Jazz Colours Black and White) by the Belmondo Quintet will be held, featuring a visit to the music of Louis Malle's Elevator to the Gallows/Frantic, as well as famed musical themes from the cinema.
Le Radiant – Tue. 18/10 at 8.30 pm (preferential rate for festival accredited members).



Films presented
Elevator to the Gallows/Frantic by Louis Malle (1958, 1h33)
Julien gets stuck in the elevator after killing his boss, the husband of his lover Florence, who is waiting for him... The movie takes us on a nocturnal stroll through Paris, cradled by the sound of Miles Davis' trumpet. Starring Jeanne Moreau and Maurice Ronet.
UGC Confluence Mon17 11:15am | Pathé Bellecour Tue18 2pm | Saint-Genis-Laval Wed19 8pm | Comœdia Thu20 6:45pm

The Lovers by Louis Malle (1958, 1h31)
Jeanne (Jeanne Moreau) is married to Henri, who abandons her for his work. At her friend Maggy's house, she meets Raoul and makes him her lover... In this adaptation of a 17th-century libertine tale, Louis Malle denounces the conventions of the bourgeoisie and delicately films the intimate intrigue of passion.
Institut Lumière Sat15 10:45am (preceded by Vive le Tour, 18min) | Pathé Bellecour Mon17 4pm | Bron Tue18 8:30pm | UGC Astoria Sat22 5:45pm

Zazie dans le métro by Louis Malle (1960, 1h33)
Zazie, a ten-year-old girl, arrives in Paris and wants only one thing: to see the metro. She goes out into the streets to play the troublemaker... A funny and poetic film on a major theme in Louis Malle's work: the purity of childhood in the face of adult hypocrisy.
Lumière Terreaux Mon17 11am | Pathé Bellecour Thu20 11:15am

Vive le Tour by Louis Malle (1962, 18min)
The 1962 Tour de France as seen by Louis Malle... Filmed with passion and energy, it takes an inside look at the human adventure, a great documentary on sport.
Institut Lumière Sat15 10:45am (screened before The Lovers)

The Fire Within by Louis Malle (1963, 1h49)
Alain (Maurice Ronet) has just completed rehab. Deciding to kill himself, he embarks on a 'farewell tour'... Adapted from Drieu La Rochelle's novel of the same name, the work deals in a touching way with themes of importance to the filmmaker: solitude and introspection.
Institut Lumière Sun16 11:15am | Pathé Bellecour Mon17 1:30pm | Sainte-Foy-lès-Lyon Tue18 8pm | Lumière Terreaux Wed19 7:45pm | Comœdia Sat22 10:45am

Viva Maria! by Louis Malle (1965, 1h57)
Throughout her youth, Maria had accompanied her parents on terrorist attacks. In Central America, she becomes the partner of another Maria in a music hall troupe... An adventure film with a revolutionary message and two huge stars: Jeanne Moreau and Brigitte Bardot. An explosive mix!
UGC Astoria Wed19 8pm | Pathé Bellecour Fri21 9:15pm | UGC Confluence Sun23 2:30pm

The Thief of Paris by Louis Malle (1967, 2h02)
Disillusioned by the failure of his romantic and financial life, Georges Randal (Jean-Paul Belmondo), a man from a respectable family, embarks on a series of burglaries... A film against the poisonous and sanctimonious bourgeois society. Deliciously entertaining!
UGC Confluence Sun16 10:45am | Villa Lumière Tue18 2pm | Pathé Bellecour Fri21 2pm

Spirits of the Dead by Louis Malle, Roger Vadim, Federico Fellini (1968, 2h01)
Three tales by Edgar Allan Poe adapted by three filmmakers... A phantasmagoria with dissimilar sketches, bringing together an impressive international cast: Jane Fonda, Alain Delon, Brigitte Bardot, Terence Stamp...
Pathé Bellecour Tue18 4:45pm | Cinéma Opéra Fri21 2:15pm

Murmur of the Heart by Louis Malle (1971, 1h59)
Laurent, 15 years old, has a heart murmur. He leaves for a treatment in a sanatorium, accompanied by his mother, with whom he has a very close relationship... A sensitive and subtle teenage chronicle, dealing with the taboo subject of incest in a new way. A deeply affecting film.
Villa Lumière Sun16 7:30pm | Comœdia Mon17 10:45am | Villa Lumière Wed19 6:45pm | Lumière Terreaux Sat22 2pm

Lacombe, Lucien by Louis Malle (1974, 2h18)
June 1944. Lucien, a peasant's son, is refused access to the Resistance. He finds himself recruited by the German police... A masterful and disconcerting film that deals with a subject with tremendous political resonance: the collaboration.
Mions Mon17 8pm | UGC Confluence Tue18 10:45am | Pathé Bellecour Wed19 1:30pm | Cinéma Opéra Thu20 2pm | Villa Lumière Fri21 3:45pm

Black Moon by Louis Malle (1975, 1h41)
When war breaks out, Lily goes to live in the countryside. She discovers a secluded house where strange characters live apart from the world... Moving from realism to surrealism, Louis Malle delivers an unusual and bewitching film.
UGC Confluence Mon17 4:45pm | Cinéma Opéra Wed19 7pm

Pretty Baby by Louis Malle (1978, 1h50, prohib. for ages -12)
In New Orleans in the early 20th century, 12-year-old Violet lives in a brothel with her mother (Susan Sarandon), the other prostitutes and their children. Violet soon reaches an age where she can be propositioned to clients... An aesthetic film with sublime cinematography and the subject of heated controversy.
UGC Confluence Wed19 1:45pm | UGC Astoria Fri21 5:30pm | Pathé Bellecour Sat22 7pm | Villa Lumière Sun23 2:15pm

Atlantic City by Louis Malle (1980, 1h45)
In Atlantic City, Sally takes in her ex-husband Dave and his sister Chrissie. Dave joins forces with Lou, Sally's neighbour, to sell drugs... An outstanding film with an admirable duo: Susan Sarandon and Burt Lancaster.
Comœdia Tue18 10:45am | Pathé Bellecour Wed19 11:15am

My Dinner with Andre by Louis Malle (1981, 1h50)
New York. Wallace Shawn and André Gregory meet and assess their lives... A disconcerting and daring film, mixing fiction and reality, centred on the conversation between the two actors.
Cinéma Opéra Sun16 2:30pm

Goodbye, Children/Au revoir les enfants by Louis Malle (1987, 1h44)
In 1944, at the Collège Sainte-Croix where Julien is a boarding student, Jean, a young Jew, arrives and must be hidden... Based on a memory of Louis Malle, this deeply moving film won seven Césars, including Best Film, and the Golden Lion at the Venice Film Festival. Irène Jacob in her first role.
Pathé Bellecour Sun16 2:30pm | UGC Confluence Tue18 1:30pm | UGC Astoria Thu20 8pm | Cinéma St-Denis Sat22 2:30pm | Lumière Terreaux Sun23 11am

May Fools by Louis Malle (1990, 1h47)
May 1968. As the revolt breaks out in Paris, Milou's mother dies. The family gathers and argues over the inheritance... The caustic portrait of a bourgeoisie torn apart by cupidity and pettiness in the midst of the events of May '68.
Villa Lumière Sun16 5pm | Cinéma Bellecombe Mon17 8pm | Pathé Bellecour Thu20 7:45pm | UGC Confluence Sun23 5:45pm

Vanya on 42nd Street by Louis Malle (1994, 1h59)
New York, 42nd Street, in a deserted theatre, actors (Julianne Moore, Wallace Shawn...) rehearse Uncle Vanya under the direction of André Gregory... A film shot in the style of a documentary, on par with Chekhov's famous play.
UGC Confluence Thu20 7:30pm | Lumière Terreaux Fri21 9:45pm