Louis Malle Retrospective



The Lumière Film Festival is pleased to announce its major "French cinema" retrospective of 2022. This year's festival will showcase the work of an outstanding director, who evolved at the crossroads of the New Wave, French cinéma d'auteur and American independent films, winner of both a Palme d'Or and an Oscar: Louis Malle.

Louis Malle addressed a range of subjects, paying no heed to the taboos that constricted French society. In 1963, he adapted the novel by the sulphurous Drieu La Rochelle for The Fire Within. In 1974, with Patrick Modiano, a grand specialist of the period, he painted an acerbic portrait of France of the Collaboration and the Vichy regime in Lacombe, Lucien. In the 1970s, Pretty Baby (based on the life of photographer Ernest J. Bellocq) and Murmur of the Heart sparked controversy. In collaboration with Jean-Claude Carrière, he delivered May Fools, a surreal and hilarious depiction of the bourgeoisie facing the ordeal of May 1968... Louis Malle also achieved great popular success with Au revoir les enfants (Goodbye, Children), which garnered seven César awards in 1988.

The retrospective will allow audiences to see the actors of Malle's films on the big screen: Jeanne Moreau, Maurice Ronet, Brigitte Bardot, Jean-Paul Belmondo, Aurore Clément (in her acting début) or Dominique Blanc, as well as Brooke Shields, Susan Sarandon, Burt Lancaster or Ed Harris. The Louis Malle revival will also feature dialogue co-written by Louise de Vilmorin, Patrick Modiano, Roger Nimier or Jean-Claude Carrière.
A selection of films restored by Gaumont will premiere at the Lumière Film Festival,
before their rerelease in theatres on 9 November 2022 by Malavida.



Thanks also to TF1 Studio and Paramount US


Still to come: Details of the Louis Malle retrospective.
LOUIS MALLE
Although he was born two years after Godard and a few months after Truffaut, Louis Malle (1932-1995) immediately took the world by storm. At 23 years old, in 1956, he won the Palme d'Or for The Silent World (an award shared with co-director Captain Cousteau). At age 26, he received the Louis-Delluc Prize for Elevator to the Gallows (also known as Frantic), in which the trumpet of Miles Davis, whom he had met thanks to Boris Vian, served as a backdrop for the beauty of Jeanne Moreau strolling along the Champs-Élysées. "We were the children of the new Kodak film, Tri-X, which allowed us to shoot in the street or in dimly lit interiors, working with much smaller crews." (Malle on Malle, conversation with Philip French, 1993).

His thirty or so films - both fiction and documentaries - made over a period of 40 years, bear witness to an inexhaustible curiosity, a solid literary culture and a remarkable technical mastery. His films boldly and wittily exposed the upper middle class of his own background, from The Lovers (1958), whose eroticism created a scandal, to the Chekhovian saraband of May Fools (1989). He probed the darker side of French society, exemplified in Lacombe, Lucien (1974), a look at the Collaboration that sparked a fierce controversy, which Louis Malle brought to a close by moving to Hollywood for several years, where he filmed, most notably, Atlantic City (1980).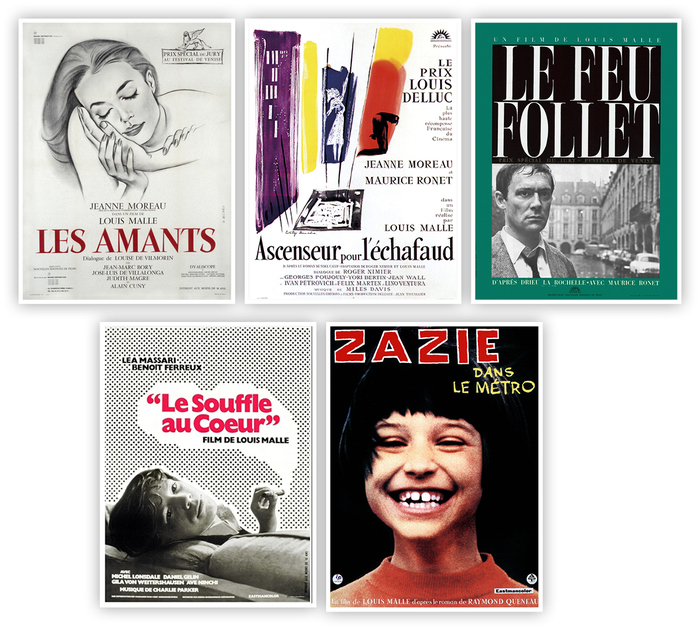 Credits : Louis Malle on the set of Murmur of the Heart © Vides Films - Marianne Productions - Franz Seitz / DR