Permanent History of Women Filmmakers:
Mai Zetterling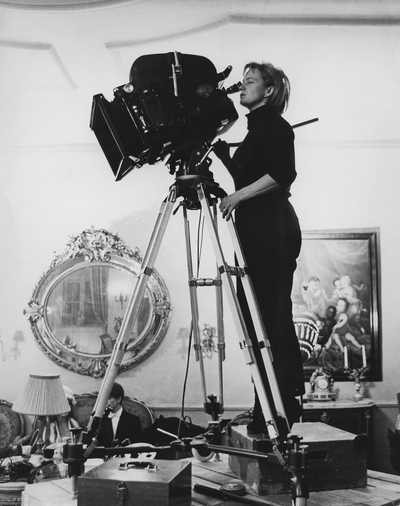 The 'Permanent History of Women Filmmakers' series has enabled us, edition after edition, to discover or rediscover the works of, among others, the Ukrainian Soviet director Larissa Shepitko, the American Dorothy Arzner, the Italian Lina Wertmüller, and the Japanese Kinuyo Tanaka. This year's festival will focus on the work of Swedish director Mai Zetterling. In the early 1960s, after having made two films for Ingmar Bergman and spent part of her career in England, she made the choice to become a filmmaker. Initially, she produced ethnographic documentaries financed by the BBC, then went on to direct a short film that won a prize at the Venice Film Festival. She subsequently signed her first feature film, Loving Couples, magnificently lit by Sven Nykvist and presented at the Cannes Film Festival in 1965. From the outset, Mai Zetterling established a straightforward and powerful voice, whose audacity shocked some viewers, and created an œuvre devoted primarily to the study of the female condition. She went on to direct six feature films, including Night Games and The Girls, and made contributions to collective films. She directed Harriet Andersson, Ingrid Thulin, Bibi Andersson and others.

In collaboration with the Swedish Film Institute, who restored all the films of the retrospective.








Films presented
Loving Couples by Mai Zetterling (Älskande par, 1964, 1h58, prohib. for ages -16)
1914, Stockholm: before giving birth, three women recall their childhood, their loves and their lost illusions... A portrait of Swedish society and of the women of the era, who, faced with male domination, were obliged to assert their individual destinies. Selected at the Cannes Film Festival in 1965, this first directorial effort by the actress Mai Zetterling generated considerable attention.
Lumière Bellecour Sun16 6pm | Lumière Terreaux Thu20 7:30pm

Night Games by Mai Zetterling (Nattlek, 1966, 1h45, prohib. for ages -16)
Jan returns to his childhood home with a fiancée. Soon, however, his obsessive love and desire for his mother resurfaces, as well as memories of her sexual experiments... Adapted from her own novel, Mai Zetterling's shocking film was so controversial, it was screened in a closed session to journalists at the Venice Film Festival.
Institut Lumière Mon17 2:15pm | Cinéma Opéra Wed19 9:30pm | Lumière Bellecour Sat22 8:30pm

The Girls by Mai Zetterling (Flickorna, 1968, 1h40)
On tour, three actresses play Lysistrata by Aristophanes and reflect on their own condition as women... A complex film that mixes past and present, fiction and reality, theatre and real life. A new feminist exploration for the Swedish filmmaker.
Villa Lumière Sun16 9:15am | Villa Lumière Mon17 11am | Lumière Bellecour Tue18 8:30pm

Amorosa by Mai Zetterling (1986, 1h57)
The life of the writer Agnès von Krusenstjerna, her relationship with the aristocratic milieu from which she emerged and her tumultuous relationship with her husband... A film that carries the feminist convictions of the filmmaker, who deals powerfully with issues of creation and mental health.
Pathé Bellecour Sun16 11:15am | Lumière Terreaux Wed19 10:45am | Lumière Bellecour Fri21 8:30pm