Sidney Lumet,

the prince of New York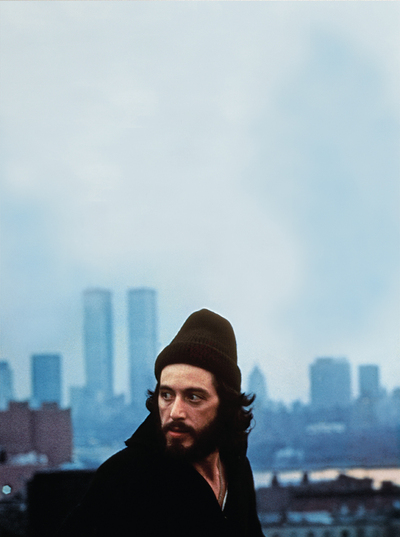 Still a child during the economic crisis that hit America in the late 1920s, Sidney Lumet acquainted himself with those left behind by the Great Depression and developed a keen political awareness at a young age. He grew up on Broadway and was directed on stage by Joseph Losey, among others, before heading to the front when the United States entered the war. In 1957, after an initial career in television, his first feature film, Twelve Angry Men, was a critical masterpiece, winning the Golden Bear in Berlin and receiving an Academy Award nomination for Best Picture and Best Director. The film remains arguably the most famous of the courtroom dramas, thanks to its masterful direction and Henry Fonda's brilliant performance. Lumet's cinema is made up of characters of integrity fighting against a corrupt system (Serpico, 1973), but also of outsiders (Dog Day Afternoon, 1975, Equus, 1977), arrivistes or reformed characters, painting a palette ranging from social drama to modern tragedy.
To perfect his impactful cinema, he surrounded himself with the most gifted screenwriters of New Hollywood: Waldo Salt, Norman Wexler or Frank Pierson. His movies were rooted in the heart of New York, where the filmmaker grew up, the perfect backdrop for the crime thrillers and dramas that compose his filmography. Sidney Lumet directed some of the greatest actors, who played some of their finest roles: Al Pacino in Serpico and Dog Day Afternoon, Marlon Brando in The Fugitive Kind, Faye Dunaway in Network, or Sean Connery in The Anderson Tapes and The Offence.


This exceptional Lumet revival has been made possible thanks to Paramount, Sony, Warner and Park Circus, who have provided the festival with newly published material of the films.




Films presented
Twelve Angry Men by Sidney Lumet (1957, 1h37)
A young man accused of patricide is facing the death penalty. Twelve jurors meet to deliberate, and their decision must be unanimous. One of them has doubts about the man's guilt... Sidney Lumet's first film is a champion of democracy and humanism featuring a memorable performance by Henry Fonda.
Pathé Bellecour lMon17 10:45am | Vénissieux Tue18 8pm | UGC Astoria Wed19 5:45pm | Décines Thu20 8pm | UGC Confluence Fri21 6:15pm | Comœdia Sun23 2:30pm

The Fugitive Kind by Sidney Lumet (The Fugitive Kind, 1960, 2h01, prohib. for ages -16)
Val, a vagabond musician, lands in Mississippi. Lady Torrance hires him in her grocery shop and falls under his spell... Adapted from the text written by Tennessee Williams, the film was an unexpected success, led by the duet of Marlon Brando and Anna Magnani.
Pathé Bellecour Sun16 4pm | Cinéma Opéra Thu20 5pm | Comœdia Fri21 5:15pm

Fail Safe by Sidney Lumet (1964, 1h51)
As three American atomic bombers are heading towards the USSR, they cross the 'red line' point, and the President of the United States tries to avoid a catastrophe... A political film, a testament to its era, starring Henry Fonda.
Cinéma Opéra Wed19 2:15pm | UGC Confluence Thu20 5pm | Villa Lumière Sat22 10:30am

The Pawnbroker by Sidney Lumet (1964, 1h55)
Sol, a German Jew who survived Auschwitz, loses his family in the camps. He emigrates to the United States and becomes a pawnbroker in Harlem... A humanist and sombre film that would find its place in the history of American cinema only years after its release.
Institut Lumière Mon17 8pm | UGC Confluence Tue18 4:30pm | Lumière Terreaux Thu20 5pm

The Hlll by Sidney Lumet (1965, 2h03, prohib. for ages -12)
Five men are sent to a British army disciplinary camp. They are ordered by Sergeant Williams to climb the sand hill in the centre of the camp, under the desert sun... A film that opposes military intimidation and totalitarian methods.
UGC Astoria Mon17 5:15pm | UGC Confluence Tue18 4pm

The Anderson Tapes by Sidney Lumet (1971, 1h39)
After ten years behind bars, Duke Anderson (Sean Connery) gets out of prison and gets a gang together to pull off the heist of the century... A film about mass surveillance in 1970s America.
UGC Confluence Mon17 4:30pm | Pathé Bellecour Wed19 7:30pm | Lumière Terreaux Fri21 7:30pm

The Offence by Sidney Lumet (1973, 1h52)
In an English suburb, teenage girls are being assaulted. The police interrogate the suspect; the confrontation turns dramatic... A rare gem in huis clos, starring the excellent Sean Connery.
Cinéma Opéra Mon17 2:30pm | Comœdia Tue18 11:15am | Lumière Bellecour Thu20 8:30pm

Serpico by Sidney Lumet (1973, 2h10)
Starting his career as an earnest and honest cop, Serpico discovers the corruption that plagues the New York police force and decides to expose it... A true masterpiece, a treatise on the facets of integrity, served by the staggering performance of Al Pacino.
Dardilly Sun16 5:30pm | UGC Confluence Mon17 9:15pm | Pathé Bellecour Tue18 6:45pm | Caluire Thu20 8:30pm | Villa Lumière Sat22 4pm | UGC Confluence Sun23 2:15pm

Murder on the Orient Express by Sidney Lumet (1974, 2h08)
While the Orient-Express is stuck in the snow, Mr. Ratchett is murdered. Hercule Poirot, on board the train, begins to investigate... Adapted from the famous novel by Agatha Christie, the film carries a retro atmosphere and features a magnificent cast: Albert Finney, Lauren Bacall, Ingrid Bergman, Sean Connery, Anthony Perkins, Jacqueline Bisset...
UGC Astoria Sun16 4:45pm | Pathé Bellecour Wed19 10:45am | Villa Lumière Sat22 9:30pm

Dog Day Afternoon by Sidney Lumet (1975, 2h04)
Two men rob a Brooklyn bank, but the vaults are virtually empty. They take the staff hostage and find themselves besieged by the police... Inspired by a true story in New York, the film denounces police violence and latent homophobia. A hard-hitting film.
Neuville-sur-Saône Sun16 4pm | Lumière Terreaux Mon17 2:15pm | Pathé Bellecour Wed19 9:15pm | UGC Confluence Thu20 7pm | CinéDuchère Sat22 8pm | Institut Lumière Sun23 4:45pm

Network by Sidney Lumet (1976, 2h02)
Howard, a news anchor, is losing ratings. When he threatens to commit suicide on air, viewership skyrockets... A scathing film on the subject of television as entertainment.
Villa Lumière Sat15 6:30pm | Cinéma Opéra Mon17 9:30pm | Cinéma St-Denis Tue18 8:30pm | UGC Confluence Thu20 2:15pm | Rillieux Sat22 8pm | Pathé Bellecour Sun23 5:30pm

Equus by Sidney Lumet (1977, 2h18, prohib. for ages -12)
After gouging out the eyes of six horses, young Alan Strag is placed in the care of Martin Dysart, a psychoanalyst... Adapted from the famous British play, Equus is carried by the duo of Richard Burton and Peter Firth. To be discovered.
Comœdia Fri21 8pm | UGC Confluence Sat22 1:30pm | Villa Lumière Sun23 10:15am

Running on Empty by Sidney Lumet (1988, 1h56)
Annie and Arthur Pope, radical activists, have been on the run ever since they participated in a bombing fifteen years ago. For their son Danny, the precariousness of the situation becomes unbearable... A moving film about youth and the legacy of 1970s political activism.
Institut Lumière Sat15 2:45pm | UGC Confluence Sun16 1:30pm | Sainte-Foy-lès-Lyon Thu20 8pm | Pathé Bellecour Fri21 10:45am | Lumière Terreaux Sat22 7pm

Before the Devil Knows You're Dead by Sidney Lumet (2007, 1h57)
Two men rob a jewellery store in the suburbs of New York, but nothing goes according to plan... For his last feature film, Sidney Lumet delivers a knock-out movie. Breathtaking.
Pathé Bellecour Sun16 10pm | Villa Lumière Thu20 3:30pm | UGC Confluence Sat22 9:45pm
With the participation of Sidney Lumet:
King: A Filmed Record... Montgomery to Memphis by Ely Landau and Richard Kaplan (1969, 3h02 – 1st part 1h18, 2nd part 1h37)
The journey and struggle of Martin Luther King, pastor and passive resistance activist... An incredibly rich documentary that evokes the history of the civil rights struggle, and the involvement of Lumet (as well as Joseph L. Mankiewicz, Paul Newman, Joanne Woodward and Ben Gazzara...).
UGC Confluence Fri21 2:30pm
Documentary:
By Sidney Lumet by Nancy Buirski (2015, 1h50)
A documentary on the work of Sidney Lumet based on a riveting interview and excerpts from his films.
Villa Lumière Mon17 10pm