Professional Accreditation



Professional Accreditations are not yet available


Are you a cinema professional and want to become an accredited member of the Lumière festival?
You'll find soon the registration process to obtain professional accreditation.
Advantages of professional accreditation:
Access to screenings (excluding special screenings), subject to availability.
A reduction of 20% off your total bill at the Grand Café des Négociants and at the Petit Négo during the festival.
Special deals and offers at restaurants thanks to our restaurant partners.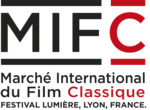 The festival professional accreditation is different from the MIFC accreditation
(International Classic Film Market)

Information: www.mifc.fr
Ce site nécessite l'utilisation d'un navigateur internet plus récent. Merci de mettre à jour votre navigateur Internet Explorer vers une version plus récente ou de télécharger Mozilla Firefox. :
http://www.mozilla.org/fr/firefox