Lumière Classics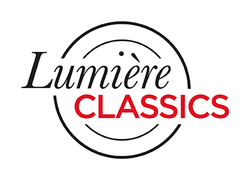 Throughout the year, all over the world, archives, producers, rights holders, distributors, studios and film libraries work to preserve their catalogues and restore films that make up the history of cinema.

The Lumière Film Festival has designated a label to support these restored works, whether they are classics or lesser-known films. It presents a selection of the year's finest restorations, previously unscreened, in two specific sections: Lumière Classics and Treasures and Curiosities. The latter reminds us of the importance of immersing ourselves in cinematographic territories that are often unfamiliar and yet indispensable. Moreover, a certain number of restored films presented in the full programme benefit from this label.

All the films will premiere in new restored prints.



Lumière Classics
French films:
Stormy Waters by Jean Grémillon (Remorques, 1941)
Madame du Barry by Christian-Jaque (1954)
Be Beautiful but Shup Up by Marc Allégret (Sois belle et tais-toi, 1958)
The Road to Shame by Édouard Molinaro (Des femmes disparaissent, 1959)
Anatomy of a Marriage: My Days with Françoise by André Cayatte (Françoise ou la vie conjugale, 1964)
Anatomy of a Marriage: My Days with Jean-Marc by André Cayatte (Jean-Marc ou la vie conjugale, 1964)
The Breach/The Breakup by Claude Chabrol (La Rupture, 1970)
Mes petites amoureuses (My Little Loves) by Jean Eustache (Mes petites amoureuses, 1974)
Bad Blood by Leos Carax (Mauvais sang, 1986)



Foreign films:
Under Secret Orders by Edmond T. Gréville (1937)
The Long Night by Anatole Litvak (1947)
Ordet by Carl Theodor Dreyer (1955)
Fantastic Voyage by Richard Fleischer (1966)
Is Paris Burning? by René Clément (1966)
Buck and the Preacher by Sidney Poitier (1972)
Dirty Money by Denys Arcand (La Maudite galette, 1972)
Ludwig by Luchino Visconti (1973)
Lúcio Flávio by Hector Babenco (Lúcio Flávio o passageiro da agonia, 1977)
The Outsiders: The Complete Novel by Francis Ford Coppola (1983)
The Cruel Embrace by Marion Hänsel (Les Noces barbares, 1987)
The Last Emperor by Bernardo Bertolucci (1987)
The People vs. Larry Flynt by Milos Forman (1996)



Treasures and Curiosities
The label is also awarded to films in the section Treasures and Curiosities, which reminds us of the importance of immersing ourselves in often little-known and yet indispensable movies. It highlights the consistent and active work of film libraries and archives from around the world to restore and bring to life classic cinema.

Albania
Tana by Kristaq Dhamo (1958)
Slovakia
Prípad pre obhajcu by Martin Hollý (1964)
United States
Nothing But a Man by Michael Roemer (1964)
Tajikistan
The Little Brother by Bakhtyar Khudojnazarov (1990)
Philippines
Kisapmata by Mike De Leon (1981)
Poland
Barrier by Jerzy Skolimowski (1966)
Spain
Cut-Throats Nine by Joaquín Romero Marchent (1972)
Burkina Faso
Wendemi, l'enfant du bon Dieu by S. Pierre Yameogo (1993)
Czech Republic
The Joke by Jaromil Jireš (1968)
Italia
Castle of Blood by Antonio Margheriti (1963)
United States
Dementia by John Parker (1955)
Turkey
Time to Love by Metin Erksan (1965)



Treasures and curiosities in association with

Other films in the Lumière Classics section:

Go and Get It by Marshall Neilan and Henry Robert Symonds (1920)
The Cursed Village by Florián Rey (1930)
Wedding in Toprin by André De Toth (1939)
Semmelweis by André De Toth (1939)
Six Weeks of Happiness by André De Toth (1939)
The Five-Forty by André De Toth (1939)
Casablanca by Michael Curtiz (1942)
Casque d'or by Jacques Becker (1952)
Live for Life by Claude Lelouch (1967)
Spirits of the Dead by Louis Malle, Roger Vadim, Federico Fellini (1968)
'Round Midnight by Bertrand Tavernier (1986)
Lost Highway by David Lynch (1997)